What to Know Before Buying a Waterfront Home
Posted by Peggy Hill on Thursday, December 15, 2022 at 10:30 AM
By Peggy Hill / December 15, 2022
Comment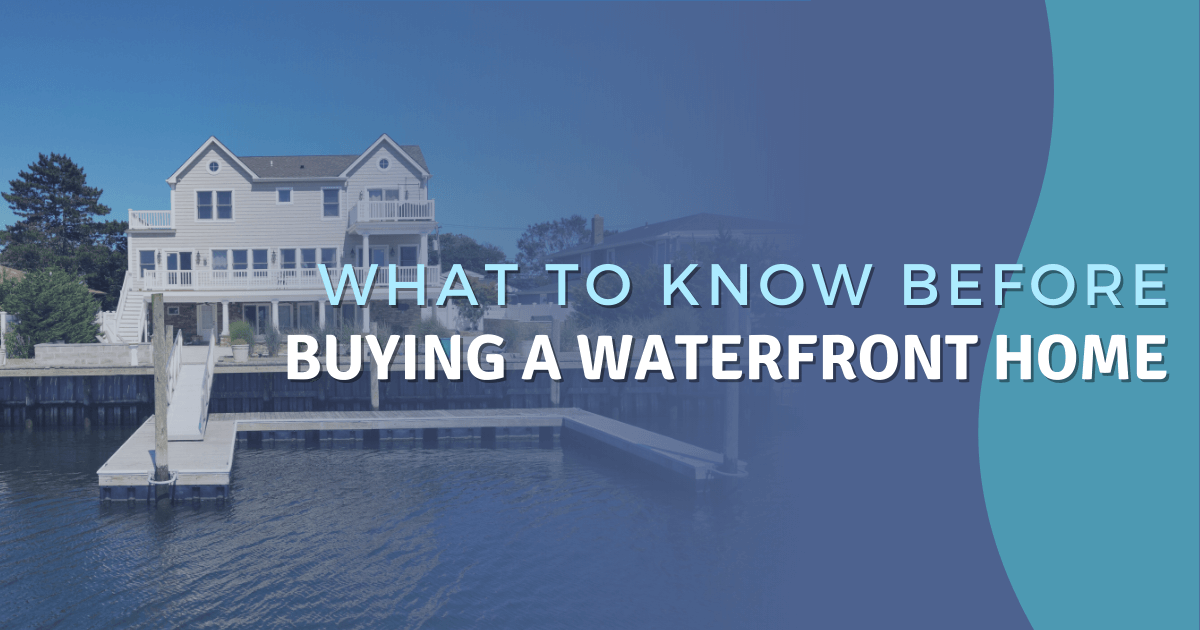 For homebuyers looking to live their lives like a year-round vacation, it's hard to beat the tranquillity and convenience of waterfront homes. Waterfront homes keep the best aquatic activities just outside your front door. From boating to fishing and swimming, waterfront property owners can enjoy unparalleled access to lakes, rivers, oceans, and other bodies of water. Buying a home on the water is slightly different than the average homebuying process. There's no need for first-timers to fear, though. Keep reading to learn a few tips to make your first waterfront property purchase a breeze.
Find the Right Waterfront Neighbourhood
Waterfront homes offer homeowners beautiful views and a tranquil environment. However, not all neighbourhoods are created equal when it comes to waterfront living. Here are some things to consider when choosing a neighbourhood for your waterfront home.
Location. The location of a neighbourhood is critical when considering waterfront living. You'll want to find a neighbourhood close to the body of water and has easy access to other amenities, like shopping and restaurants. At the same time, it's important to research Canadian flooding maps to ensure the neighbourhood is in a safe location.
Home styles available. When looking at neighbourhoods for waterfront homes, be sure to look at the homes in the area. You'll want to make sure there are a variety of home styles and sizes available so that you can find the perfect fit for your needs.
Amenities. Another important consideration when choosing a neighbourhood for waterfront homes is the amenities available. Ensure the neighbourhood has a good park, trails, and other recreational opportunities nearby. While private amenities and essential purchases for waterfront homes are great, having plenty of public amenities in the neighbourhood can improve quality of life and increase resale value when it comes time to sell.
Check What Usage the Water Allows
Not all waterfront properties are the same. Depending on where you want to purchase waterfront property, there may be restrictions on what you can do there. Many lakes don't allow motorized boats, which may be a turn-off for some buyers who enjoy that style of boating. Oceanfront or riverfront properties may also have restrictions that buyers need to be aware of.
Because water usage restrictions are fairly common, it's important to research the usage of the waterfront property before making an offer. The local government will usually have information about what type of activity is allowed on a particular body of water, so be sure to check that out first. Additionally, it might also be beneficial to speak with neighbours or anyone who has experience living on the water in order to get a better understanding of what types of activities are allowed.
Forecast Your Home Maintenance Needs
When buying waterfront homes, it's critical to consider the environmental differences in these properties which may require regular maintenance practices that don't come standard in traditional residential homes.
One example is the retainer wall. It needs to be maintained in good condition to keep pollutants out of the water around the home and minimize soil erosion. With proximity to the water, homes may be more humid during the summer months, which requires better dehumidification and air conditioning to ensure mould and bacteria are kept at bay. It may be necessary to practice additional hardwood floor care while living in a waterfront home.
For those properties with a dock, an annual inspection is necessary. While many last up to 25 years, routine inspections, especially in the spring after a winter freeze, helps spot wood damage and stress that puts users at risk.
Seawalls, if present, need routine maintenance as well. Many property owners choose a specialized provider to oversee these steps, including routine inspections to ensure the property remains sector.
Finally, a location on the waterfront may create more intensity and various types of storms. For example, lakefront homes in cold-weather regions may experience lake effect snow if the lake is unfrozen during winter. Preparing for more intense weather may include winterizing structures and keeping a close eye on trees, powerlines, and other structures.
Research Potential Waterfront Regulations and Fees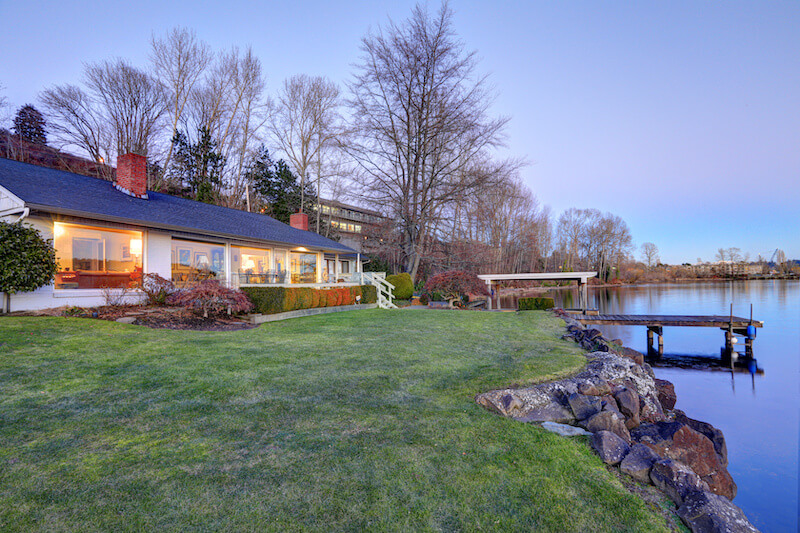 Every property is a bit different when it's on the lake. It's essential to learn about any applicable restrictions on use within that property. Before purchasing, be sure to clarify the property location and access to the water. For example, there are limitations on the access points according to riparian rights in Ontario. Permits are required for any changes to the existing area and various functions.
Docking is one of the first things to keep in mind. If the property has a dock or the buyer plans to add one, it is crucial to learn if this is allowable at the property's location. Riparian rights exist in this area, which means that the landowner that borders the surface water source has access to the water in its natural quantity.
In some Canadian provinces, any use of waterfront access or changes to the structural components of the land requires permitting. It is not easy to get some communities to change access points significantly because of the city's desire to maintain natural habitats and keep water access as available as possible.
On the Other Hand, Some Expenses are Fun
Buying property on the waterfront still allows for enjoying the lake in most cases. However, with clarification on restrictions and rules, property owners may have a lot of fun exploring all of the best essential purchases for waterfront homes.
Property owners who wish to take advantage of their location may have some expenses related to fun activities. For example, buying a jet ski may be expensive, but it may create years of fun on the waterfront. Boats and fishing lines are also common investments for those who want to enjoy the lake.
Consider also making the lake more of a part of the home. For example, build a library nook with a waterfront view or add floor-to-ceiling windows along the wall of the home to allow incredible views constantly. A lofted bedroom with a view of the water may be a solid investment, too.
Adding an outdoor kitchen or perhaps an outdoor shower may be one way to get even closer to nature. This, with a beautiful fire pit near the shore, makes for many long-enjoyable summer nights on the water. Add a floating sauna, if allowable, or a simple porch swing – whatever allows for personal enjoyment.
Ready to Buy Your First Waterfront Home?
The more homebuyers learn about the nuances of waterfront homeownership, the more they can enjoy a lifestyle that's better fitting to their needs. By asking the right questions about buying waterfront homes, daily relaxation is guaranteed.