5 Best Attractions in Barrie ON: Fun Activities For Tourists & Locals
Posted by Peggy Hill on Monday, February 28, 2022 at 10:32 AM
By Peggy Hill / February 28, 2022
Comment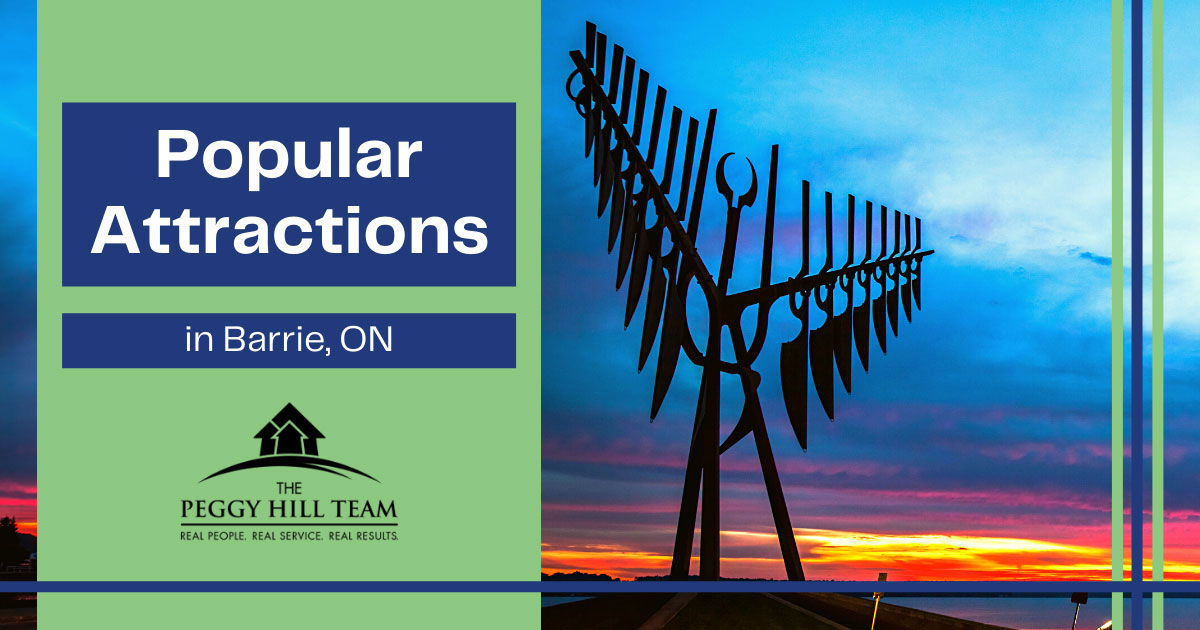 Barrie became a city during the War of 1812 when the area served as a British troop supply depot. The city of Barrie was named after the man who commanded the region's forces during the war, Sir Robert Barrie. Over time, Barrie grew and attracted many people, especially those seeking affordable new construction homes with adventures nearby.
During the 1980s and 90s, Barrie saw an influx of home-seekers, and the population grew from 40,000 people to more than 125,000 in just 25 years. Today, Barrie is rich with attractions, sights, and things to do that represent the past, present and potential future of the community.
Make a Day of It at the Barrie Waterfront
In the heart of downtown, the Barrie Waterfront is one of the local favourite attractions, and in warmer months, the 6.7-kilometre zone around the lake is filled with adventure seekers of all kinds. Land dwellers can enjoy outdoor activities like running, rollerblading, walking, cycling, and using one of the six fitness stations along the waterfront. There are also multiple great Barrie parks located along the waterfront, including Centennial Park.
The Centennial Park Community Ice Rink is open seasonally, and in warmer months, the rink is transformed into a twin basketball court. There are also beach volleyball courts and opportunities for water activities in the park at Tyndale Beach. Visitors will also be able to stop by the MacLaren Art Centre to see the artwork, sculptures, statues, and much more.
Getting out onto the water is easy along the Barrie Waterfront at the Tiffin Boat Launch and the marina for boating, sailing, canoeing, and kayaking. Two outfitters offer rentals for gear, supplies, and lessons. Surfing, skiing, wakeboarding, and paddleboarding are widely popular here.
There are four major beaches: Tyndale, Minet's Point, Centennial, and Johnson, and lifeguards are on duty during peak season. Kids of all ages love the inflatable water park just off Centennial beach. There is a self-guided tour called Discovering the Waterfront, and this Heritage Barrie walking tour takes about 80 minutes. Residents need a parking pass, and visitors pay $10 hourly for parking up to $50.
Follow Dreams and Desires with Inspiration from the Spirit Catcher
The Spirit Catcher is a 20-tonne piece of steel artwork originally placed at False Creek in Vancouver. It was moved to the Barrie waterfront outside of the MacLaren Art Centre in 1987 as a permanent installation that dominates the sky. Ron Baird created this iconic kinetic statue for display at the Canadian Expo.
The Spirit Catcher represents Canada's First Nations and their myth of the Thunderbird, which they believe originated on the west coast. The Thunderbird appears in the mythology of several different tribes, including the Algonquian, Ojibwe, and Menominee. In the specific mythology that inspired the Spirit Catcher, the Thunderbird is a messenger of the Great Sun. Upon installation, the statue was blessed with sweetgrass smoke and a ritual performance and dance by the Mnjikaning First Nation.
As the first work to be a part of the art centre's permanent collection, it's also their largest piece on display. The art centre conducts annual maintenance inspections of both its moving and stationary elements so that this Barrie icon will stand proudly for years to come.
The Spirit Catcher Additional Information
Address: 15 Lakeshore Dr, Barrie, ON L4N 6T4
View Exhibits at MacLaren Art Centre
The MacLaren Art Centre is prized by the community and is one of Barrie's top attractions. It has grown significantly since the installation of the Spirit Catcher and now boasts 1000s of pieces of contemporary Canadian art. There are multiple galleries with numerous displays of textiles, sculptures, paintings, ceramics, and much more.
Anyone who loves regional art will find spending an entire day at MacLaren to be pleasurable. There are rotating and permanent exhibits, and the Centre is continually expanding and adding to its collections. Tours are available for those wanting to learn the history and meaning behind the most popular works. A $5 donation is suggested but not required for entry.
MacLaren Art Centre Additional Information
Address: 37 Mulcaster St, Barrie, ON L4M 3M2
Hours: Closed Monday–Wednesday / 11 a.m.–4 p.m. Thursday–Sunday
Contact: 705-721-9696
Quench Your Thirst at Flying Monkeys Craft Brewery
Thirsty for some of the most potent and lovingly crafted brews? Head to Flying Monkeys Craft Brewery in Barrie, where 'normal' is considered 'weird.' This becomes apparent the moment patrons walk into the building, from each uniquely painted bar stool to the ceiling plastered in vibrant vintage band posters and license plates. Their canned beers are equally as colourful and eye-popping, featuring psychedelic prints.
Founded in 2004 by another name, the premise remains the same: to create unique brews with a free-thinking mentality as one of Barrie's best independent craft breweries. Flying Monkeys is the most popular craft brewery in town, and they offer beers with high percentages that could have one seeing flying monkeys if they aren't cautious.
Anyone who loves beer and wants to step outside the norm will not want to miss stopping by Barrie's fun and wild brewery. Be sure to have a designated driver, as many are caught off guard by the sheer power of these craft beers. Six-packs of beers can be purchased and taken home for those who like to take their suds in a private respite.
Flying Monkeys Craft Brewery Additional Information
Address: 107 Dunlop St E, Barrie, ON L4M 1A6
Hours: 11 a.m.–Midnight Monday–Friday / 10 a.m.–Midnight Saturday / 10 am–11 p.m. Sunday
Contact: 705-721-8989
Sports, Sports and More Sports at Sadlon Arena
As Central Ontario's premier sports and entertainment center, the Sadlon Arena also serves as a multi-purpose centre for conventions, concerts, and other large organized events. Once named the Barrie Molson Centre, the name was up in the air after the naming agreement ceased in 2018.
After much debate, a new naming agreement scheduled to last 10 years was made with the local business, Paul Sadlon Motors. This fantastic facility boasts state-of-the-art technology, comfortable seating, and amenities that not all stadiums can offer.
Today, Sadlon Arena is home to the mighty Barrie Colts from the Ontario Hockey League. They held their first game here on New Year's Eve in 1995 against the Sudbury Wolves. This diversity makes the arena a popular place for sports fans, and ticket prices are typically very reasonable.
Sadlon Arena Additional Information
Address: 555 Bayview Dr, Barrie, ON L4N 8Y2
Contact: 705-737-6850
Explore, Discover and Consider Calling Barrie Home
Many people move here to satisfy their more adventurous side, and these individuals are likely to be attracted to one of the many lovely waterfront homes in Barrie. Land lovers may be interested in the gated home communities, townhomes, condos, and apartments. Fortunately, there's a home suitable for all household sizes and budgets.
Calling Barrie home means 24/7 access to indoor and outdoor thrills on land or the water. As the ninth-largest city within the province with 150,000 people, the community is still small enough to retain a 'bedroom city' feel. Intrigued by any of Barrie's most popular attractions? Come and see what else awaits in Barrie, Ontario!
If you'd like to make your home in Barrie, contact The Peggy Hill Team of RE/MAX Hallmark with Ontario Real Estate Central at (705) 739-4455 to get in touch with a local real estate agent and discover your Barrie dream home today.