Life in Toronto: 11 Things to Know Before Moving to Toronto [2023]
Posted by Peggy Hill on Wednesday, February 15, 2023 at 11:33:30 AM
By Peggy Hill / February 15, 2023
Comment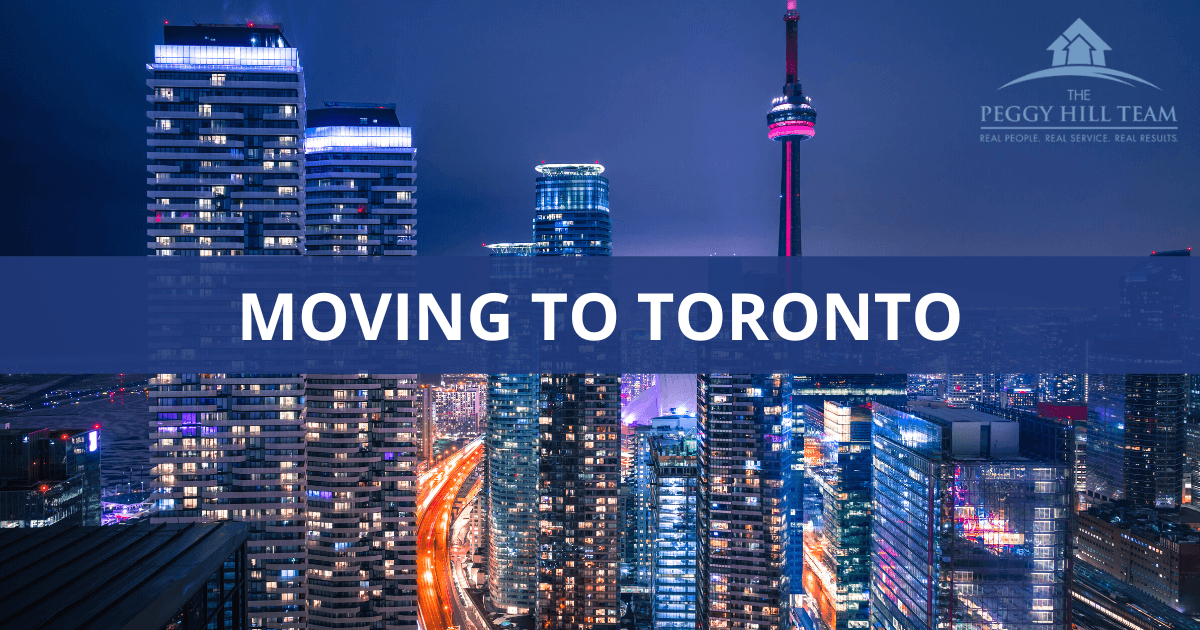 Nearly three million people live in Toronto, and for good reason. The city of Toronto has truly diverse arts, an enviable culinary scene, and a robust economy offering jobs at some of the best companies to work for in Canada. Plus, the local scenery offers the best of both worlds. The breathtaking skyline never fails to impress, while plentiful green spaces let residents get back to nature without leaving the cityscape. Still wondering if the city is a good place for you to live? Here's everything you need to know before moving to Toronto.
Cost of Living in Toronto
The cost of living in Toronto, Ontario, is about 14% higher than the average across the nation. Compared to the province, living expenses are only 2% higher than the average. Housing makes up most of the residents' monthly costs and comes in at 26% higher than the national average.
Across all residential real estate types, homebuyers may see an average price of around $1 million. Single-family homes cost the most at about $1.4 million, but luxury homes for sale in Toronto quickly exceed that. Townhouses are $950,000 on average, while most condos in Toronto can cost anywhere between $400,000 and $720,000.
When renting a home, renters may see prices in the $1,900 to $9,900 per month range, depending on the home type, location, and amenities. A one-bedroom apartment in East Danforth is around $1,900 a month, while a three-bedroom unit costs $5,400 per month in The Beaches.
Prices for single-family rental homes are much higher due to the quieter living experience and ample yard space. In the Yonge-St. Clair neighbourhood, it's common to pay $9,900 a month. Renters can find lower-cost rentals around $3,000 per month rentals in areas like Oakridge and Bayview Village.
Beyond housing, other living expenses in Toronto may include:
Home Insurance: $77 per month
Utilities: $475 per month
Groceries: $285 per person each month
Public Transportation: $160 for the monthly pass
Gas: $1.80 per litre
Car Insurance: $130 per month
Parking: Up to $5 per hour
Phone: $50 per month
Internet: $80 per month
Toronto residents typically spend around $230 per month on entertainment. Eating at a restaurant costs around $45 per person, while cocktails cost about $15 each. When residents want to see the latest flicks, they may pay up to $20 per ticket at the local movie theatre.
Toronto Job Market
The biggest companies in Toronto lead the way in helping residents build rewarding careers. KPMG LLP provides over 9,900 finance jobs, while Amazon Canada employs over 47,000 people in the electronic shopping field. Other leading employers include the successful public transportation company Metrolinx and Ontario Power Generation in the energy sector.
With over 30 hospitals and countless medical, dental, and vision centers, Toronto offers seemingly endless opportunities to excel in the healthcare world. The top employers in this industry include The Hospital for Sick Children, Holland Bloorview Kids Rehabilitation Hospital, Humber River Hospital, Sinai Health, and Michael Garron Hospital.
More than 41,000 people work for the Toronto Public Service system, serving in various roles ranging from project coordinators and mailing operators to prosecution lawyers and plumbers. To support the next generation of employees, this entity extends offers to students, like paid internships and summer roles.
On average, Toronto residents make around $37,000 per year, although salaries are climbing due to cost of living increases. Most workers earn around $32,000 when they're just starting. The median household income is $84,000.
Popular Industries in the Area
Toronto is well-known as Canada's business and financial capital. On a global scale, this city lands in the top 20 for the highest GDP per city. The financial services sector is a leading industry, along with green energy, media, healthcare, hospitality, and technology.
The top jobs in the financial sector are banking, securities and investments, and insurance. Financial companies thriving in this city include the Canadian Imperial Bank of Commerce, Manulife Financial, and Zurich Canada.
Across all industries, more than 93,000 companies with 20 or more employees operate in the city proper. Even more microenterprises exist, adding over 140,000 companies to the total. These micro companies employ up to four people, although they tend to grow through the years as their customer base increases.
Things to Do in Toronto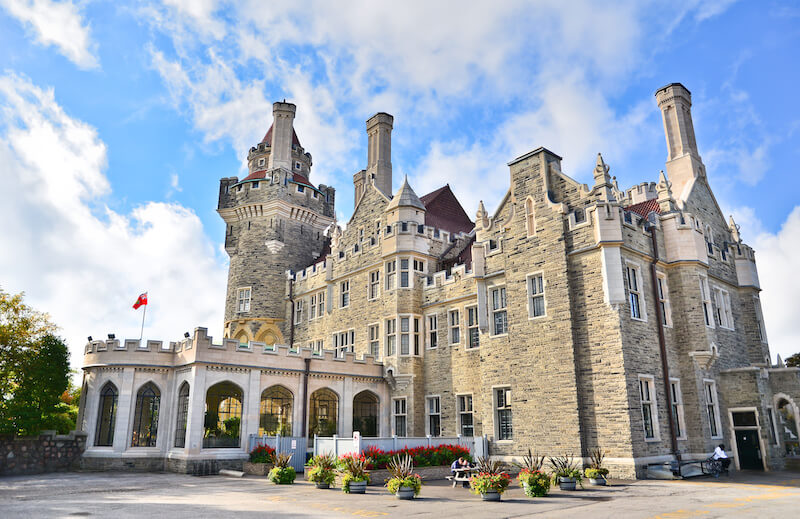 Over 2,100 attractions welcome visitors through their doors daily in Toronto. The local parks, beaches, and waterways offer more fun and adventure opportunities. Nightclubs, music venues, and comedy rooms keep the fun going well into the night, especially for those who love to hop from location to location starting in the early evening.
When hunger strikes, over 7,500 restaurants are spread across Toronto's best neighbourhoods, allowing everyone to satisfy their cravings. International fare abounds, too, allowing residents to sample cuisine from all across the world.
Outdoor Activities
The sky is the limit in how residents can enjoy their time outdoors—and all without leaving the city limits. The ample parklands promise great times at sports courts and fields, playgrounds, running tracks, outdoor ice rinks, and even swimming pools. Picnics are a popular pastime as well, especially on balmy days.
For those who love watersports, there's canoeing, kayaking, paddle boarding, swimming, and more on Lake Ontario. Residents often like to take the ferry over to Centre Island to rent watercraft and spend the day on the water. Barring that, they can stick to the mainland and enjoy the waters in Humber Bay.
Local Attractions
The most popular attractions in Toronto include:
Casa Loma
Toronto Zoo
Ripley's Aquarium of Canada
Royal Ontario Museum
Art Gallery of Ontario
St. Lawrence Market
Yonge Dundas Square
A visit to the Distillery District is also a fantastic way to spend the day. This historical area features trendy boutiques, quaint eateries, and art galleries galore. Community events are regularly held here, including the ever-popular Toronto Christmas Market.
Restaurants & Nightlife
Fast food eateries, casual dining joints, and fine dining restaurants sprawl across Ontario's capital city. As far as fast food joints go, there's Burrito Boyz, RUDY, The Burgernator, Fancy Franks, and so much more. The top casual dining restaurants include Figo Toronto, RASA, and The Oxley.
Toronto goes big on the fine dining scene as well. Joints like the Baton Rouge Steakhouse & Bar, GEORGE Restaurant, and Auberge du Pommier treat all their patrons to delicious culinary experiences.
CN Tower goes beyond all that by offering its diners unmatched views of the cityscape in its rotating 360 Restaurant. Located at the top of the tower, this restaurant lets patrons view the city from 351 metres above ground while dining on market-fresh Canadian cuisine.
Toronto Climate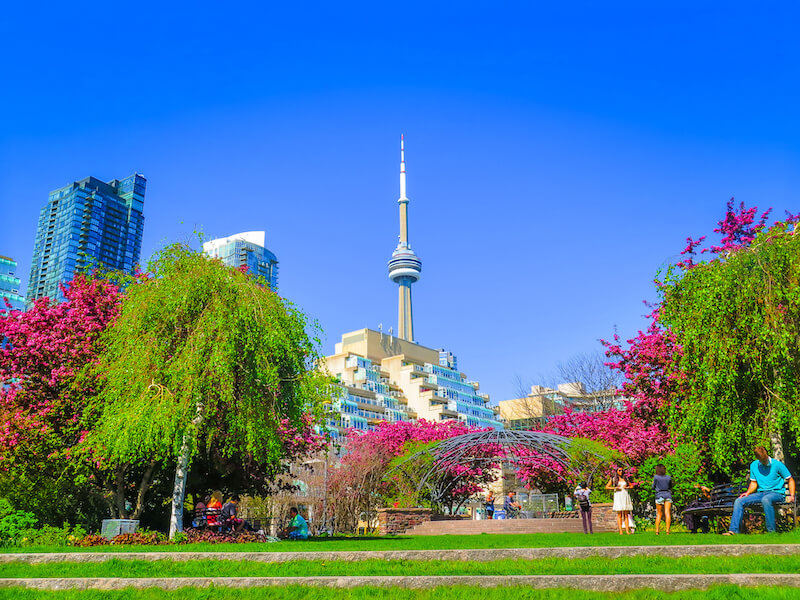 Toronto's continental climate is the mildest of Canada's eastern cities. The downtown area sits in a relatively humid zone due to its proximity to Lake Ontario. Overall, the summer features dry, warm days, while the winter brings freezing temperatures, snow, and high winds.
The best time of the year to visit is spring and summer, although winter offers chances to go snowshoeing, ice skating, sledding, and more. Residents enjoy the opportunity to go on year-round adventures as the weather changes each season, like picnicking in the spring and leaf-peeping in the autumn months.
Toronto receives more than 675 millimetres of rain each year, while snowfall often hits 121 centimetres annually. For 65 days out of the year, residents can expect to see at least one centimetre of snow on the ground. On average, the sun shines brightly for 305 days per year despite all the rain and snow.
Traffic in Toronto
On average, the cityscape has a congestion level of 24%, which means that travel times increase by that amount during periods of heavy traffic. That said, driving in Toronto can still be convenient if you know how to track the flow of traffic.
In addition to miles of arterial routes through the city, residents can hop on the highways running through the city to make quick work of their travels. The major roads cutting through the city include Ontario Highways 404, 427, and 400 going north to the city of Barrie. Ontario Highway 401 travels east to west and features express lanes in the middle.
Residents have to hop on the Gardiner Expressway for travels along the coast. This route starts near the Port Lands and continues well past Burlington.
Alternative Routes
With many significant thoroughfares and arterial streets crisscrossing through the city, residents always have a chance to take an alternate route around significant delays. During periods of high congestion, it's best to hop on the arterial roads and travel through the city rather than stay on the highways.
The most popular route through the city proper is Yonge Street, followed by Dundas, Bloor, and University. King and Queen streets run parallel to each other through the southern part of the city, connecting residents to all the most popular destinations in Downtown Toronto.
If the city streets prove problematic, then the opposite is true. Drivers can get on the nearest expressway, like Allen Road, to easily travel to the next part of town.
Toronto's Public Transportation
The excellent public transportation system makes it easy for residents to travel to all their destinations without owning a car. Thanks to the Toronto Transit Commission (TTC), residents can quickly get around town by bus, streetcar, or subway.
The local bus lines run from 6 a.m. to 1 a.m. each day. Over 192 bus routes are running throughout the day and another 28 at night. Over 200 million people use the bus yearly, and ridership numbers are constantly growing alongside the population.
In addition to the buses, there are nine streetcar routes throughout the capital city. These routes align with bus and subway stops to make travelling through the entire city quick and easy. For the fastest travel times, the subway is the way to go. Two main lines run through the city, regularly hitting each stop every couple of minutes.
No matter what public transportation route riders take, they must pay by purchasing tokens or a monthly pass. A single fare token costs $3.25 for adults, while seniors and youth have to pay $2.30. Kids under the age of 12 ride for free.
Savings are available by purchasing a monthly pass. The pass costs $156 per month for adult riders, while seniors and teens pay $128 per month. Signing up for the annual contract decreases the monthly payments to $143 and $117, respectively.
Schools in Toronto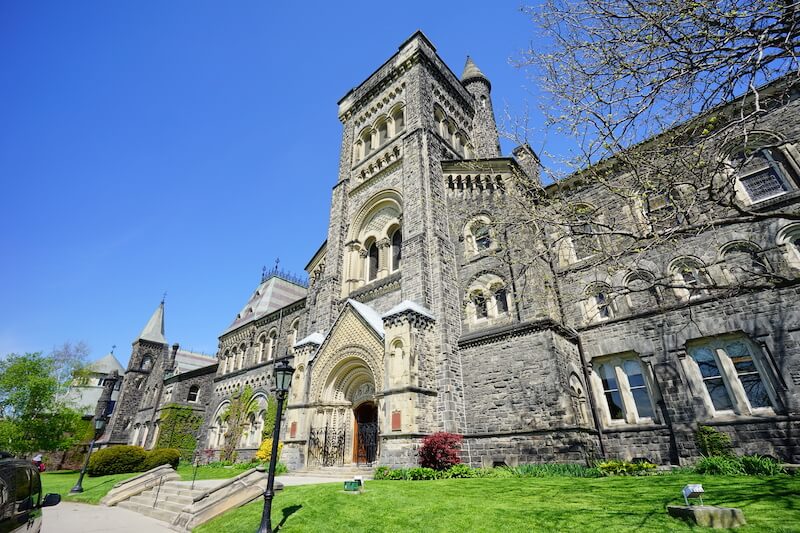 Four province-level school boards oversee elementary, intermediate, and secondary education. The Toronto District School Board serves as the main English-language public-secular board.
The public-secular francophone board is the Conseil scolaire Viamonde. There's also a public-separate francophone board: the Conseil scolaire Catholique MonAvenir. The Toronto Catholic District School Board operates as the public-separate anglophone district for the region.
Across all these districts, there are over 750 schools in total. Each one serves a different neighbourhood, although it's possible for families to choose a different school than the one set for their address. After graduating from high school, scholars have even more post-secondary school choices to consider.
Public colleges in the city are Humber College, George Brown College, and the University of Toronto. Beyond those three, students have over 20 different colleges to consider. Trade schools, like the Skilled Trades College of Canada, are another path for those who want to work in trades like construction, machining, or the automotive world.
Ready to Experience All Toronto Has to Offer?
Opportunity awaits everyone living in Toronto. The cityscape provides plenty of chances for fun and adventure, not to mention all the culinary delights. The economy and workforce is one of the most robust in the world, and there are dozens of schools to choose from. Whether you're eyeing Toronto townhomes for sale or a house in one of the best suburbs, this thriving city is ready for your to make yourself at home.
If you're interested in moving to Toronto, contact The Peggy Hill Team of RE/MAX Hallmark with Ontario Real Estate Central at (705) 739-4455. Our local real estate agents can help you find the perfect Toronto home.