8 Most Walkable Neighbourhoods in Toronto: Everything You Need in Just a Few Steps
Posted by Peggy Hill on Wednesday, March 29, 2023 at 2:10:58 PM
By Peggy Hill / March 29, 2023
Comment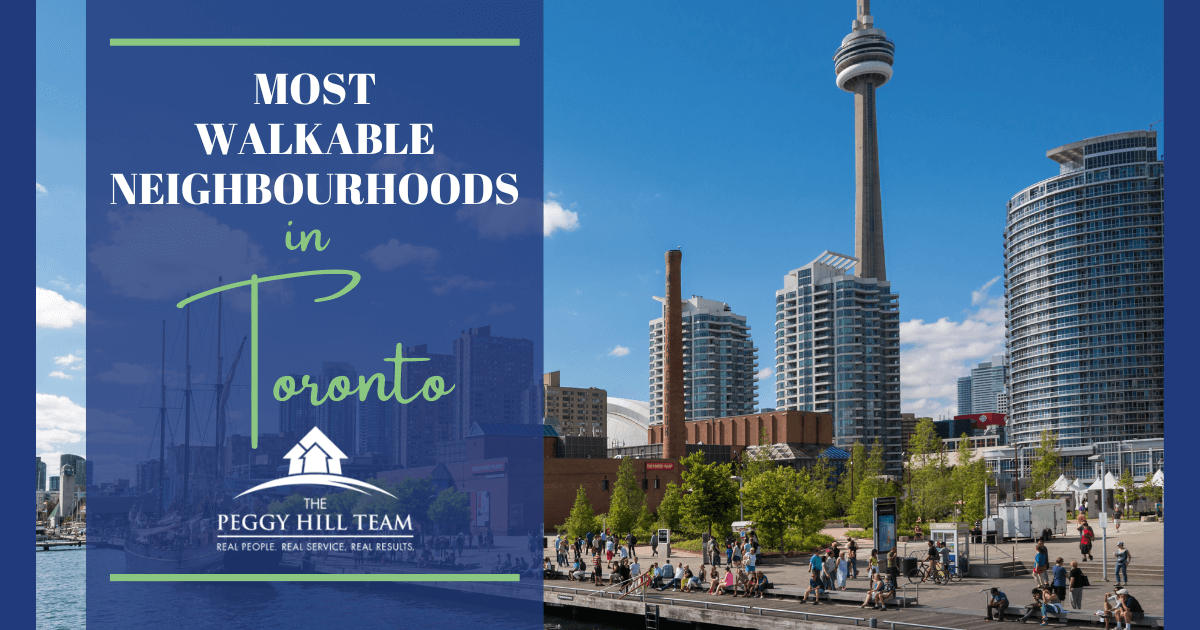 Toronto is one of the most walkable cities in Canada! From Bay Street Corridor to Trinity-Bellwoods, many of the best neighbourhoods in Toronto are also some of the most walkable. These communities offer bustling business improvement areas, spacious sidewalks, and convenient access to TTC public transportation, making it easy to complete your everyday tasks on foot. Whether you're looking for local amenities, cultural attractions, or just some fresh air, these neighbourhoods keep everything you love about the city of Toronto within convenient walking distance.
Moss Park
Moss Park, which encompasses Old Town and St. Lawrence, is located just east of Downtown Toronto. The area is full of restaurants and cafes, making it easy to grab a bite while exploring. Its proximity to the Distillery District provides walkable access to some of the best nightlife in Toronto.
St. Lawrence Market—one of Canada's oldest public markets with fresh produce, meats and seafood—is one of the most convenient amenities in the community. This two-storey market boasts famous eateries, bulk foods, and specialty grocery items. Corktown Common provides playgrounds for children as well as picnic areas while David Crombie Park presents a laid-back green space with a wading pool, a dog park, and basketball courts.
Homes for sale in Moss Park typically go for over $1 million, thanks to their convenient location. Most are attached homes, though some single-family ones are available. Moss Park offers a unique blend of urban amenities and green spaces, making it an ideal neighbourhood for those looking to experience the best of both worlds.
Moss Park Amenities
St. Lawrence Market
Museum of Illusions
Moss Park Arena
St. James Park
Bay Street Corridor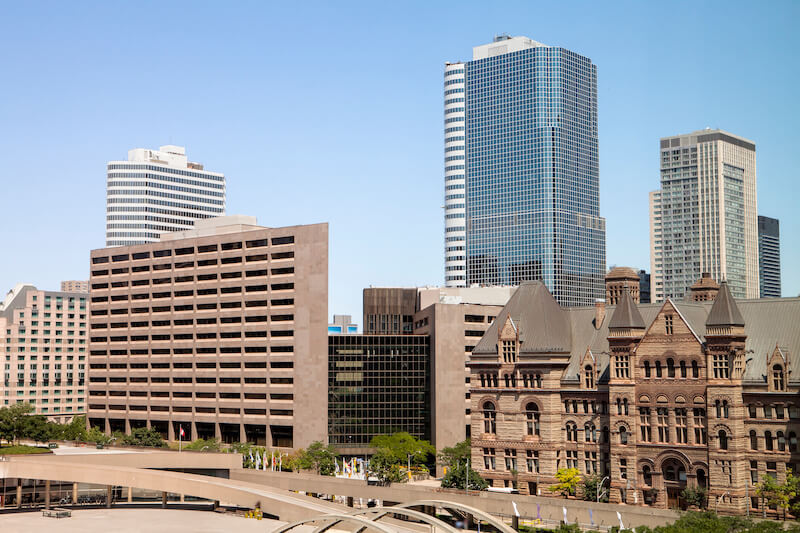 Bay Street Corridor is one of the most sought-after neighbourhoods in Toronto. Located in the heart of downtown, it offers easy access to some of the city's best attractions and amenities. With a variety of shops, restaurants, and entertainment venues all within walking distance, this neighbourhood has something for everyone.
Are you searching for condos in Toronto? Some of the city's most luxurious condos can be found towering above Bay Street. Lumiere, The Penrose, and Horizon on Bay are all conveniently located near the College and Dundas subway stations, hospitals, and popular shopping destinations such as Eaton Centre.
The Royal Ontario Museum (ROM) is located near the northernmost point of Bay Street. This museum houses over 6 million artifacts from around the world and features an impressive collection of natural history exhibits and rotating special exhibitions that explore topics such as art, culture, science and technology.
The Eaton Centre is a bustling shopping, dining, and entertainment hub in downtown Toronto. Nathan Phillips Square is also located near Bay Street, offering several important landmarks, including Toronto City Hall, the Peace Garden, and the iconic "Toronto" sign. It is also a popular destination for events and festivals, such as the annual Christmas market, summer concerts, and outdoor movie screenings.
Bay Street Corridor Amenities
Bay Street Restaurants & Shops
Queen's Park
University of Toronto
Bay Street Subway Station
Mount Pleasant West
With its enviable location in Midtown Toronto, Mount Pleasant West offers easy access to public transportation, shopping, entertainment, and more. Luxurious high-rise condos dominate the local real estate market, but there are also numerous single-family homes and townhouses in the area, typically listing in the millions.
Mount Pleasant West is conveniently served by two subway stations – Davisville Station on Yonge Street and Eglinton Station on Eglinton Avenue. Both stations provide quick access to Downtown Toronto, North York, or Scarborough.
Residents can take advantage of local stores such as Shoppers Drug Mart, LCBO, Sobeys and Metro grocery stores for everyday needs; while also having plenty of options for dining out at restaurants. There are also several movie theatres nearby, including Cineplex Cinemas Yonge-Eglinton Centre.
Mount Pleasant West Amenities
Two convenient subway stations
Steps to Midtown shops & restaurants
June Rowlands Park
Kensington Market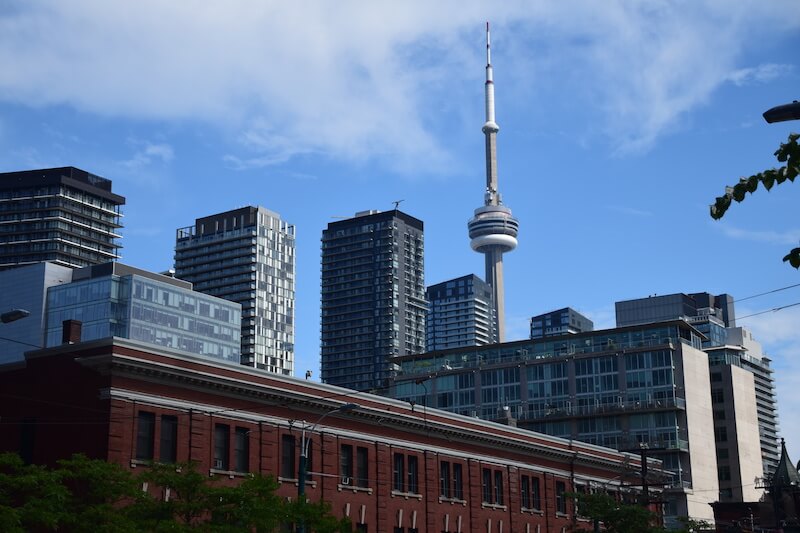 If you love to walk, don't step past Kensington Market! It's known for its bustling markets, unique shops, and diverse restaurants and cafes. It borders Spadina Avenue to the east, Bathurst Street to the west, College Street to the north, and Dundas Street to the south. The neighbourhood is situated just a short distance from the University of Toronto, the Royal Ontario Museum, and other popular destinations in Downtown Toronto.
The streets are lined with colourful storefronts that draw visitors from all over the city. The narrow alleyways are filled with hidden gems like art galleries, bookstores, and independent boutiques. Plenty of street food vendors also serve delicious snacks like bubble tea or dumplings on every corner.
Kensington Market is also well-connected to public transportation, with several streetcar and bus routes passing through the neighbourhood. However, the compact layout and walkability of the area make it easy to explore on foot, and many visitors and locals alike prefer to stroll through the neighbourhood's lively streets to get a taste of its unique character and culture.
Most homes for sale in Kensington Market are condos, with prices ranging from around $600,000 to $3 million. Detached properties in the area start in the millions.
Kensington Market Amenities
Kensington Market BIA
15+ TTC Stops
Bellvue Square Park
Augusta Avenue Shops & Restaurants
Trinity-Bellwoods
Trinity-Bellwoods boasts a unique mix of restaurants, cafes, shops, galleries, and other amenities, making it one of the best places to live for convenient walkability. The area is bordered by Queen Street West to the south and Dundas Street West to the north. In terms of housing options, plenty of choices are available, from high-rise condos with stunning views to Victorian-style townhouses with their classic charm still intact. Homes typically list in the low millions.
Trinity Bellwoods Park is a large public park at its centre which serves as an important gathering place for locals and visitors alike. It's a great place to spread a blanket and enjoy an afternoon picnic. In the wintertime, the outdoor skating rink is a blast. Meanwhile, the indoor recreation centre promises year-round exercise and entertainment.
When it comes time for entertainment, there is always something going on around here, whether it's checking out live music at venues like The Garrison or grabbing dinner at one of many delicious restaurants. Shopping-wise, you can find all sorts of items ranging from vintage clothing stores to more modern boutiques. All this, plus easy access via TTC, makes Trinity Bellwood an ideal location for anyone looking for a walkable lifestyle close to downtown Toronto.
Trinity-Bellwoods Amenities
Trinity Bellwoods Park
Queen Street West shops & restaurants
Trinity Bellwoods Park Dog Bowl
Garden District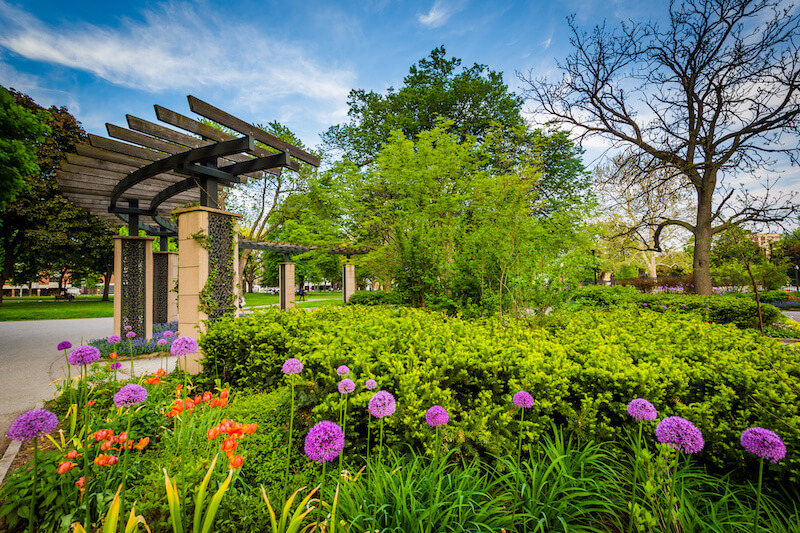 The Garden District makes everyday strolls a breeze with a variety of walkable amenities! It is bordered by Yonge Street to the west, Sherbourne Street to the east, Carlton Street to the north, and Queen Street to the south.
The Church-Yonge Corridor passes through Toronto's Garden District. Home to some of the city's most iconic landmarks, such as St. Lawrence Market and Yonge-Dundas Square, this neighbourhood offers plenty for residents to explore. It is also known for its walkability; with wide sidewalks and pedestrian-friendly streets, it's easy to get around on foot in the area.
The neighbourhood has a rich history that dates back centuries—many of the buildings have been standing since before Canada was even a country. The architecture reflects this long history, from grand Victorian homes to modern high rises. There are also plenty of green spaces throughout the neighbourhood, making it ideal for those who want access to nature without leaving the city centre.
Living in Church-Yonge Corridor means having easy access to downtown and other parts of Toronto via public transit or bike lanes. With so much going on right at your doorstep plus quick connections across town, there's something for everyone. Real estate prices start at around $770,000 for condos, while townhomes and detached properties quickly exceed $1 million.
Garden District Amenities
Church-Yonge Corridor
Toronto Metropolitan University
505 Dundas Streetcar
Allan Gardens
Leslieville
Leslieville is a vibrant and diverse neighbourhood located in Toronto's east end. It has become increasingly popular over the past few years due to its proximity to downtown, easy access to public transit, and abundance of local amenities. Some people even refer to it as the greenest neighbourhood in Toronto.
Leslieville offers various housing options for those looking for an affordable place to live in Toronto. The area consists mostly of detached homes with some semi-detached houses, making it a great place to look for townhomes in Toronto. Plenty of condos are available if you're looking for something that embodies city living. Prices range from $400,000–$1 million depending on size and location within the neighbourhood.
One key feature that makes Leslieville a great neighbourhood for walkability is its pedestrian-friendly streetscape. The area features a mix of small local businesses, shops, cafes, and restaurants, all easily accessible on foot. Several parks and green spaces, including Greenwood Park, provide a pleasant respite from the bustling city streets. Leslieville has everything you need right at your fingertips.
Leslieville Amenities
Queen Street East Shops & Restaurants
Greenwood Park
Woodbine Park
The Annex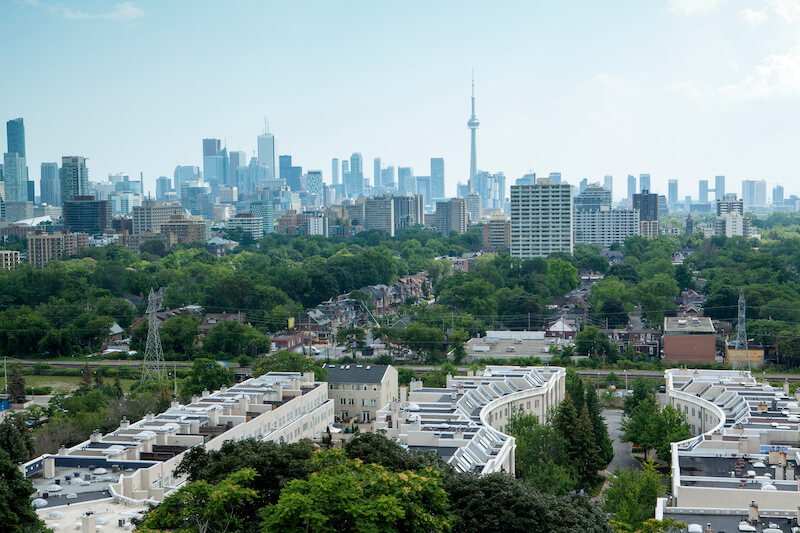 The Annex is known for its lively atmosphere and walkable lifestyle. The local real estate market features high-rise condos and numerous single-family homes located northeast of the University of Toronto campus, ranging from around $600,000 up to $5 million.
The Annex offers plenty of amenities, including restaurants, bars, cafes, shops and services. Bloor Street West contributes the most to the neighbourhood's high walkability score. Bloor Street is one of the most iconic streets in Toronto, Canada, running east-west through the city's downtown core. It is known for its bustling energy, upscale shopping, and diverse dining options. The street is home to many of the city's most famous landmarks and cultural institutions, including the Royal Ontario Museum.
One of the reasons that Bloor Street is such a walkable area is the presence of Spadina Station, which servers numerous public transportation routes, including the Bloor-Danforth subway line. In addition, the street features wide sidewalks, dedicated bike lanes, and plenty of pedestrian-friendly spaces, including parks and public plazas. These elements, combined with the vibrant street life and a range of shopping and dining options, make The Annex a popular destination for pedestrians.
The Annex Amenities
Bloor Street Shops & Restaurants
Spadina Station
Robert Street Park
Step to It in Toronto's Walkable Neighbourhoods
Living in a walkable neighbourhood is becoming increasingly popular for many home buyers and sellers. With the abundance of options available, deciding which area best suits your needs can be difficult when moving to Toronto. From Bay Street Corridor to Trinity-Bellwoods, plenty of neighbourhoods offer great amenities and easy access to public transportation, making them ideal for those looking for an enjoyable walking experience.
Whether you're searching for homes or just exploring different areas of the city, these walkable neighbourhoods in Toronto will provide you with everything you need to make your life more convenient and enjoyable.
If you're interested in moving to Toronto, contact The Peggy Hill Team of RE/MAX Hallmark with Ontario Real Estate Central at (705) 739-4455. Our local real estate agents can help you find the perfect Toronto home.