8 Most Expensive Neighbourhoods in Toronto: Discover Toronto Mansions
Posted by Peggy Hill on Thursday, March 16, 2023 at 12:15:36 PM
By Peggy Hill / March 16, 2023
Comment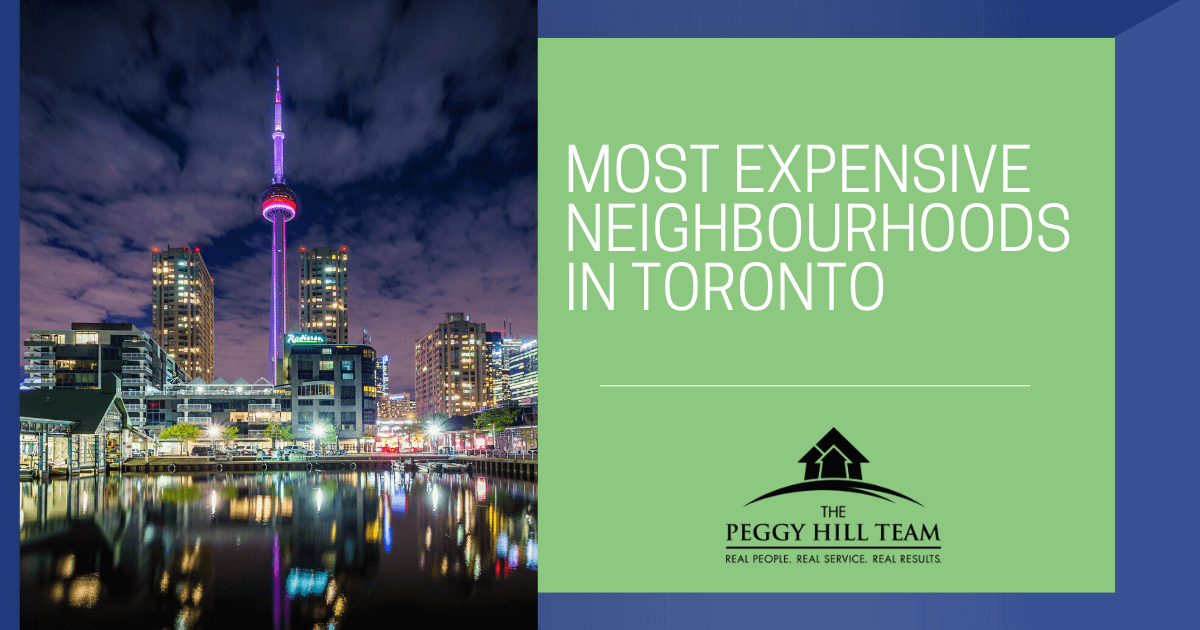 Whether they're new arrivals looking to put down roots or longtime residents relocating, it's clear that the city of Toronto is one of the top choices in Canada for would-be homebuyers. With its excellent quality of life, diverse dining and nightlife scene, and booming economy, there's much to love. What's also clear is that some of Toronto's most expensive neighbourhoods require a bigger budget—though residents do get a lot for their money when moving to Toronto!
Bridle Path
Bayview Avenue bounds the gorgeous neighbourhood of Bridle Path to the west, Suncrest Drive to the south, and The Bridle Path roadway to the north and east. This location nestles it between several of the area's top parks and other natural attractions, from the Toronto Botanical Garden to Sunnybrook Park, the latter of which provides ample public green space, sports facilities, and more. Despite this peaceful, secluded feel, residents are just minutes from the CF Shops at Don Mills mall and the Don Valley Parkway for leisurely trips around the city and region.
Bridle Path's housing consists primarily of spacious Toronto luxury homes on larger lots. These distinctive, one-of-a-kind properties range in style from chic modern structures to stately, chateau-inspired mansions. They typically start in the high single-digit millions but routinely reach $20 million or more for the highest-end homes. In addition, several luxury condominium developments are also available around the edge of the community, with these gorgeous units selling in the $5–7 million range.
Bridle Path Amenities
Toronto Botanical Garden/Edwards Gardens
Windfields Park
Sunnybrook Park
CF Shops at Don Mills mall
Rosedale Golf Club
Sunnybrook Health Sciences Center
Banbury Community Rec Centre
York University Glendon Campus
Forest Hill South
The prestigious southern portion of the Forest Hill neighbourhood offers stunning historic homes and proximity to some of Toronto's most well-known educational institutions. It earns its name from the area's gently sloping and rolling terrain, an added benefit for many would-be buyers. The community is bounded by Eglington Avenue, St. Clair Avenue, Bathurst Street, and Avenue Road.
The latter is split by Upper Canada College, a private K-12 boys' school with nearly two centuries of heritage. Nearby, The Bishop Strachan School offers similar private school education for girls. While residents enjoy a central location with easy access to shopping, dining, and mass transit, the neighbourhood is also connected to the Kay Gardner Beltline Trail, which provides a greener escape for walking or biking.
Single-family detached homes and condos make up a roughly even split in the area's housing, with a few townhouses rounding out the market. Even the most modestly sized Toronto condos and other multifamily units in the neighbourhood start north of half a million, with detached properties that can be found from $2.5 million and up. However, Forest Hill South's top homes frequently sell in the upper single-digit millions and sometimes reach $10 million.
Forest Hill South Amenities
St. Clair West Subway Station
Upper Canada College
The Bishop Strachan School
Kay Gardner Beltline Trail access
Cedarvale Park
Rosedale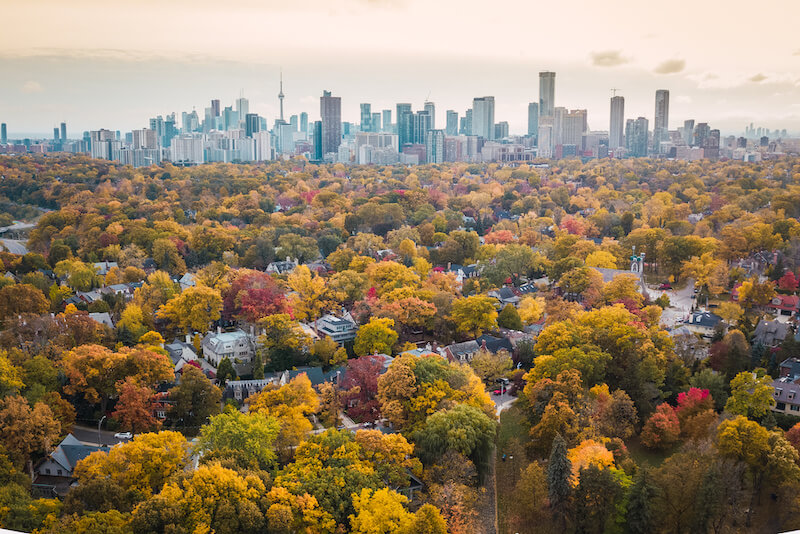 Those looking for a combination of some of Toronto's best homes and green spaces close to downtown may find their dream home waiting in Rosedale—one of Toronto's best neighbourhoods and a designated heritage conservation district. It comprises the area west of Don Valley, east of Yonge Street, and north of Rosedale Valley Road. Rosedale's name evokes plant life, and this high-end neighbourhood has plenty of greenery and park space. Rosedale Park is the most centrally located, though numerous other options are close by, many of which connect to the Don Valley system of parks.
Meanwhile, residents are still just a short walk or drive from the shopping and dining of Yonge Street, like the high-end French of Sorrel or the more casual but equally delicious pulled pork sandwiches of Black Camel. This stretch is also the site of two subway stops on Line 1 (Yonge-University.)
Housing in Rosedale comprises large, luxury detached homes in its interior portion, with condos and other multifamily units available on the major roads forming its borders. Homebuyers looking for detached properties should expect to spend at least $3.5 million, with most selling in the $5–7 million range. However, some can top $15 million for exceptionally spacious or historic homes. Even multifamily units start in the $800,000 range, with the highest-end choices reaching $6–7 million.
Rosedale Amenities
Rosedale Park
Evergreen Brick Works
Craigleigh Gardens
Close to Yonge Street shopping and dining
Nearby Line 1 (Yonge-University) subway stops
St. Andrews
Within the larger York Mills community is the St. Andrews neighbourhood. Its borders are Highway 401 to the north, York Mills Road to the south, and Old Yonge Street and St. Andrews Park - North York in the west and east.
Residents have easy access to numerous parks, including Tournament Park and its four tennis courts. Plus, just to the west of the neighbourhood is the 18-hole Don Valley Golf Course. Apart from the outdoors, St. Andrews residents are close to the York Mills Shopping Centre, Yonge Sheppard Centre, and Bayview Village Shopping Centre for their shopping and dining needs.
Homes for sale in St. Andrews typically range between $1.3 million and $9 million, though some of the grandest homes can reach into the double-digit millions. Most homes will have at least four bedrooms and three bathrooms.
St. Andrews Amenities
Tournament Park
St. Andrews Park - North York
Owen Park
Easy access to Highway 401
York Mills Shopping Centre
Yonge-St. Clair
Yonge-St. Clair is centred around the intersection that gives the neighbourhood its name, the site of boutique shops, delightful restaurants and cafes, and some of Toronto's best high-priced homes. The X-shaped community is sandwiched between some of our other top communities like Rosedale, Casa Loma, and Forest Hill South, providing access to all of the benefits of these communities as well.
However, Yonge-St. Clair has plenty going on right within the community, too. These include acclaimed spots like Union Social Eatery, Capocaccia Trattoria, and Barnsteiners, just a few of the diverse cuisines available within a short walk of this intersection. Meantime, shopping is easy and convenient at locations like St. Clair Centre and Delisle Court.
The dense, highly developed nature of Yonge-St. Clair is reflected in its housing choices, almost universally condos or other multifamily units in mid- to high-rise buildings. While a handful of the area's one- to three-bedroom homes can be found from the $600s to the $800s, most sell for a million dollars or more. Some ultraluxury units list nearly four times that amount. For their money, buyers in these high-end buildings often enjoy a full suite of amenities, from 24-hour security to pools, exercise rooms, and more.
Yonge-St. Clair Amenities
Extensive shopping and dining options
Oriole Park
Nearby Line 1 (Yonge-University) subway stops
St. Clair tram line access
Annex
The Annex is one of Toronto's oldest communities, with some homes dating back to the 1880s. The neighbourhood is among the closest to downtown Toronto, comprising the area between Bathurst Street, Avenue Road, Dupont Street, and Bloor Street. These border streets provide some of the city's best and most varied restaurants and shopping. Meanwhile, extensive transit access by subway, bus, and tram makes getting around the city fast and easy.
The Annex is also highly convenient for University of Toronto community members and those who want to take advantage of University district spots like Canada's most-visited museum, the famous Royal Ontario Museum, which showcases prestigious art, culture, and nature exhibits. In addition, several small community parks provide green space steps from residents' front doors, while gorgeous Queen's Park is just a short walk away.
Homebuyers shopping in The Annex will mostly find condos and other multifamily properties, though many detached and semi-attached single-family homes exist. Condos start in the $700s but can reach as high as $3 million or more for luxury or new construction units. Houses can typically be found from $2 million to nearly $10 million.
Annex Amenities
Extensive transit access
Diverse restaurant/nightlife scene
Convenient to the University of Toronto
Jean Sibelius Square
Taddle Creek Park
Casa Loma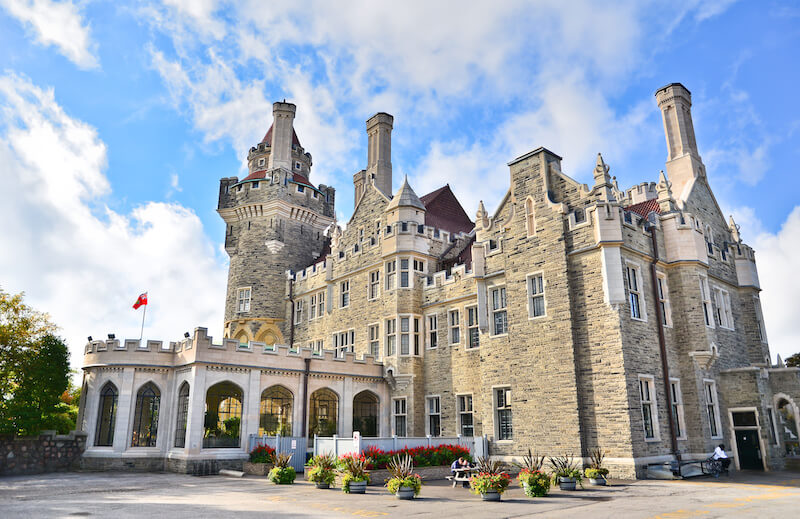 Casa Loma takes its name from the community's defining feature: the massive, imposing castle (now a museum and event space) at its center. While it may look medieval, it was built in 1911, though the property's sprawling grounds were subdivided a decade later to create the current neighbourhood. Residents can enjoy exhibits and special events at the castle or escape to nearby Nordheimer Ravine or Sir Winston Churchill Park, which offers green space, a playground, and sports facilities.
Casa Loma's northern and southern borders (St. Clair Avenue and Dupont Street, respectively) offer a variety of shopping and dining, with local favourites like Chadwick's alongside popular chains and retail outlets. Both border streets offer extensive transit access to the city's subway, streetcar, and bus system.
Like many top Toronto communities, housing is split between mid- and high-rise multifamily buildings on the major streets that form its borders and gorgeous detached properties on interior roads. Condo buyers will be hard-pressed to find units for less than three-quarters of a million, with some reaching well into the $2–3 million range. Single-family properties start north of $1.5 million and generally top out in the high single-digit millions.
Casa Loma Amenities
Casa Loma Castle Museum
Spadina Park
Sir Winston Churchill Park
Spadina Museum
Tarragon Theatre
Convenient to St. Clair Avenue subway/streetcar/bus stops
Lawrence Park
Lawrence Park has been among Toronto's most highly desired neighbourhoods since it was first established in the early 20th century. The community is almost entirely residential, bounded by Lawrence Avenue, Bayview Avenue, Sherwood Park and other green spaces along its southern edge. These parks are some of the neighbourhood's best features, from Sherwood Park along Blythwood Ravine to the beautifully landscaped Alexander Muir Memorial Gardens; the neighbourhood has many of Toronto's homes near parks.
The community also touches Yonge Street at its northwestern tip, providing access to bus lines, subway transit on Line 1 (Yonge-University), convenient daily shopping, and popular local restaurants like Uncle Betty's Diner.
Homes in Lawrence Park are primarily single-family detached properties that are among the priciest in the city. Even the most affordable properties start north of $4 million and more commonly list in the $7-10 million range. However, buyers will enjoy some of the area's most beautiful and spacious homes for their money, with four to six bedrooms and distinctive styles ranging from Tudor to Colonial to more modern designs.
Lawrence Park Amenities
Sherwood Park
Alex Muir Memorial Gardens
Toronto Public Library - Locke Branch
Nearby Line 1 (Yonge-University) subway stop
High Prices and High-Quality Homes Are Waiting In Toronto
While many areas of Toronto are relatively high-priced, these eight communities take the cake. These top expensive neighbourhoods offer an incredible amount to would-be buyers inside their homes and throughout the community, though they will leave you on the higher end of the cost of living in Toronto. Whether you prefer a stately home in a quiet neighbourhood or a luxury condo close to the city's heart, these eight choices offer something for everyone.
If you're interested in moving to Toronto, contact The Peggy Hill Team of RE/MAX Hallmark with Ontario Real Estate Central at (705) 739-4455. Our local real estate agents can help you find the perfect Toronto home.