Most Expensive Neighbourhoods in Barrie, ON
Posted by Peggy Hill on Friday, July 23, 2021 at 11:17 AM
By Peggy Hill / July 23, 2021
Comment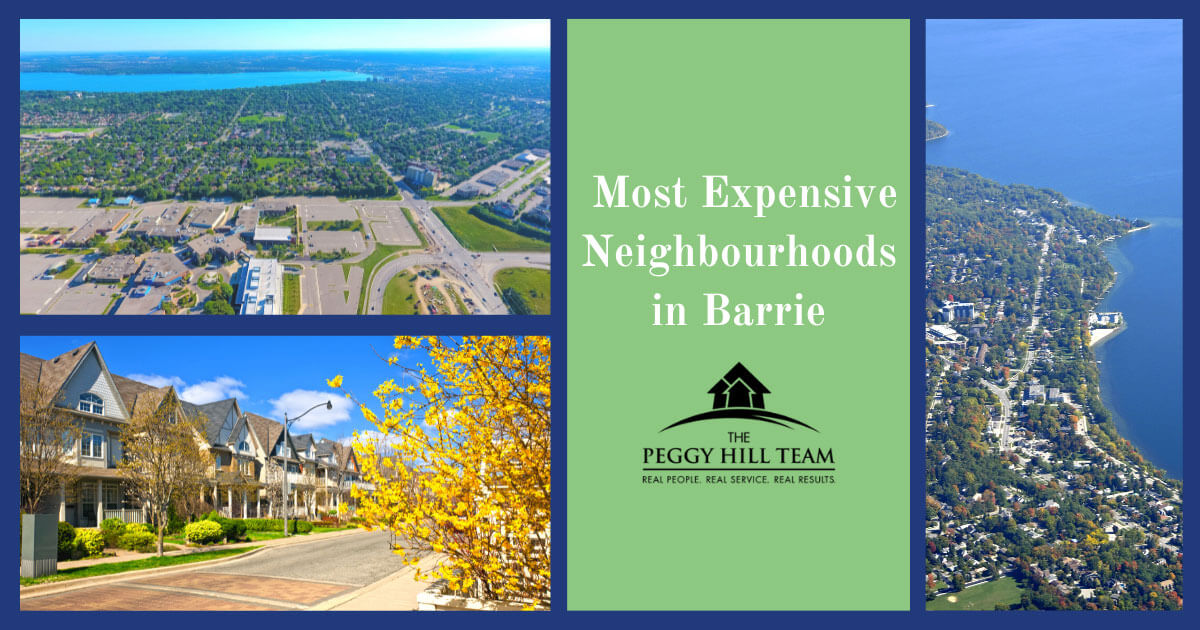 Barrie is a city on the Kempenfelt Bay, part of the Greater Toronto area in southern Ontario. The Toronto community is about 80 kilometres away, and residents can commute via car on the 400 Highway or the GO train. The population of the Barrie community is about 145,000, and it's located in Simcoe County. Like much of southwest Ontario, it's a growing city. The province has designated it an Urban Growth Centre.
The city has several beautiful neighbourhoods, many with waterfront access. Because of its rich history and continuing growth, it offers residents a choice between living in heritage communities or more modern ones. The average price of a home in Barrie is about $558,000, and prices have been consistently rising. However, some neighbourhoods are pricier than others. Those looking for a luxury home in Barrie should start their search in one of the following expensive Barrie neighbourhoods.
Innis-Shore
The Innis-Shore neighbourhood is in southeastern Barrie. It's bordered on the north by a stretch of the south shore of Kempenfelt Bay and is east of Wilkin's Beach. Its boundary stretches south to Lockhart Road, with the 20th Sideroad marking its eastern edge. The western border goes up from Yonge Street and Lockhart Road to Sandringham Road/Royal Parkside Drive.
Much of Barrie's most recent development has taken place in Innis-Shore, and some of its land is still undeveloped. Some parts of the neighbourhood have a rural feel and custom-built homes on vast lots. Other sections are subdivided, with homes closer together and sidewalks. Its two main roads are Big Bay Point Road and Mapleview Drive East, and these roads provide shopping and restaurants. Cicco's, a popular Italian restaurant, is just off Mapleview Drive. St. Louis Bar and Grille, a regional chain, is on Big Bay Point Road, as is Zehr's Market, which sells food, housewares, and other items.
Homes in Innis-Shore typically tend to be three bedrooms or larger and are primarily single-family detached. Prices vary depending upon the size and whether the home is a custom Barrie new construction home or in a subdivision.
South Shore
South Shore Amenities
Beach and waterfront access
Just east of Allandale GO station
Community Centre
Parks, such as Tyndale Park
Trails, including a portion of the city's waterfront trail
South Shore derives its name from its location on the southern shores of Kempenfelt Bay. It's immediately east of the Allandale neighbourhood, runs along Lakeshore Drive, and is north of the Painswick neighbourhood.
Property prices range from $1.5 million to over $2 million, which is about 12% higher than the average in Barrie. Homes span a variety of sizes and types and include bungalows, condos, Barrie waterfront homes, and homes larger than three bedrooms.
While the neighbourhood itself is primarily residential, a commercial corridor exists just south of it along Yonge Street and west of Lakeshore Drive. Barnstormer Brewing, which provides pub fare, some shopping, and a produce service, is on Yonge Street, as is Wimpy's Diner, for example. Mexhico, which provides plant-based Mexican food, is on nearby Dunlop Street. Minet's Point Plaza provides some shopping, and the Allandale Mall is about five minutes away.
Allandale
Allandale Amenities
Near downtown Barrie
Waterfront walking and bike paths
GO station within the neighbourhood
Parks, including Allandale Station Park
Allandale Recreation Centre, which includes a fitness centre, arena, and two pools
Allandale is an older neighbourhood on the southwestern corner of Kempenfelt Bay, due south of downtown Barrie. Running along the south end of Lakeshore Boulevard at the cross-section of Essa Road and Tiffin Street, the Allandale neighbourhood was originally a railway town in Innisfil Township. The city of Barrie annexed it in 1896. It has a large concentration of century-old homes, some of which occasionally are renovated and sold. The community also has its own historic walking tour, which includes the original station, some commercial areas, and residences.
In addition to the historic homes, Allandale also offers modern homes. Prices range from $400,000 up to $2 million.
Several shops and services line Essa Road, including Flooring by Design and Pendula Hair. The Farmhouse Restaurant, which serves breakfast and lunch, is within the neighbourhood. The neighbourhood's proximity to downtown allows access to the restaurants, shopping, culture, and nightlife there.
Edgehill Drive
Edgehill Drive Amenities
Parks, including Leacock Park on its western border and Pringle Park nearby
Close to and accessible to the downtown core along the 400
The Edgehill Drive neighbourhood is in central-west Barrie, west of the downtown core and the 400 Highway. Its name is derived from Edgehill Drive, which marks the neighbourhood's northern boundary. Much of Barrie's newer development is taking place here, and home types include single-family detached and semi-detached homes and Barrie condos. Sizes and prices vary, ranging from $400,000 up to $1 million.

The neighbourhood is primarily residential. A few services, such as a medical spa, are located there; however, a commercial corridor is located just east of the neighbourhood. The Bull and Barrel Pub, which features pub food and live music, is less than five minutes away in the Cedar Pointe Business Park. Ricardo's Taj Mahal, an Indian and Pakistani restaurant, is also on Cedar Pointe Drive.
Painswick
Painswick Amenities
Accessibility to downtown via the Barrie South GO station buses or trains or driving the 400
Outdoor amenities such as Lover's Creek Ravine, Painswick Park, and Golden Meadow Park
An abundance of restaurants and shops, including a commercial area along Big Bay Point Road and Yonge Street
A branch library, which also includes a community room
The Painswick neighbourhood is one of the southernmost neighbourhoods in the city, south of the shore of the Kempenfelt Bay and east of the 400. Its boundaries are the train tracks to the east and Huronia Road to the west. It's bisected by Big Bay Point Road. This neighbourhood features the 34-foot-tall Old Spirit Clock at the corner of Yonge Street and Madelaine Drive, which lights up and moves on the hour.
The neighbourhood comprises a mix of older, historic homes and modern ones. Modern homes are of various types, including single-family homes and condos. Prices range from $600,000 up to $1 million.
Several restaurants and shops are within the neighbourhood, including Scotty's, which offers comfort food, Zehrs market, and Danny's Fish and Chips.
East End
East End Amenities
Outdoor green spaces such as Kempenfelt Park, Strabane Park, and Vancouver Lookout
Parkview Centre for seniors
Eateries and shops within the neighbourhood
Cultural and educational opportunities at Georgian College
The East End is one of the oldest neighbourhoods in Barrie and is on the city's northeast end. Its boundaries are Duckworth Street on the west, Blake Street on the south, Grove Street to the north, and Penetanguishene Road on the east. It houses Georgian College and the Royal Victorian Health Centre. In addition to the college, there are several other public schools in the neighbourhood. The neighbourhood features Victorian bungalows with large shade trees, many of them on large lots.
The area has an abundance of restaurants and shops, including Rooster's Bar and Grill, Fil's Cafe, A-1 South Asian Grocery, Chris' No Frills groceries and home goods, and Nino's Italian Restaurant. Centrally-located Strabane Park has opportunities for tennis and basketball.
Home prices in East End range from $600,000 to $1 million.
Find a Home in Barrie's Upscale Neighbourhoods
Barrie's most expensive neighbourhoods offer various home styles and homes of various ages, from Victorian to modern. Some offer access to beaches, marinas, and Barrie's popular water activities in the neighbourhood; others offer close access to the downtown core with all its rich culture, nightlife, dining, and shopping. Some neighbourhoods provide large lots with neighbours far away; others offer a neighbourhood or urban feel. All of them have access to Barrie's parks and provide opportunities for outdoor recreation in Barrie. While Barrie itself provides employment and leisure time activities, residents also can access all that Toronto offers through the GO system and the 400 Highway.