8 Most Expensive Condos in Toronto: An Insider's Overview of Toronto's Nicest Condos
Posted by Peggy Hill on Thursday, April 6, 2023 at 2:31:46 PM
By Peggy Hill / April 6, 2023
Comment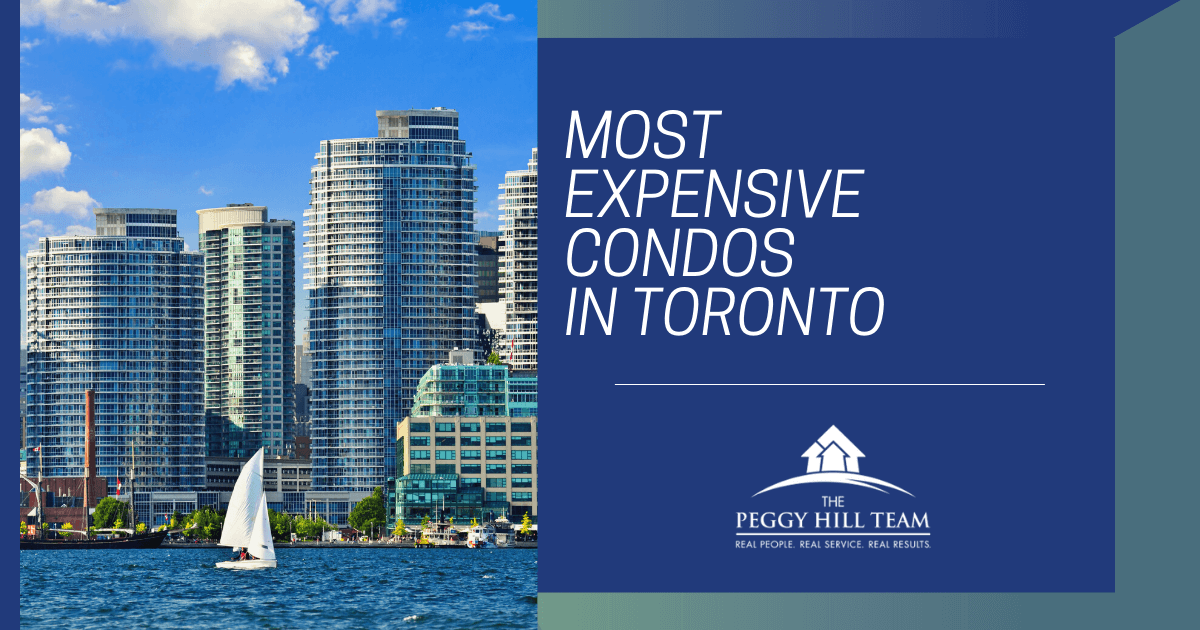 Looking for luxury condos in Toronto? It shouldn't be hard. The city skyline is decorated with high-rise apartments filled to the brim with opulent amenities. At the most expensive condos in Toronto, residents can enjoy stunning views, luxury finishes, and the best perks, from sumptuous lounges and spas to private theatres and fitness centres. Read on to discover the nicest condos for sale in Toronto.
The One Toronto: 1 Bloor Street West
Soaring above other residential towers in Canada, The One Toronto offers luxurious condos in a distinctive high-rise in one of Toronto's most expensive neighbourhoods.
The One is a feat of architectural ingenuity, boasting immense height and an innovative lattice structure. The 85-storey building rises 312.5 metres, making it the tallest residential tower in the nation. Bronze trusses on the building's exterior give it a distinctive look and support much of its load. This design means The One has fewer obstructing pillars in its interior, allowing its homes to maximize space and natural light.
The Limited Collection of 416 residences begins on the 62nd level and commands prices starting at around $3.2 million, with the building's priciest condo costing about $8.3 million. Floor plans are completely customizable, allowing residents to create the home of their dreams. These condos boast the highest quality finishes, including custom cabinetry, marble countertops, Kohler fixtures, and the latest Miele appliances. The One's unique design and floor-to-ceiling windows also offer exceptional panoramic views of Toronto and Lake Ontario in every home.
Located at 1 Bloor Street West, The One overlooks Yorkville, a Victorian-era neighbourhood founded by Joseph Bloore and William Botsford Jarvis in 1830. Yorkville became Toronto's bohemian cultural centre in the 1960s and continues to be a significant cultural destination today, with numerous art galleries, restaurants, and high-end retailers lining its streets.
The One Toronto Amenities
Infinity pool
Fitness level
Private terrace garden
On-site dining and retail
Concierge service
Valet parking
Toronto Four Seasons Residences: 55 Scollard Street
Created by one of the most recognizable brands in luxury hospitality, Toronto Four Seasons Residences offers upscale condos known for their high-end amenities.
Isadore Sharp founded the Four Seasons Hotel brand in Toronto in 1961. More than five decades later, Four Seasons operates more than 100 hotels and resorts in some of the world's most popular destinations. Known for its commitment to excellence, personalized service, and sumptuous amenities, the brand applies those same principles to everyday living at the Four Seasons Residences to create a luxurious resort-style experience.
The Four Seasons Residences consists of two towers in the heart of Yorkville. The taller West Tower features 200 residences starting on its 24th floor, while the residential-only East Tower offers 109 suites. West Tower residents enjoy a private lobby at 50 Yorkville Avenue, with four elevators providing direct access to suites. East Tower has a private entrance at 55 Scollard Street and can access amenities in West Tower via an elevated pedestrian bridge.
Residences in both condo buildings feature minimum 10-foot ceiling heights and floor-to-ceiling windows that offer excellent views of Toronto's skyline. East Tower condos feature balconies, while West Tower suites offer terraces, gas fireplaces, and full-height curtain-wall window systems. Homes in Toronto Four Seasons Residences have sold for $900,000 to $10.5 million.
Toronto Four Seasons Residences Amenities
Fitness centre
Indoor pool and hot tub
Spa services
Lounge
Screening room
Business center
24-hour concierge
Valet parking
Theatre Park: 224 King Street West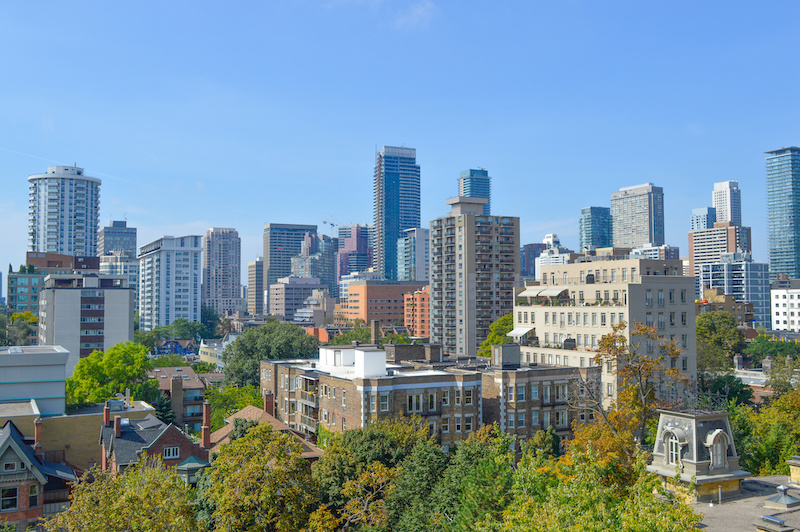 Theatre Park offers luxurious condos in the heart of Toronto's renowned Theatre District, making it one of the best places to live in the city to enjoy the arts.
Toronto's Theatre District is one of the best in the world, boasting the largest concentration of stage theatres in Canada and ranked the third largest English-speaking theatre district. Many of the area's oldest landmark theatres were built around the turn of the 20th century but languished through the mid-century. After the Canadian centenary of Confederation in 1967 renewed public interest in Canadian theatre, new theatres were built, older venues were restored, and major productions like Cats and Miss Saigon came to Toronto stages. Today, local productions and touring shows from Broadway and the West End make the Theatre District a thriving part of the city's vibrant cultural scene.
Theatre Park's convenient location at 224 King Street West makes it easy to enjoy some of the Theatre District's best attractions. The 47-storey condominium is directly next to the Royal Alexandra Theatre and just down the road from other excellent venues like the Princess of Wales Theatre and TIFF Bell Lightbox.
The 234 residences at Theatre Park feature high ceilings, open-concept living and dining areas, upgraded baths, and pre-finished flooring. Floor-to-ceiling windows and large private balconies offer excellent views of downtown Toronto. Prices in Theatre Park range from $1.3 to $4.6 million.
Theatre Park Amenities
Rooftop lounge
Outdoor pool
Fitness centre
Event room
24-hour concierge
Yorkville Park: 88 Cumberland Street
Yorkville Park by Minto offers luxurious yet sustainable living spaces in one of Toronto's most desirable neighbourhoods.
This luxurious condo offers 25 storeys of residential space set atop a limestone and granite podium boasting over 530 square metres of boutique retailers. The building blends contemporary aesthetics with the Yorkville area's art deco architectural heritage, creating a unique modernized look.
The average condo at Yorkville Park will sell for prices ranging between $700,000 and $2.2 million. The condominium's 200 suites feature floor-to-ceiling windows and spacious balconies, providing excellent views of the city. Kitchens include large, custom-built islands and panelled fridges and dishwashers that blend into the cabinetry. Energy Star-rated appliances, low-emission paint, and energy-efficient heating and cooling systems helped earn Yorkville Park a LEED Silver certification, making it the first residential building in Toronto to receive the honour.
Located at 88 Cumberland Street, the condo overlooks the eponymous Village of Yorkville Park. Although Victorian townhomes once occupied this space, they were demolished in the 1950s during the construction of Yorkville's subway. The award-winning park's design takes inspiration from the site's history, featuring 11 garden plots whose borders follow the former homes' property lines.
Yorkville Park Amenities
Fitness centre
Lounge with kitchen
Rooftop terrace
24-hour concierge
Shangri-La: 188 University Avenue
Providing a little slice of paradise on earth, Shangri-La features sumptuous upscale suites at the intersection of entertainment and business districts. This sleek skyscraper stands proudly alongside the CN Tower, making it some of the most valuable real estate in Toronto.
The 66-storey building offers a 5-star hotel on its first 17 floors, while The Residences occupy levels 18 to 47, and the even more luxurious Private Estates span floors 50 to 65. Residents can directly access their homes through six high-speed elevators in Shangri-La's private residential lobby.
The 392 suites feature custom-designed Boffi kitchens equipped with Miele and Sub Zero appliances, washrooms with Carrera marble floors, and automated blinds. Over-height ceilings and floor-to-ceiling windows help maximize light and views of the bustling Queen West area. Shangri-La condos can sell for between $1.5 and $12 million.
Queen West encompasses several neighbourhoods that developed around Queen Street. Originally called Lot Street, the street was renamed in honour of Queen Victoria in 1837. Today, the area is a centre for Canadian broadcasting and the arts, from music and performance to fashion and visual arts.
Shangri-La sits at 180 University Avenue on the former site of Bishop's Block, a Georgian rowhouse built in 1829. While a leaky roof destroyed the historic building's interior, Shangri-La's construction incorporated its facade, and the condo now displays artifacts from Bishop's Block in its lobby.
Shangri-La Amenities
24-hour fitness centre
20-metre lap pool
Hot tub
Infrared sauna
Miraj Hammam Spa
24-hour concierge
Valet parking
Ten York: 10 York Street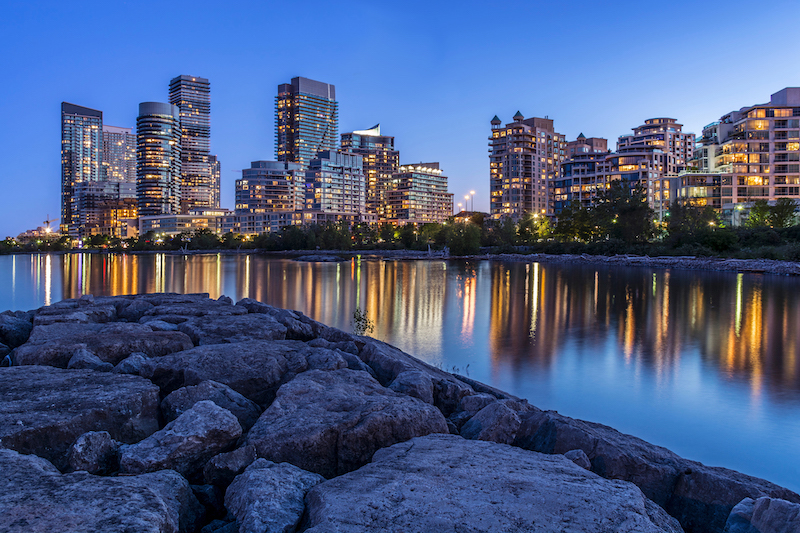 Nestled between Toronto's Financial District and the Harbourfront, Ten York is a nautical-themed luxury condo overlooking Lake Ontario.
Toronto's harbour has been a hub for shipping and industry since the city's founding. While the water's edge once extended to the location of today's Front Street, the lake was gradually filled in with landfill to create space for more piers and development. In the 1970s, the federal government began converting the industrial area into a mixed-use space with art galleries, performance spaces, boating areas, and parks. Private developers also began constructing condos along the waterfront, including Ten York at 10 York Street.
Local architecture firm Wallman Architects designed the 70-storey condo to complement Toronto's skyline from the lake and street level. It features an iconic double-height lobby, glistening glass walls, and platinum vertical fins that emulate the appearance of a contemporary luxury yacht.
Ten York is one of the first fully smart buildings in Toronto, featuring the latest technology throughout its 725 units. Each residence's kitchen boasts warm granite or quartz countertops, stainless steel ovens, and Ceran cooktops, while the Signature Collection offers breakfast areas with French doors and sizable Liebherr fridges. Homes in Ten York typically cost between $700,000 and $2.4 million.
Ten York Amenities
Fitness centre
Outdoor pool
Sauna rooms
Private theatre
Party rooms
Dining areas
Guest suites
24-hour concierge
Residences at the Ritz Carlton Toronto: 183 Wellington Street
Bringing over 100 years of hospitality experience to luxury living, the Residences at the Ritz Carlton provide opulent condos in a highly desirable location near some of the best employers in Toronto.
The 53-storey building features a 5-star hotel at its base and 159 residences on its top 30 floors. A private lobby gives residents direct access to the Sky Lounge on the 21st and 22nd levels. This tranquil space features a coffee bar, a boardroom, a screening room, and a billiards room and extends onto an outdoor terrace with a barbecue area. The 22nd level also has elevators providing access to all residential floors, and many homes come with the added bonus of direct elevator service.
The Ritz Carlton Toronto's generous suites start at 130 square metres and feature spacious kitchens and bedrooms with walk-in closets. Entire walls of floor-to-ceiling windows provide excellent views of downtown Toronto and the beautiful Lake Ontario. Residences at the Ritz Carlton Toronto have sold for $1.4 to $7.3 million.
Located at 183 Wellington Street West, The Ritz Carlton Toronto is across the street from Roy Thomson Hall and David Pecaut Square, which showcases modern sculptures and hosts the semi-annual Toronto Fashion Week. Its convenient location in the Entertainment District offers residents quick access to world-class venues like the Royal Alexandra Theatre and TIFF Bell Lightbox while remaining just minutes from Toronto's Financial District.
Residences at the Ritz Carlton Toronto Amenities
Fitness centre
Indoor salt-water pool
Top-rated spa
24-hour concierge
Valet parking
Chauffeur services
One St Thomas Residences: 1 Saint Thomas Street
Tucked away in one of Toronto's most popular neighbourhoods, One St Thomas Residences offers its residents the best in luxury and privacy, making it one of the city's most desirable buildings.
Award-winning architect Robert Stern designed the 29-storey condominium, artfully blending 1920s New York art deco style with modern quality. The limestone building's 70 suites are incredibly spacious, starting at 110 square metres. Each features at least one loggia or terrace, with many floor plans offering covered terraces. Downsview Kitchens' craftsmanship, solid core doors, detailed mouldings, fireplaces, and walk-in closets give each home a sense of elegance rarely seen elsewhere.
Residents can access the building through a discreet entrance and porte-cochere off St. Thomas Street. Adjacent to the building are four three-storey townhomes lining Charles Street. These homes allow residents to enjoy similar finishes to the main building while avoiding elevators. Suites at One St Thomas have sold for between $1.7 and $7.8 million, while the townhomes have sold for between $4.9 and $5.6 million.
Located at 1 St. Thomas Street on the corner of Charles Street and St. Thomas, One St Thomas puts residents right in the heart of the bustling Yorkville neighbourhood. The highly desirable neighbourhood is home to some of Toronto's best attractions, including world-class restaurants, museums, and boutiques.
One St Thomas Residences Amenities
Fitness centre
Indoor pool
Massage rooms
Party room
2 guest suites
24-hour concierge
Valet parking
Car washing services
Luxury Living in Toronto's Most Expensive Condos
Toronto's most expensive condos can provide the best in luxury living the city can offer, with prime locations, unbeatable views, opulent finishes, and incredible amenities. Living in one of Toronto's most expensive condos can give residents some of the best experiences in the city, both at home and out on the town.
If you're interested in moving to Toronto, contact The Peggy Hill Team of RE/MAX Hallmark with Ontario Real Estate Central at (705) 739-4455. Our local real estate agents can help you find the perfect Toronto home.