8 Most Affordable Toronto Neighbourhoods: Discover Cheap Houses in Toronto
Posted by Peggy Hill on Monday, March 27, 2023 at 2:06:43 PM
By Peggy Hill / March 27, 2023
Comment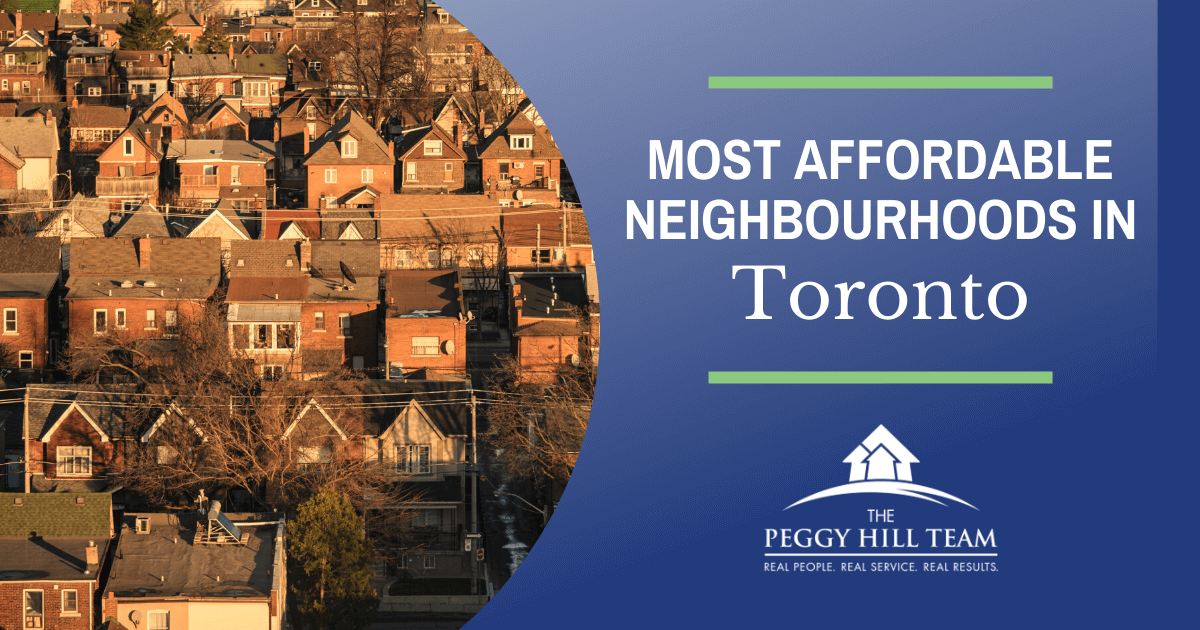 The bustling city of Toronto is a mosaic of cultures where nearly 3 million people reside. It boasts an excellent job market, over 1,500 green spaces, and many world-class attractions. For these reasons and more, it's no wonder that people worldwide flock to Toronto in search of a new home.
But with the average home price hovering around $1.1 million, Torontonians are looking for ways to reduce living costs and maximize the value of their home purchase.
Fortunately, several affordable neighbourhoods in Toronto offer easy access to parks, public transit, shops, and more. From West Humber-Clairville to Black Creek, homebuyers moving to Toronto will learn about the best affordable neighbourhoods in the city.
West Humber-Clairville
West Humber-Claireville is tucked away in Toronto's west end, just east of Pearson International Airport. Its proximity to the airport, Highway 401 and many public transit systems make it a convenient location for commuters. The area is surrounded by green spaces, including the Claireville Conservation Area, Humberwood Park and Humber Valley Golf Course. Other highlights include the BAPS Shri Swaminarayan Mandir Hindu Temple, Humber College North and Woodbine Mall. Residents can also access reasonably priced goods, services and groceries, with options available at Dr. Flea's, Panchvati Supermarket and BestCo Food Mart.
West Humber-Claireville's housing stock is a mix of semi-detached townhomes and condos, though free-standing houses may also be available on the market. Home prices are generally lower than the city's $1.1 million average, ranging from $250,000 for one-bedroom Toronto condos to $900,000 for a spacious, semi-detached three-bedroom. Those who can spend a little more can snag a detached home with a yard or a multi-family property for about $1 million. Architectural styles range from brick-and-mortar to modern wood-frame construction, giving potential buyers various options.
West Humber-Clairville Amenities
Etobicoke General Hospital
Woodbine Racetrack
Toronto Congress Centre
Fantasy Fair
Fortinos Etobicoke
Humber Arboretum
West Humber Junior Middle School
Moxies Dixon Road Restaurant
Flemingdon Park
Home to the Ontario Science Centre, Flemingdon Park is a multicultural neighbourhood located in Toronto's North York district. The neighbourhood was named after R.J. Fleming, Toronto's 27th mayor, who built his farm estate there in the late 1800s. The "don" portion of the name is a nod to the Don River, which flows east of Don Valley Parkway. The parkway is Flemingdon's main thoroughfare, providing quick access to the neighbouring communities of Thorncliffe Park and Don Mills.
Public transportation is provided by buses on the Don Mills and Eglinton routes, with connections at Pape Station on the Bloor-Danforth subway line and the Don Mills station on the Sheppard line; this public transit access makes travel to Toronto's best suburbs a breeze. Residents also enjoy access to Playground Paradise, one of Toronto's most popular indoor playgrounds, and the nearby Flemingdon Park Shopping Centre.
The neighbourhood was conceived as Canada's first apartment-planned community, developing in the early 1960s as a high-density housing district. As such, it's well-stocked with rental buildings and condominiums. Home prices are reasonable for Toronto, with a two-bedroom condo on a high floor starting at around $500,000 and a three-bedroom in a new development hovering around the $800,000 mark.
Flemingdon Park Amenities
Dennis R. Timbrell Resource Centre
Gateway Public School
Angela James Arena
Flemingdon Park Golf Club
Sunny Foodmarket
Real Canadian Superstore
Osaka Sushi
Scarborough City Centre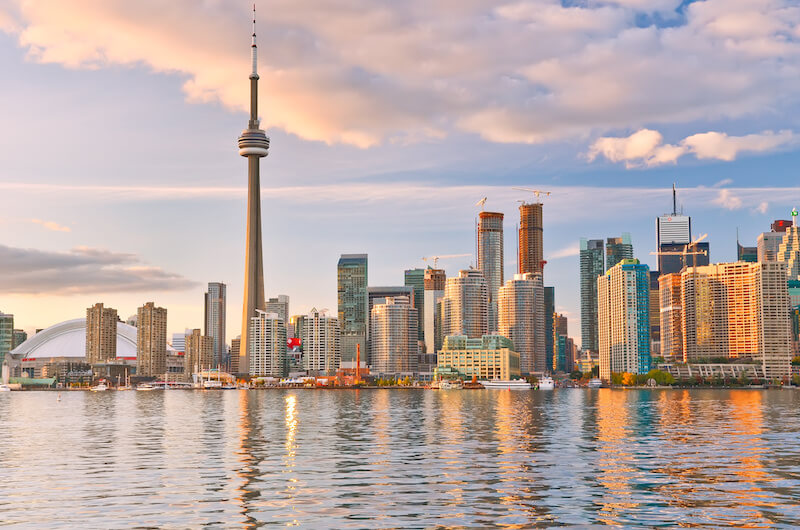 Scarborough City Centre was once a part of the independent municipality of Scarborough before merging with Greater Toronto in 1998. Situated in the city's east end, it's bordered by Highway 401 to the north, Ellesmere Road to the south, Markham Road to the east, and Midland Avenue to the west. Although it was created as Scarborough's main commercial center, Albert Campbell Square and Scarborough Civic Centre have added greenery to an otherwise tower-strewn landscape.
The neighbourhood is home to Scarborough Town Centre, where locals have access to more than 250 stores and a movie theatre. They're also within walking distance of the Toronto Trade Commission's (TTC) Line 3, with stops at McCowan, Scarborough Centre, and Midland stations. The overall effect is a well-connected neighbourhood that's increasingly appealing to budget-conscious buyers.
Those looking for cheap places to live in Toronto can choose from a wide selection of Scarborough City Centre condos. Many residences enjoy convenient on-site amenities such as fitness centers and indoor pools, with high-floor condos offering views of Toronto's cityscape. Mid-floor studios and one-bedrooms start at around $400,000, with larger floor plans ranging up to $800,000, including high-floor units with open layouts, terraces, and big city windows.
Scarborough City Centre Amenities
FreshCo
Canbe Foods
Hyderabad Biryani Hut
Shoppers Drug Mart
Scaddabush Italian Kitchen
Progress Badminton Club
Queen Victoria Pub
ALDGate Shopping Centre
Crescent Town
What was once an idyllic dairy farm in the late 19th century has since transformed into Crescent Town. The community is nestled in Toronto's east end, between Victoria Park Avenue and Dawes Road. Residents are within walking distance of Dentonia Park Golf Course and Crescent Town Club. The golf course features an 18-hole layout with undulating fairways and sand bunkers, while the town club boasts a 25-metre swimming pool, an indoor track, and a fitness center.
Taylor Creek Park offers over 50 walking and biking trails north of the community, plus picnic areas and fire pits. Residents also have access to Victoria Park station along the Bloor-Danforth subway line, which they can access via a convenient internal pedestrian walkway.
As one of the most affordable neighbourhoods in Toronto, Crescent Town offers a variety of condos starting at around $350,000, with detached and semi-detached bungalows ranging up to $950,000. Toronto townhomes for sale in the community are usually porched, two- or three-bedroom homes with multiple bathrooms and upgraded interiors. For buyers looking to spend less, the condo stock includes two- to three-bedroom layouts under $600,000.
Crescent Town Amenities
Dentonia Tennis Club
The Market Place
Crescent Town Elementary School
Crescent Town Daycare Centre
Azad Supermarket
DrugSmart Pharmacy
Parkway Forest
Located in Toronto's former suburb of North York, Parkway Forest lies northwest of the 401 and Don Valley Parkway intersection. With convenient access to the TTC's Sheppard-Yonge subway line at Don Mills station, this neighbourhood is excellent for commuters looking to live affordably outside of the city center. Parkway Forest Drive winds through the community, connecting residents to the bustling Fairview Mall. Here, shoppers can find their favourite big-box retailers, plus a wide selection of eateries and services. However, the community's main attraction is Parkway Forest Park, where residents can enjoy two playgrounds, a baseball field and courts for tennis and basketball.
House hunters have recently been turning to Parkway Forest to find the most affordable housing options in Toronto that don't scrimp on quality. Luxury one-bedroom apartments start at around $400,000, with larger floor plans listing for up to $900,000. Most condos feature modern appliances, stone countertops and open floor plans while boasting terraces and city views. The two main property types are mid-rise and high-rise constructions, some of which provide concierge services and on-site amenities.
Parkway Forest Amenities
FreshCo
Forest Cafe
Apna Bazar
Forest Manor Park
Forest Manor Public School
Parkway Forest Community Centre
Beijing Hot Pot Restaurant
Hillside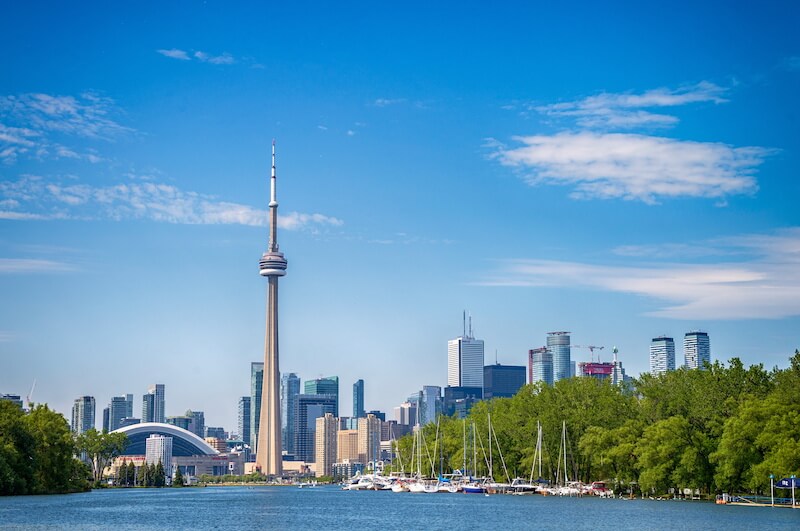 Hillside is the only Toronto neighbourhood that's part of a large conservation park, as Rouge National Urban Park bounds it. And while those unfamiliar with the area might mistake it for one of Toronto's most expensive neighbourhoods thanks to its handsome architecture and wide-open spaces, this isn't the case.
With over 75 square kilometres of wilderness, Rouge Park is ideal for nature lovers who want easy access to the east end's array of shops, restaurants and entertainment. Just off Highway 401 along Meadowvale Road, Hillside is relatively close to the Scarborough RT line and the 85 and 86 bus routes on the Meadowvale Loop. Residents can access several trailheads and local amenities, including the historic Hillside Church and the Toronto Zoo, which takes up the southwestern corner of the neighbourhood. The area also has several top-performing schools, including Heritage Park Public School and John G Diefenbaker Public School.
Homes in Hillside are stately and typically sit on one-half to five acres of land. Buyers can expect Toronto three-storey homes with more than 3,000 square feet of living space, prices ranging from $700,000 to upwards of $1 million. While pricier than other affordable neighbourhoods in Toronto, Hillside homes feature plenty of room and luxury, including modern open-concept kitchens and hardwood floors.
Hillside Amenities
Vista Trailhead
Rouge River Park
Cedar Trail Pond
Cedar Brae Golf Club
Sweet Ridge Farms
Rouge Park Pie Stand
Thorncliffe Park
Thorncliffe Park emerged in the early 1800s when George Taylor settled there and named his home "Thorn Cliff." It transformed from Canada's top spot for racehorse breeders to a bustling neighbourhood. Located north of Don Valley Parkway and south of Eglinton Avenue, the area boasts lots of green space and abundant retail options. Here, the East York Town Centre contains the likes of Dollarama, Food Basics, and a Shoppers Drug Mart. About half a dozen buses connect residents with Pape Station on the Bloor-Danforth subway line. For recreation, residents are minutes from the Jenner Jean-Marie Community Centre, E.T. Seton Park, Vanderhoof Skatepark and Edwards Gardens.
Thorncliffe Park is an excellent area for budget-savvy buyers and investors, as prices are generally relatively low. Most condos are listed between $400,000 and $800,000 and can be found in the area's predominantly mid-rise and low-rise buildings. Buyers who can stretch their budget a bit can also find spacious detached homes and semi-detached townhouses for around $1 million.
Thorncliffe Park Amenities
Iqbal Foods
Friday Bazaar
Sunnybrook Park
Costco Wholesale
Thorncliffe Park Public School
Overlea Mews Mall
Leaside Memorial Arena
Black Creek
Black Creek is located in the northwest part of the city and is commonly mentioned among Toronto's best neighbourhoods. It's well-connected to the rest of the city via Highways 400 and 401. Public transportation options include the Yonge-University subway line at Pioneer Village and York University stations. Several bus routes, including the 35 Jane and the 84 Sheppard West lines, also operate in the area. And with Sobeys Stadium, residents have access to multi-purpose sports facilities and entertainment.
York University is also nearby, as is Black Creek Parklands, where residents can access six bike trails and walking paths. Shopping and dining options are plentiful, as the area is home to Yorkgate Mall, York Lanes Shopping Centre and numerous restaurants. Popular grub spots include Angelo's Homestyle, La Luce Ristorante and Cuscatlan.
Black Creek offers a mix of housing types and styles, though condos and semi-detached townhouses make up the majority of listings. Buyers can find one-bedroom apartments starting around $200,000 and three-bedroom townhomes in the $600,000 to $800,000 range. Condos often feature semi-renovated finishes with balconies, full kitchens and unobstructed neighbourhood views.
Black Creek Amenities
Hullmar Park
John Booth Memorial Arena
Driftwood Public School
Brookview Middle School
Pacific Fresh Food Market
Reactivation Care Centre
Driftwood Community Recreation Centre
Find Affordability in Toronto Today
For those looking to keep their cost of living in Toronto to a minimum, the neighbourhoods on this list offer great value for the money. Housing options are generally priced below the citywide average, ranging from the $200s to the $800s for various types and styles. Not only that, but Toronto's most affordable neighbourhoods offer plenty of local amenities and nearby attractions that make them great places to live. With access to public transportation, scenic parks, top-rated schools and shopping centres, it's no wonder these communities are some of the most desirable for budget-savvy buyers.
If you're interested in moving to Toronto, contact The Peggy Hill Team of RE/MAX Hallmark with Ontario Real Estate Central at (705) 739-4455. Our local real estate agents can help you find the perfect Toronto home.