Barrie, ON Affordable Living: 5 Affordable Neighbourhoods
Posted by Peggy Hill on Wednesday, July 21, 2021 at 9:57 AM
By Peggy Hill / July 21, 2021
Comment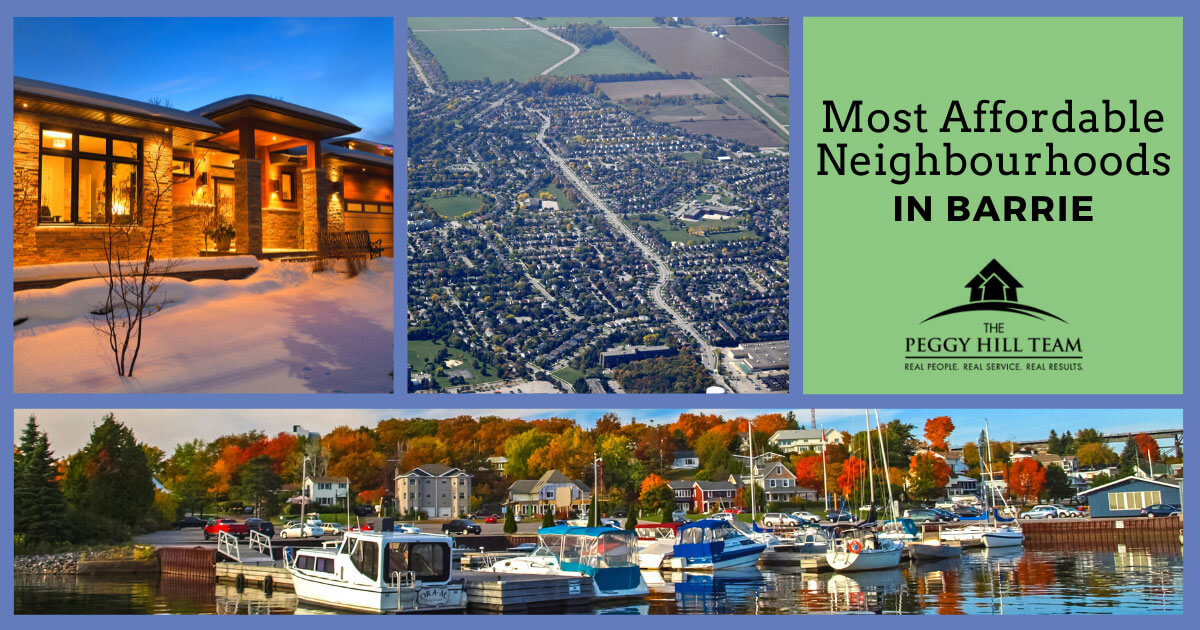 Barrie is a fast-paced and quickly growing city bordered by Kempenfelt Bay. The city of Barrie has continued to expand through the years, which earned it the designation as an Urban Growth Centre. Residents have access to numerous attractions in Barrie and great public transportation options thanks to the GO Transit rail system. Barrie is also conveniently located two hours away from the city of Toronto. People moving to Barrie will be excited by the many vibrant neighbourhoods to choose from. This city offers the opportunity to own a residence for a lower price than what might be found in Canada's coastal cities. Read on to learn about the most affordable neighbourhoods in Barrie.
City Centre
City Centre Amenities
City of Barrie Marina
Barrie Public Library
Waterfront access
Heritage Park
Meridian Place
Barrie North Shore Trail
Kempenfelt Park
Barrie's City Centre offers residents various options for places to live, things to do, and entertainment. The area's proximity to the waterfront and its many parks provide the advantage of enjoying outdoor water activities, hikes, picnics, canoeing, kayaking, and festive community events. The area is active in arts and culture, with exhibits at the MacLaren Art Centre and the Curio Exploration Hub, a fun and educational museum for children. Five Points Theatre, Theatre by the Bay, and Kempenfelt Community Players are loved by local theatre enthusiasts.
The City Centre area has plenty of choices for casual cafes, restaurants, and specialty boutiques. It is a short drive to Bayfield Mall, which includes more than 20 businesses that offer food, clothing, fitness, spa, and salon services. The busy City Centre area is within biking and walking distance of many of the Barrie condos. For those who prefer to ride, the Barrie Transit Terminal is in the neighbourhood. Residents also have access to two public high schools and four elementary schools in the area.
Sunnidale
Sunnidale Amenities
Arboretum Sunnidale Park
Dorian Parker Community Centre
Riverwood Park
Kearsey Park
Browns Bush
Barrie Dog Off-Leash Recreation Area
Victoria Woods Park
The Sunnidale community lives up to its name with its lush natural areas where residents can enjoy the natural light. Quiet streets, abundant trees, pristine landscaping, and bubbling creeks provide a pleasing atmosphere for residents. Homes in the community range from bungalows and condos to Barrie single-family homes situated on large lots bordered by tree-lined sidewalks. Notable places in Sunnidale include several food stores, coffee shops, and multiple pharmacies.
The neighbourhood offers residents various options for education, things to do, and places to see. There are five public elementary schools, two high schools, six parks, nearly two dozen transit stops, four playgrounds, and the Bayfield Community Centre. The Royal Victoria Hospital is only 10 minutes away. Sunnidale Park features an inspired arboretum, manicured gardens, forested areas, clear streams, a playground for children, and an off-leash dog park. At local parks, residents can enjoy soccer fields, tennis courts, baseball fields, gravel trails, and hiking. There is also a YMCA and four gyms for fitness enthusiasts.
Cundles East
Cundles East Amenities
Patricia Park
Redpath Park
Every Kid's a Hero Adventure Playground
Ferris Park
Bear Creek Eco Park
Little Lake Park
Cartwright Park
The Cundles East neighbourhood is a well-established community with a blend of single-family homes dating to the 1970s and Barrie new construction homes. Residents have access to local perks such as the beach, several parks, and public transportation stops. Tim Hortons and local coffee shops are just a few minutes away from home. The community's many parks and playgrounds, convenient proximity to schools, accessibility to public transportation, and affordable homes make Cundles East a popular destination for homebuyers.
Residents living in Cundles East have easy access to the area's many businesses; the malls and plazas of Bayfield Street are just a short drive from the neighbourhood. Fast-food restaurants, local eateries, and supermarkets are always within reach. The Georgian Mall, North Barrie Crossing Shopping Centre, and the Walmart Supercentre provide additional shopping options. Nearby schools include Cundles Heights Public School, Eastview Secondary School, Erma King Elementary School, and Barrie North High School. For college students, Georgian College is less than a 10-minute drive from the Cundles East community.
Georgian Drive
Georgian Drive Amenities
Centennial Park
Centennial Beach
Minet's Point Park
MacLaren Art Centre
Five Points Theatre
Little Lake Park
Georgian Theatre
Lawrence Park
Presenting a tranquil setting near a scenic lake, Georgian Drive offers comfy living in single-level and two-story homes built in the late 1990s. Homes have three to six bedrooms and three to four bathrooms. Popular amenities include a fireplace, a full basement, and an enclosed garage. Since commute times are important when buying a home, potential buyers will appreciate the convenient access to the on-ramp to Highway 400, located at Georgian Drive and Duckworth Street. The nearby highways also make it easy to get to Zehrs and Loblaws grocery stores and the North Barrie Crossing Shopping Center. Restaurants, such as Tim Hortons, Cafe Royale, and Desilicious, are close to home. Downtown Barrie is only 10 minutes away.
Residents of Georgian Drive benefit from being just a few minutes from the Royal Victoria Regional Health Centre, which is a primary employer in the Barrie economy. Students have access to educational facilities that include Maple Grove Public School, Frere-Andre Catholic Elementary School, North Barrie Alternative School, and Georgian College. For golfers interested in tee time, the Barrie Country Club is less than five minutes away.
Letitia Heights
Letitia Heights Amenities
Lampman Lane Community Centre
Lampman Park
Leacock Park
Spirit Catcher Sculpture
Centennial Beach
Historic Fort Willow
Meridian Place
Arboretum Sunnidale Park
The Letitia Heights community, located in the northwestern section of Barrie, offers beautiful landscaping and charming subdivision homes. Affordable homes in the community offer many choices in styles and sizes, making it a good option for first-time homebuyers. Letitia Heights offers the convenience of easily accessible schools such as Andrew Hunter Elementary, St. Mary's School, The Good Shepherd Catholic School, and Portage View Public School.
Enjoy a day of fun at the nearby Splash ON Water Park, featuring floating playgrounds, slides, climbing walls, and trampolines. Another nearby attraction is the Simcoe County Museum, with five indoor galleries, 16 outdoor exhibits, and scenic hiking trails that weave throughout the park's 327 acres. Arboretum Sunnidale Park Loop Trail is located less than five minutes away in the 48-acre Sunnidale Park. The beautifully manicured gardens, picturesque trees, and lake views provide a peaceful setting along the community trail for walking, hiking, biking, and cross-country skiing.
Benefits of Barrie
Barrie offers new and current residents plenty of culture and history blended with modern technology and an upbeat atmosphere. Barrie has many amenities that make it a great place to call home. These affordable neighbourhoods in Barrie keep people close to excellent parks, relaxing beaches, convenient shopping areas, and the heart of downtown. With so much to see and do, it's no wonder that Barrie continues to grow.
If you'd like to make your home in Barrie, contact The Peggy Hill Team of RE/MAX Hallmark with Ontario Real Estate Central at (705) 739-4455 to get in touch with a local real estate agent and discover your Barrie dream home today.