Toronto's Most Affordable Condos: 8 Toronto Condos With Unbeatable Prices
Posted by Peggy Hill on Monday, April 10, 2023 at 4:07:25 PM
By Peggy Hill / April 10, 2023
Comment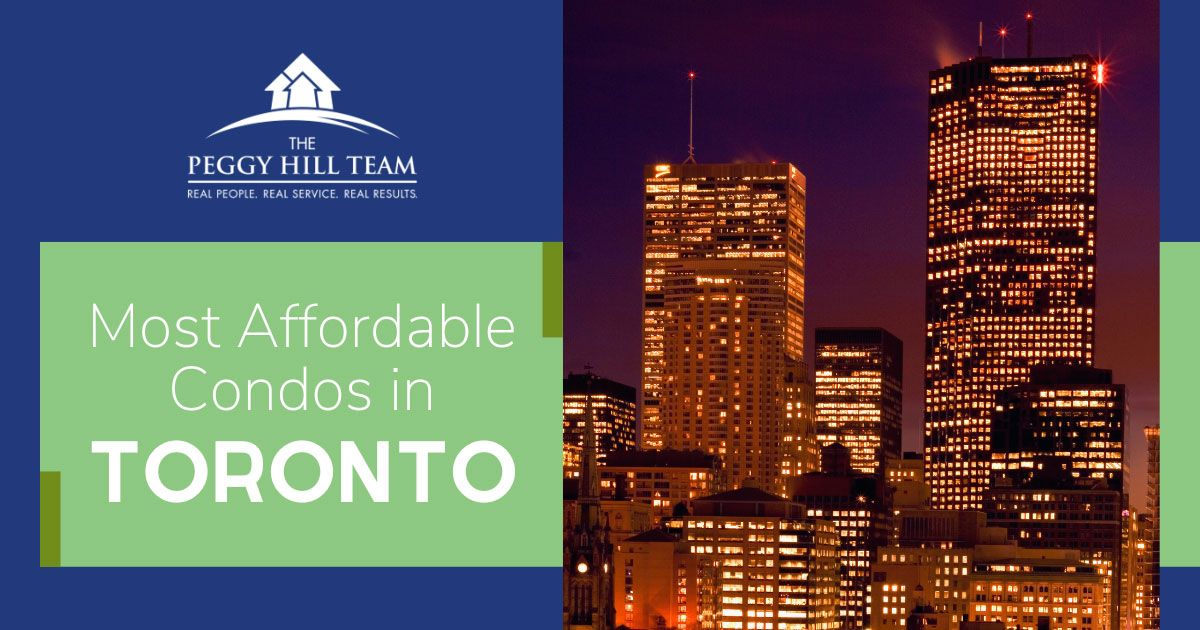 While the city of Toronto is known for having pricey housing—even when it comes to condos— the Ontario capital offers plenty of hidden gems at lower prices. Many of Toronto's most affordable condo communities provide comfortable living spaces and excellent amenities. Even better, these condos offer residents quick access to some of Toronto's best attractions, from parks and golf courses to shops and restaurants. If you're moving to Toronto, here's where you can find the most affordable condo communities in the city.
Minto Plaza
Nestled between the Discovery District and downtown Yonge, Minto Plaza offers condos fusing modern comfort with lasting functionality. Toronto's Discovery District hosts the University of Toronto's engineering and life sciences departments and numerous hospitals, while downtown Yonge has been a bustling shopping district for over a century.
Built in 1990, Minto Plaza has been well-managed for over three decades. The modern concrete and glass building features 433 units spanning 33 levels. Each one- or two-bedroom suite offers sleek kitchens, Whirlpool tubs, and private balconies. Floor-to-ceiling windows help maximize natural light and provide splendid views of downtown. Units typically cost between $625,000 and $685,000, and note that there is a no-pet policy.
In 1869, the T. Eaton store opened on Yonge Street, leading to department stores and entertainment centres nearby. In the 1960s, the T. Eaton Company built the Toronto Eaton Centre, requiring demolishing many of the area's older buildings to make space for the mall. Today, the Downtown Yonge Business Improvement Area Association works to beautify and otherwise improve the neighbourhood through initiatives like the Clean Streets Team.
Minto Plaza Amenities
Fitness centre
Indoor pool
Sundeck with BBQ
Library
Piano room
Billiard room
On-site restaurants
Concierge
Canvas on Danforth
Canvas on Danforth is a new low-rise condominium in the East Danforth neighbourhood, one of Toronto's most lively communities. Near the intersection of Danforth and Woodbine at 2301 Danforth Avenue, this condo community is just moments from excellent shopping and transportation options.
The neighbourhood began in the 19th century as the Coleman postal village, with a general store and inn. After a train station was built in the mid-19th century, East Danforth continued to grow. At the turn of the 20th century, a streetcar was connected to the station, encouraging the neighbourhood's development to centre on the streetcar line. The Bloor-Danforth subway line replaced the streetcar in 1966, and the area now has six subway stations providing quick access to the rest of Toronto.
The eight-storey building features a unique design incorporating sleek glass, modern brick, and spacious terraces. Canvas on Danforth's 156 units come with designer features and finishes, floor-to-ceiling windows, and glass balconies, allowing residents to enjoy the fresh air. Units typically sell for between $500,000 and $750,000.
Canvas on Danforth Amenities
Rooftop deck
Party room
Meeting room
Fitness centre
Bike storage
Concierge
Visitor parking
River City Phase 3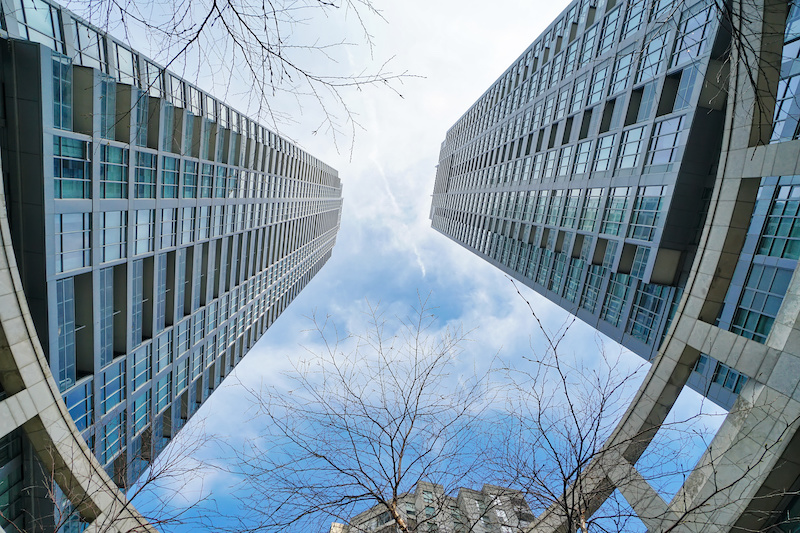 Building off the success of two previous developments, River City Phase 3 offers modern affordable condos in a striking high-rise near King Street East and River Street.
Gilles Saucier designed the 29-floor tower with undulating modular sections he calls "crystals," set into the black tower to allow each unit to receive ample light. River City Phase 3's design is so impressive that the Building Industry and Land Development awarded it for best design in 2014.
The 332 suites in River City Phase 3 embody the developer's perfected form of the soft loft aesthetic, featuring hardwood floors, exposed concrete ceilings and columns, and oversized doors leading to spacious balconies and terraces. The Smart House Kitchen by UrbanCapital offers appliances seamlessly integrated into sleek cabinetry. Studios, one- and two-bedroom suites, and even townhomes are available. Units sell between $460,000 and $1.5 million, but most cost well under $750,000.
Located at 170 Bayview Avenue, River City Phase 3 overlooks the Don River in the Corktown neighbourhood, one of Toronto's oldest. Although much of Corktown was demolished in the early 1960s to make way for elevated roadways, some of the original 19th-century British-style rowhouses and other historic structures remain, including Toronto's oldest surviving church building and its first free school.
River City Phase 3 Amenities
Fitness centre
Party room
Outdoor pool
Rooftop deck
Outdoor play area
Pet cleaning station
Bike storage
Concierge
Millgate Manor
Millgate Manor offers sizable and sustainable condos in the Markland Wood part of Etobicoke. The Markland Wood Homeowners Association, formed in 1962, keeps the neighbourhood up-to-date with the Marklander Newsletter, Toronto's oldest continuously running community newspaper.
The 22-storey building is one of Toronto's zero waste leaders. Millgate Manor's green initiatives include educating residents on waste disposal, converting the building's garbage chute into an organics-only chute, and creating donation bins, hazardous waste drop-off spots, a used book library, and a sharing table. The condo's success in creating a more sustainable living space earned it an award for innovation in the Mayor's Tower Challenge waste competition in 2018.
Millgate Manor's 215 suites feature sleek interiors and private balconies overlooking the city. Generous two- to three-bedroom floor plans vary from 102 to 140 square metres, providing ample living space. Condos have sold between $520,000 and $950,000, but most units are priced under $750,000.
Millgate Manor Amenities
Fitness centre
Indoor pool
Outdoor pool
Squash court
Party room
Meeting room
Visitor parking
Security guard
Upside Down Condos
Some of the most affordable condos in Toronto are in Upside Down Condos, a modern development blending luxury and functionality.
The two-phase development offers two towers, one rising 14 storeys and the other spanning 13 levels. Both buildings feature open-concept suites with spacious balconies or patios. Sleek laminate flooring in main areas, sisal style carpeting in bedrooms, and slab doors throughout the suite interiors provide stylish comfort in each unit.
Gourmet kitchens boast granite countertops, subway tile backsplash, Halogen track lighting, stainless steel appliances, and the owner's choice of Maple Shaker, oak panel, or white cabinetry. Contemporary bathrooms feature ceramic flooring, cast stone sinks, and water consumption-limiting shower heads. Upside Down Condos have sold for low rates, from $500,000 to $810,000.
Upside Down Condos are at 812 Landsdowne Avenue, skirting the border of Toronto's Junction Triangle and Wallace Emerson districts. Junction Triangle began developing in the late 1880s, when Grand Trunk, Toronto Grey, and Bruce & Northern built a triangle of railway lines surrounding the area, attracting industry and labour. Wallace Emerson was also once a heavily industrialized district, but many of its former industrial spaces have since been converted into condos like Upside Down Condos.
Upside Down Condos Amenities
Fitness centre
Sports court
Sauna
Lounge
Billiards room
Games room
Media centre
10 Edgecliff Golfway Condos
10 Edgecliff Golfway Condos offers spacious, affordable units overlooking the Flemingdon Park Golf Course.
The 19-storey condo is part of the Wynford Park development, with two sister towers flanking its sides. The building contains 312 units with spacious rooms and oversized private balconies offering excellent views of the adjacent nine-hole golf course and the Don River.
Many units at 10 Edgecliff Golfway have been renovated with modern open-concept layouts since the building's construction in 1974, but some units with traditional apartment-style floor plans and galley kitchens remain. This is one of the most affordable communities in Toronto, with homes typically selling between $440,000 and $790,000.
Near the intersection of Linkwood Lane and Shady Golfway, 10 Edgecliff Golfway Condos is in the Flemingdon Park neighbourhood, part of the North York district. In 1958, Toronto began developing the neighbourhood as a high-density apartment city to help accommodate the 1950s population boom. Today, the area features numerous parks, shopping malls, and other attractions.
10 Edgecliff Golfway Amenities
Fitness centre
Playground
Indoor pool
Sauna
Party room
Concierge service
Bike storage
Visitor parking
Fuse Condos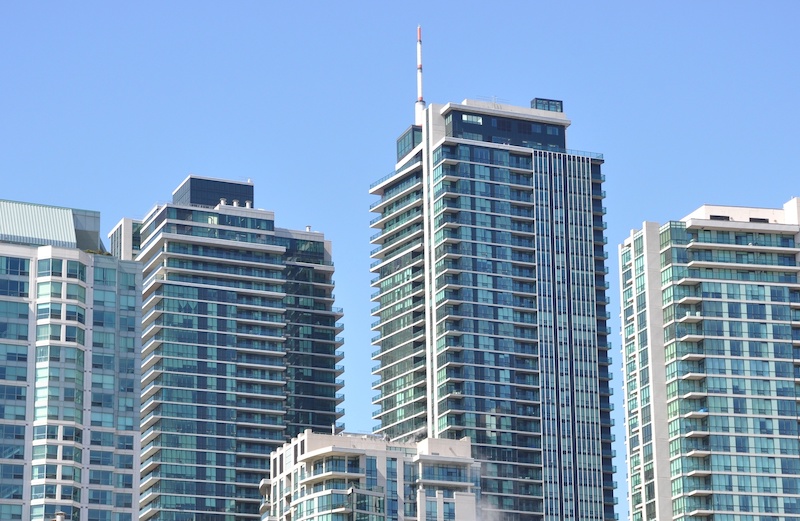 Part of a master-planned community of high-rise condos, townhomes, lofts, and retail, Fuse Condos offers affordable, pet-friendly housing just minutes from excellent shops and restaurants in the Wallace Emerson neighbourhood.
Wallace Emerson is a former industrial zone where many disused warehouses and industrial buildings have been repurposed into bars, restaurants, art galleries, and even living spaces. Like other developments in the neighbourhood, Fuse Condos has taken advantage of the area's industrial past by using a former General Electric Warehouse as the base for its two high-rise towers.
While the buildings' base is historic, homes in Fuse Condos are decidedly modern. Units at 1410 and 1420 Dupont Street feature hardwood flooring, kitchens with stainless steel appliances, open-concept floor plans, and spacious private balconies overlooking the city. Units have sold for between $490,000 and $740,000, making Fuse Condos an excellent choice for buyers on a budget.
Residents can enjoy a sizable green space and various retail and service options at the ground level. The complex includes a grocery store, pharmacy, and an ATM, allowing Fuse Condos residents to access everyday essentials without leaving the property.
Fuse Condos Amenities
Fitness centre
Swimming pool
Sauna
Rooftop garden
Lounge/library
Theatre
Games room
Bike storage
The Grange
The Grange offers affordable and sustainable condos in the Etobicoke West Mall neighbourhood. Spacious two- to three-bedroom units span The Grange's 15 storeys. Although the building was built in 1970, its 305 units feature contemporary designs with open-concept floor plans, hardwood flooring, and sleek kitchens. Boasting some of the least expensive condos in Toronto, The Grange has sold units between $380,000 and $655,000.
The Grange's Combined Heat and emergency Power (CHeP) system is another modern feature that sets the condo ahead of the rest. Added after the 2013 flood and ice storm, this system produces far more energy from greener sources than the building's previous backup generator, allowing residents to remain in the building during prolonged power outages. After the CHeP system's installation, the City of Toronto recognized The Grange as the first GTA multiunit residential building to meet the City's new voluntary guidelines for sustained occupancy.
The Grange is at 551 The West Mall, just 2 kilometres from Centennial Park. Once a dairy farm, the historic park opened in 1967 to celebrate Canada's 100th birthday. It now hosts a ski hill, a go-karting track, a golf course, and the annual Jerk Fest, where attendees can enjoy live music and award-winning jerk chicken.
The Grange Amenities
Fitness centre
Swimming pool
Party room
Indoor play area
Games room
Meeting room
Car wash
Concierge service
Affordable Condo Living in Toronto
Finding a great condo in Toronto doesn't need to be expensive. The most affordable condos in Toronto offer comfortable and modern living spaces complemented by excellent amenities, like fitness centres, lounges, and concierge services. Living in these great communities provides residents quick access to these resources at home and all of Toronto's attractions, from world-class shops and restaurants to beautiful parks and historical landmarks.
If you're interested in moving to Toronto, contact The Peggy Hill Team of RE/MAX Hallmark with Ontario Real Estate Central at (705) 739-4455. Our local real estate agents can help you find the perfect Toronto home.