Is Barrie Dog Friendly? Dog Parks & Pet-Friendly Things to Do in Barrie
Posted by Peggy Hill on Monday, December 12, 2022 at 3:17:10 PM
By Peggy Hill / December 12, 2022
Comment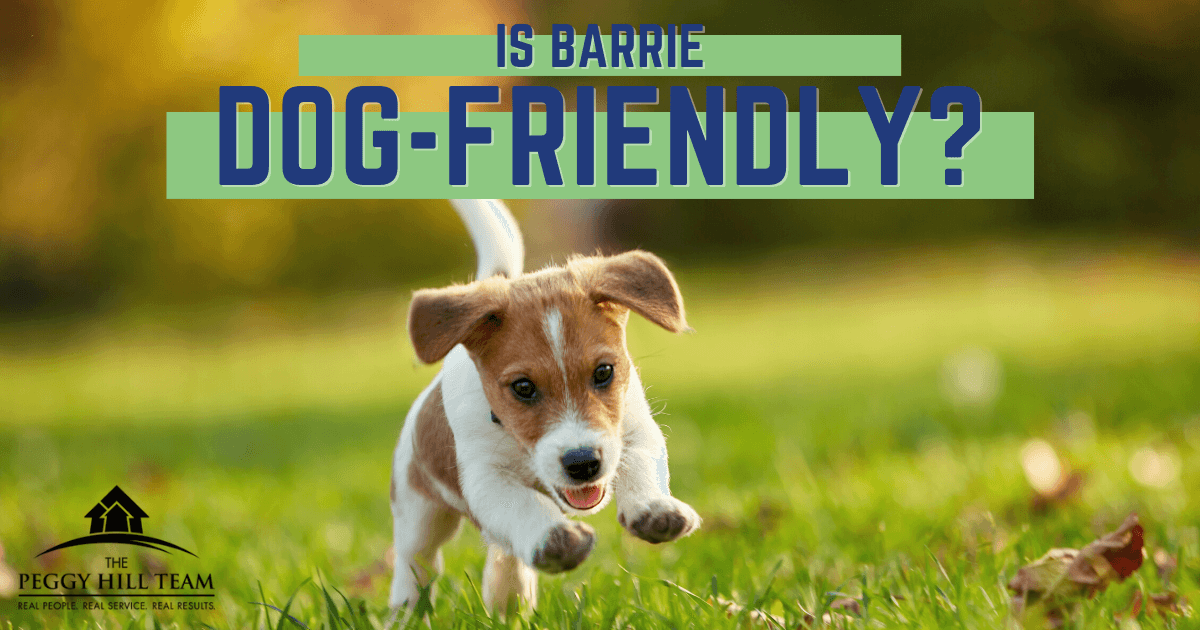 The Canadian Animal Health Institute estimates that more than 40 percent of households across the country now own at least one dog. Because dog ownership is so prevalent, communities like Barrie, ON, go out of their way to provide experiences that both pets and their owners will enjoy. This includes not only off-leash dog parks but also pet-friendly restaurants, shopping, and lodging options. Newcomers moving to Barrie will find plenty of fun things to do with their dogs. Here are some local favourites regarding dog-friendly venues and things to do in Barrie.
Best Neighborhood Dog Parks in Barrie
One of the best perks of living in a dog-friendly community is having off-leash parks. These are places where owners can take the leash off their four-legged friends and let them run freely in a safe environment. Dogs also get the chance to socialize with other animals, while their owners can meet fellow like-minded pet owners. Barrie's homes for sale leave little to be desired, but when your pets get a little cabin fever, it's good to know that the following options are close by.
Dog Off Leash Recreation Area
The Barrie Dog Off Leash Recreation Area is located behind Sadlon Arena off Bayview Drive. Pet owners are welcome to use the north parking lot behind the arena to access this dog park. If there's an event at the arena and the north parking lot is full, there are some parking spaces to the southeast. The Recreation Area has two fenced-in dog parks and a natural outdoor area beyond those parks with wooded trails.
The small dog park is about 0.1 hectares and is for dogs weighing less than 30 pounds. The other fenced area is about 0.75 hectares, and dogs of all sizes are welcome in this section. A double-gated entryway allows pets to get in and out safely and off their leashes. The big section also has picnic tables and benches, so owners can sit and watch as their pets run and play.
Sunnidale Park Dog Off-Leash Recreation Area
The Sunnidale Park Dog Off-Leash Recreation Area, part of the Arboretum Sunnidale Park—one of Barrie's best parks—is nearly three hectares and entirely fenced in. There is a double-gated entry just off Coulter Street. This park only has a handful of parking spots, but there's a large parking lot across the street behind the Bowlerama. It's all one fenced-in area with no size restrictions on dogs. Dogs must remain on a leash until they are safely inside the first gate.
Sunnidale Park has dirt paths from the entrance, some lovely footbridges to cross, and benches along the way. Dog owners should watch for poison ivy when they're inside the park. Note that aggressive dogs are not permitted in the park.
Centennial Park in Innisfil
Centennial Park is about a 15-minute drive directly south of Barrie, neighbouring homes for sale in Innisfil. Visitors should note that Barrie has its own Centennial Park, but it does not have an off-leash dog section.
The quickest route to Innisfil's Centennial Park is to take Huronia Road south from Barrie, which turns into 10 Sideroad. Turn left on the 7th Line in Innisfil, and the park is there on the left-hand side. When entering Centennial Park, the parking lot is to the left, and the dog off-leash section is on the right. The street address is 2870 7th Line, Innisfil, ON. It has a double-gated entrance, and dogs of all sizes are allowed.
The off-leash section of the park has many trees and a large grassy area for dogs to run around. Dogs must be leashed in the rest of Centennial Park, which is nice to walk around. It has a playground, a picnic pavilion, a large pond, and public washrooms.
Glen Eton Dog Park
The Glen Eton Dog Park is about 20 minutes west of Barrie in the township of Angus. This dog park is a little tricky to find since it's behind a residential neighbourhood, and there is no sign announcing the entrance to the park. Visitors have to find the junction of Corrie Crescent and Parkside Crescent in Angus and look for a fenced-in sidewalk that reads, "No Motorized Vehicles." That's the entrance to the park. Free street parking is available, but visitors should be mindful of neighbours and not block the driveways in front of any townhomes when using the park.
Note that even though this is a dog park, it is not fully fenced in. The outer perimeter of the park has fencing, but the entrance does not have a gate. Once a dog owner gets inside the park, they're welcome to take the leash off and let their dog run around in the large, grassy area. Remember that there is no gate to prevent a dog from running off.
Dog-Friendly Activities in Barrie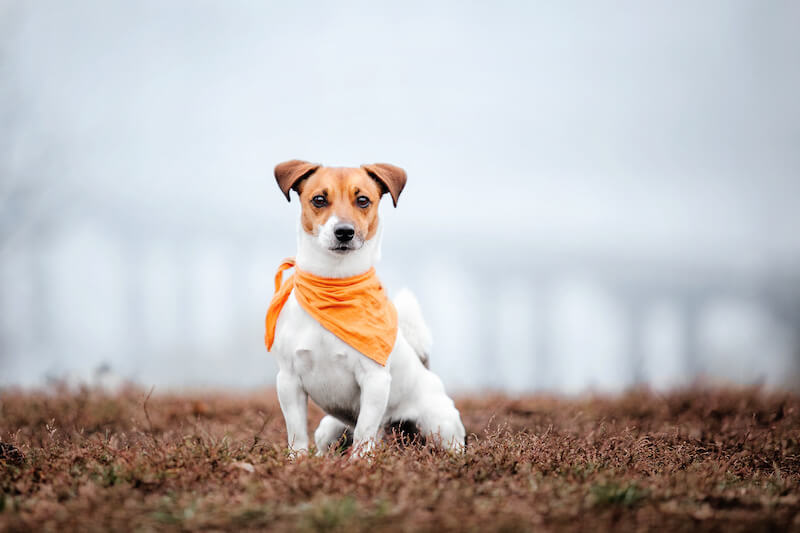 There are plenty of things to do in Barrie, and that extends to canine companions. So long as dogs are leashed, there are several other rewarding areas to explore with them and have some fun in Barrie. One option is the Springwater Provincial Park, located just minutes north of Barrie. It has a large parking lot in the north just off Highway 26. The park has 12 kilometres of hiking trails within its boundaries, several ponds to explore (no swimming allowed), and a designated area for pets to exercise. This is a huge park, with enough picnic pavilions scattered throughout it to accommodate up to 400 people.
Another option is to take the dog for a walk along the waterfront in Barrie. About five kilometres of paved waterfront trails start in the southern part of Barrie, just north of Lakeshore Drive. The Barrie Waterfront Heritage Trail continues along the south shore of Lake Simcoe, one of Barrie's best attractions. On the west side of the lake, pet owners can enjoy viewing the Waterfront Fountain in Centennial Park, near the lakeshore condos. The trail continues back in an easterly direction when it loops around the north shore of the lake.
This beautiful part of the trail heads past a number of waterfront homes and the Barrie Yacht Club. It's also a great vantage point for scoping out Barrie's water recreation activities.
Dog-Friendly Restaurants in Barrie
Here are some local favourite restaurants and pubs where people can bring their leashed dogs for a meal or a drink.
The Farmhouse Restaurant is close to the waterfront at the end of Tiffin Street, right before it intersects with Lakeshore Drive. They have an outdoor seating area open seasonally, where owners are welcome to bring their well-behaved, leashed dogs with them for breakfast, lunch, or dinner. Dining outdoors at the Farmhouse is an excellent experience because it has a great view of the water.
The Common Good Cafe and Social House is on Bayfield Street. It has a small number of outdoor tables that are available during the warmer months. Leashed dogs are welcome to accompany their owners. Occasionally, this restaurant has live music performances in the evenings and on weekends.
The Flying Monkeys Craft Brewery on Dunlop Street has a lovely outdoor patio where leashed dogs are welcome. This is in a very pedestrian-friendly part of Barrie. The Flying Monkeys has a ton of craft brews on tap and a gourmet sandwich menu.
Dog-Friendly Shopping in Barrie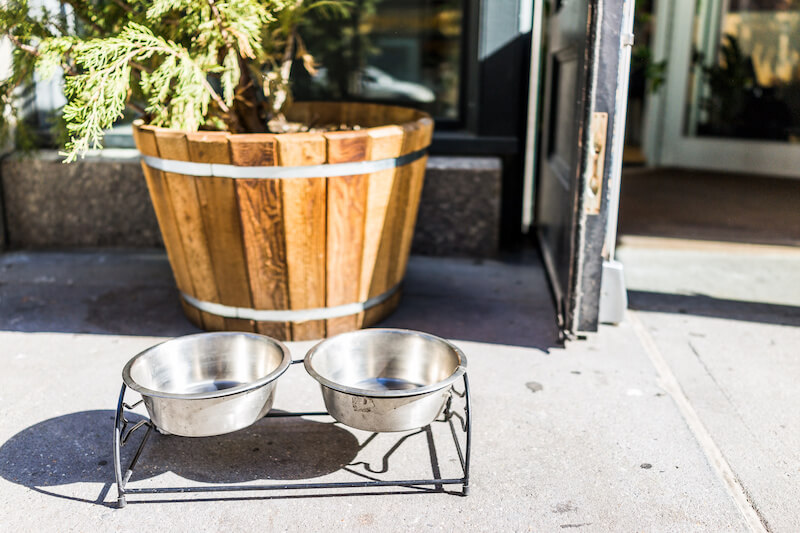 Barrie shopping venues that allow leashed dogs are somewhat limited, but a few options are available for people who like to bring their pets along for some errands.
Canadian Tire is a nationwide chain store that sells not only tires and automotive gear but also tools, hardware, sporting goods and pet supplies. Leashed dogs are welcome inside all Canadian Tire venues, so long as they are well-behaved. There are two Canadian Tire locations in Barrie: one is in the Bayfield Mall on Bayfield Street, and the other is in the shopping center on Mapleview Drive in the south-central part of Barrie.
Irvine Carpet One Floor & Home is another store where leashed pets are welcome to accompany their owners. This family-owned business has been in operation in Barrie since 1960.
Other businesses include The United Lumber Home Hardware Building Centre (next to Irvine Carpet One on Bayfield Street) and the Home & Garden RONA Barrie (on Mapleview Drive). Both allow leashed dogs inside.
In addition to selling hunting, fishing and outdoor gear, the Cabela's store in Barrie also allows leashed pets to accompany their owners inside while shopping.
Pet-Friendly Lodging in Barrie
Whether you're on a Barrie vacation or staycation, the city has several options for pet-friendly lodging.
The Travelodge by Wyndham Downtown Barrie is located just off the 400 freeway on the north side of town. They allow two dogs up to any size with a security deposit for up to a four-night stay. Cats are not allowed. This hotel has an indoor pool, free Wi-Fi, and a fitness centre.
The Comfort Inn is off the 400 freeway in Barrie, on Hart Drive. This no-frills hotel is very pet-friendly when it comes to dogs, who are welcome with a $20 per-dog pet fee. They allow up to two dogs of any size per room.
The Allure Hotel and Conference Centre allows dogs and cats in rooms that have two double beds. Dogs can be up to 50 pounds. They allow up to two pets per room with a $25 per night fee per animal. Unattended pets must be left in their crates if owners leave the room.
The Quality Inn Barrie allows one dog up to 50 pounds in its rooms. Cats are not allowed. They charge a $10 per night pet fee and stipulate that dogs cannot be left alone in a room. The hotel has a heated indoor pool, hot tub, and fitness centre.
The Super 8 by Wyndham is near the freeway in the south part of Barrie. They allow one dog weighing up to 100 pounds, but no cats. The pet fee is $15 for every three nights. Dogs cannot be left unattended in the rooms, and a grassy pet relief area is outside. Super 8 has free Wi-Fi, complimentary breakfast, and a small fitness centre.
There's a Lot for Dog Lovers to Enjoy in Barrie, ON
Barrie is a lovely community to live in, thanks to its proximity to Lake Simcoe. It has many outdoor areas and parks where people are welcome to bring their dogs along for a fun outing. There are some additional dog-friendly venues in town where people can bring their leashed pets. Residents can also easily access those in neighbouring communities, thanks to the ease of driving in Barrie and the surrounding area. Ask the neighbours where they like to take their dogs to learn about more hidden gems.
If you'd like to make your home in Barrie, contact The Peggy Hill Team of RE/MAX Hallmark with Ontario Real Estate Central at (705) 739-4455 to get in touch with a local real estate agent and discover your Barrie dream home today.