8 of the Best High-ROI Home Improvements to Your Home's Exterior
Posted by Peggy Hill on Monday, May 10, 2021 at 10:00 AM
By Peggy Hill / May 10, 2021
Comment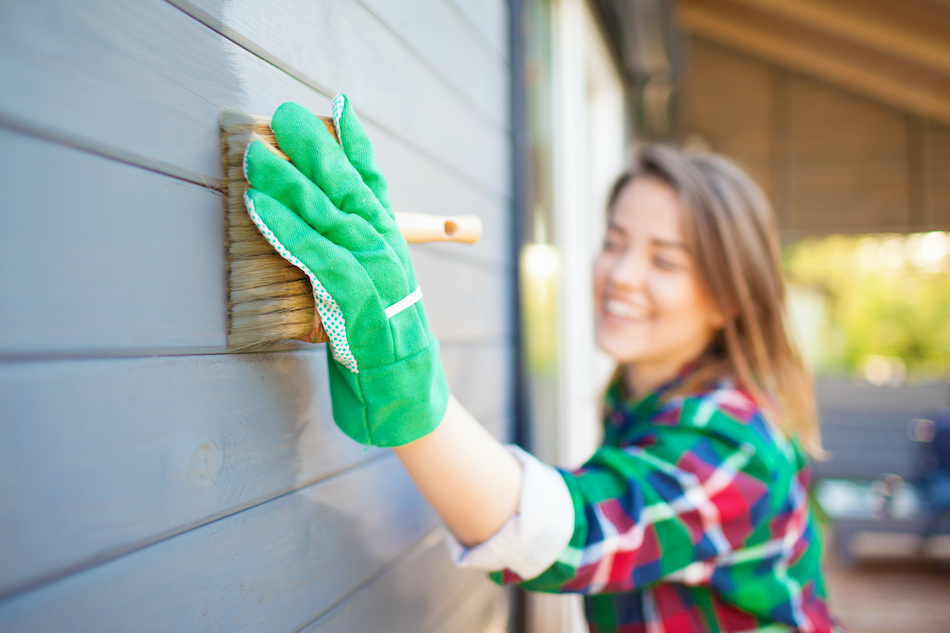 Paying attention to a home's exterior is vital when preparing to sell. First impressions mean everything when trying to attract buyers. Still, most people want to get the most bang for their buck. Here are the best exterior home improvement projects to invest in that yield a good ROI, along with a boost to curb appeal.
For informational purposes only. Always consult with a licensed real estate professional before proceeding with any real estate transaction.
Replace an Old Front Door
A new front door isn't just welcoming; it adds great curb appeal. Replacing a home's front door typically recovers approximately between 70-90% of money spent, depending upon the door. Steel doors are one of the most appealing upgrades, as buyers are attracted to these popular doors' low maintenance and energy efficiency properties.
Spruce Up the Landscaping
A well-manicured lawn and garden(s) imply a home is well-maintained. If the grass is scraggly and brown or overgrown with weeds, it's bad optics to potential buyers. Invest in DIY landscaping or hire a professional to get the yard looking its best. Netting a positive first impression is worth the investment because it'll be hard to attract a buyer to come inside if the outside is off-putting. Some landscaping projects have higher ROI than others and may be worth considering whether you plan to sell soon or plan to stay for years; trees, for example, appreciate as they reach mature height.
Add a Stone Veneer
Stone veneer typically adds significant appeal to a home's exterior. It's a costly upgrade but yields over 95% ROI in a midrange home. A smart choice of stone and colour to complement siding will add a "wow" factor to a home's exterior.
Upgrade the Garage Door
Homeowners that replace a garage door while keeping the existing motorized opener can recoup approximately 95% of the money spent at resale. A new garage door not only adds value but gives good curb appeal too. Insulated garage doors may also help lower energy bills.
Decks, Patios, and Porches Add Value
Everyone likes a pleasant outdoor space to unwind, relax, and socialize. Statistics indicate buyers are drawn to finished, attractive outdoor spaces. Typically, adding a deck, patio, or porch will yield about 90% ROI, especially if the area has decorative planters, good lighting, and other simple improvements. Consider adding a fire pit to outdoor spaces.
New Roofs Can Exceed 100% ROI
A pricier investment, but if the existing roof is reaching the end of its lifespan, this could be worth the cost. Buyers are often willing to pay more for homes with a new roof as this is one expense they won't have to deal with for a long while. Estimates suggest homeowners can recover more than 100% of the original cost at the time of sale.
Repair the Driveway and Sidewalk
An unmaintained driveway or sidewalk is a huge turnoff. To attract the eye of buyers, it's worth the investment to hire a professional (or DIY with the right know-how) to repair any cracks and crevices.
Be sure the driveway has a good seal to protect and give a newer appearance. If beyond repair, consider a resurface. Weathered concrete sidewalks, especially in older houses, make the property look its age. Give them a good power wash to improve their appearance and consider resurfacing the entry sidewalk/stairs with decorative concrete or stone. ROI will vary between 40-70% depending on the quality of materials used. While ROI isn't as high as some other projects, these improvements are a good contribution to enhancing curb appeal and might be worth the expense.
Refresh the Exterior Paint
Flaked or chipped paint, along with mildewed or dirty paint, looks bad. Touch up areas where paint is lacking. If needed, paint doors and doorframes. A bold colour for the front door can make the entrance pop, or generic colours may be more universally appealing. Power wash away any mildew or dirt to give the home a clean appearance.
Boost Curb Appeal and Home Value with Exterior Improvements
Adding appealing features or tidying up outdoor spaces on a property can make the difference between a sale and a pass. When it comes to exterior space, a little investment goes a long way.
For informational purposes only. Always consult with a licensed real estate professional before proceeding with any real estate transaction.