Barrie Driving: What to Know About Barrie Traffic
Posted by Peggy Hill on Tuesday, November 1, 2022 at 11:29 AM
By Peggy Hill / November 1, 2022
Comment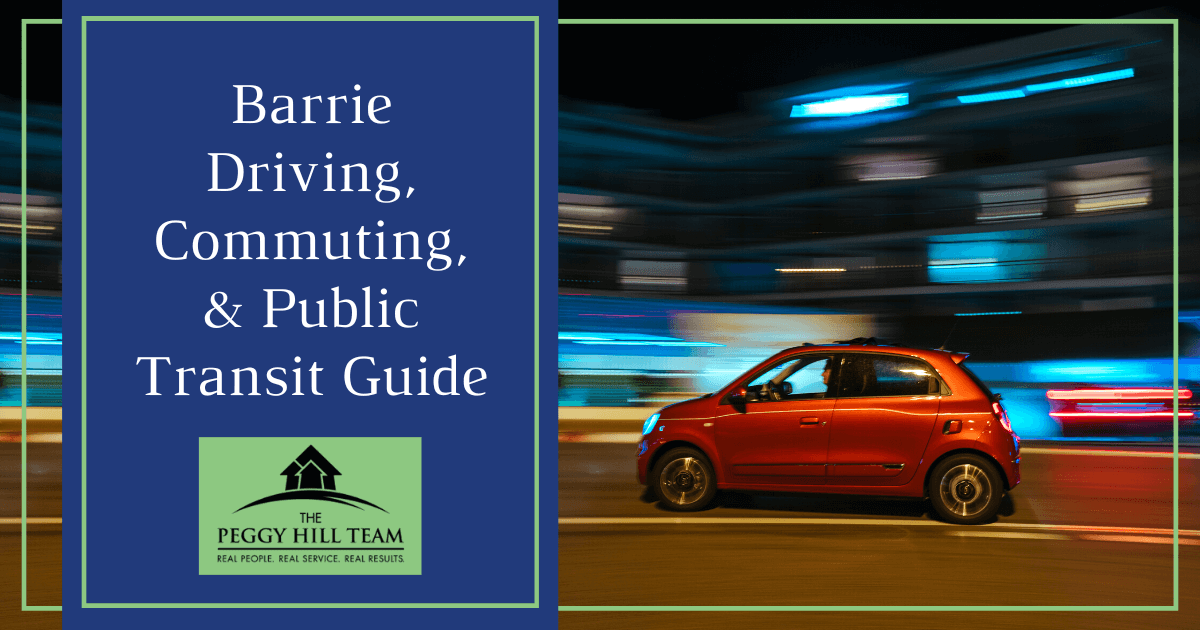 As part of the Greater Golden Horseshoe, the city of Barrie has a population of more than 141,400 people who have easy access to major roads and public transportation. The Ontario Highway 400 and GO Transit were in part responsible for the significant growth in the number of commuters to Toronto. In fact, for many years, Barrie was primarily a commuting community full of new construction homes.
Over the past two decades, the community has focused on developing its own industrial base, so the way people drive in Barrie has changed. However, people moving to Barrie can master the local routes with some practice and research. Here is everything to know about driving and getting around in Barrie before making the big move.
Get to Know Your Major Roads in Barrie
One of the first things to memorize when moving to a new city is the road structure. Understanding the major routes in Barrie can help with community navigation and finding alternative courses when needed. Highway 11 is a major roadway to the town coming from the north. The road travels aside Lake Simcoe through Orillia city limits. Highway 26 South is another route approaching the city from the northeast.
Highway 27 starts in the center of the community and splits off in a southeast direction through Thornton. Highway 400 is probably the major route travelling north to south through the center of the city. Those commuting to Toronto to the south will depend heavily on this option. The highway also moves north through Sudbury. Inside the community, McKay Road, Mapleview Drive, Big Bay Point Road, Ardagh Road, and Tiffin Street are all major east-to-west roads. Surface roads for north-to-south travel include County Road 4 and Ferndale Drive.
What to Expect During Rush Hour in Barrie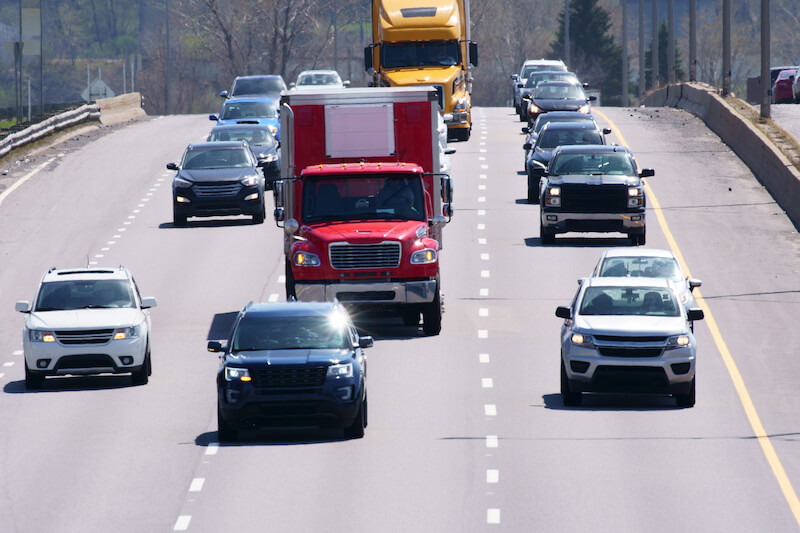 Like most communities, Barrie experiences an increase in traffic before and after the traditional work times. Because travelling to Toronto can take 65 minutes in the best circumstances, many Barrie commuters begin driving to work earlier in the morning. Starting at about 6:00 a.m., drivers may experience up to 10 additional minutes of rush hour traffic. Between about 8:00 a.m. and 10:00 a.m., the trip reaches its longest morning time at about 100 minutes of driving.
The afternoon and evening commutes are among the longest of the day. Expect occasional delays of up to two hours until 7:00 p.m. However, such delays may not be typical of the everyday drive.
Those commuting within the city of Barrie typically don't experience significant traffic delays. Taking a trip from the Georgian Mall up north to downtown Barrie takes up to 9 minutes normally. The worst of the evening rush hour traffic can extend this journey to about 14 minutes. Despite these times, there are a few areas that may experience slow traffic. Parts of Mapleview Drive, Duckworth Street, and Ferndale Drive can all be congested enough for drivers to consider other routes. People who regularly move through these roads may want to consider alternate paths to their destination.
Parking in Barrie
Because the city of Barrie is growing rapidly, finding a good parking place can often depend on the specific location in the city. Fortunately, community leadership has enacted some parking-related policy changes to keep pace with the influx of people. Those working downtown will find 2,000 public parking spaces dispersed through the area. These are owned by the city. Drivers can expect to pay $1.25 per hour to park on the street and $1 per hour for off-street options.
The rules are different for waterfront parking. A resident parking pass is required to park for free in the area. However, two free passes are available to each household. People living in Barrie's waterfront homes may want to purchase additional passes for $20 per pass. Non-residents must pay $10 per hour (up to $50 per day) to park in locations designated as waterfront areas.
To make the parking process easier, new residents should access the Hotspot Parking App. The platform provides convenient options for payments, in addition to the various pay stations and meters.
Barrie Public Transit
Driving is the primary mode of transportation for most people in Barrie, but it has several convenient options for public transportation. Access to transit and commute times matter when buying a home. With numerous bus, rail, rideshare, taxi, and bike choices, home buyers can live close to their preferred way of getting around Barrie.
Barrie Transit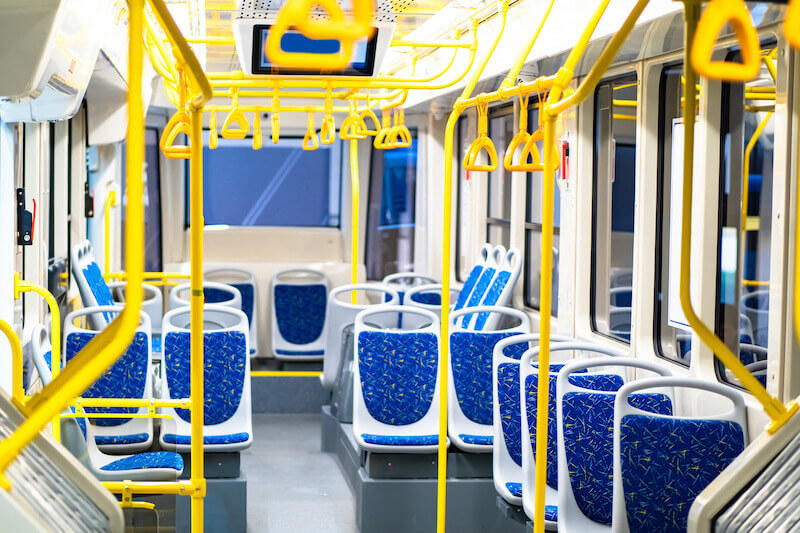 Barrie Transit operates ten two-directional bus routes throughout the Barrie area. Most stops are inside an area roughly bounded by Mapleview Drive East, Livingstone Street, Johnson Street, Ontario Highway 27, and Prince William Way. Routes are marked with an A or B to indicate the direction in which a specific bus travels. Depending on the route, service may operate as early as 5 a.m. or as late as past midnight. Riders using Barrie Transit on Saturdays and Sundays will see reduced service, later start times, and early closing times. Transfers between lines are available, though riders must ask when initially boarding the bus.
Barrie bus fares vary depending on the rider:
Adults, students, children 13 and older - $3.25 per ride
Seniors (65+) - $3.00 per ride
Children 12 and under, seniors on Thursdays, or the visually impaired (valid CNIB card required) - Free
Adult 10-ride pass - $28.00
Student (Age 13-18) 10-ride pass - $24.50
Senior 10-ride pass - $21.00
A variety of daily and monthly passes are available as well:
Individual Day Pass - $7.75
Family Day Pass (Group of 4 or less, max 2 Adults/Seniors/Students) - $9.25
Adult monthly pass - $88.00
Student monthly pass - $67.50
Senior monthly pass - $52.50
Barrie Transit operates a central terminal at 24 Maple Avenue, open seven days a week from 7 a.m. to 10 p.m. This terminal is also the transfer point to other local and regional transit services, like GO Transit, Greyhound Canada, and Ontario Northland. Barrie Transit also operates specialized transit services and the Barrie Transit ON Demand program, where users request a trip through an app, which optimizes a custom route for the bus through town, dropping off passengers at their desired destination locations.
GO Transit (175, start 925)
GO Transit provides bus and rail service from Barrie to Toronto. More than seven million people live within GO Transit's 11,000-square-kilometer service area. Barrie is connected directly to downtown Toronto via the Barrie rail line. Nine stops separate Barrie's Allandale Waterfront station from Toronto's Union Station. From here, travellers can transfer to one of GO Transit's six other rail lines. Regional bus service also connects the Allandale Waterfront and Barrie South stations with other area stops. Trains and buses depart Barrie every few minutes during peak times.
GO Transit fares vary depending on a passenger's age (adult, senior, or student) and the number of fare zones a trip crosses. The system allows riders to check the cost of a specific trip in advance with its online calculator. In addition, fares can be paid with a PRESTO card, an electronic, reloadable fare card. PRESTO cards also offer discounts compared to cash fares. GO Transit day passes are also available, allowing unlimited travel between two specified zones.
LINX
LINX is Simcoe County's transit system, designed to link the county's urban hubs and smaller local transit services. The system operates six numbered routes.
Route 1 covers the area from the Town of Penetanguishene to the City of Barrie
Route 2 travels through Wasaga Beach, Stayner, Brentwood, and Angus to Barrie
Route 3 serves the area between Orillia and Barrie
Route 4 covers Wasaga Beach to Collingwood
Route 5 starts in New Tecumseth and ends in Bradford West Gwillimbury
Route 6 travels from Midland to Orillia
All routes except Route 4 run Monday through Friday, except for statutory holidays. Route 4 runs every day, including holidays. Future LINX routes are also planned to expand the system. LINX+ service operates to allow residents with physical or functional disabilities to receive specialized transportation. All services and routes can be tracked in real-time using the LINX Transit app.
Fares are based on the number of "zones" between passengers' boarding and departure stops.
Within the same zone - $2.00
one zone away - $4.00
two zones away - $6.00
Fares can be paid in cash or with a reloadable LINX card.
Rideshare and Taxi Services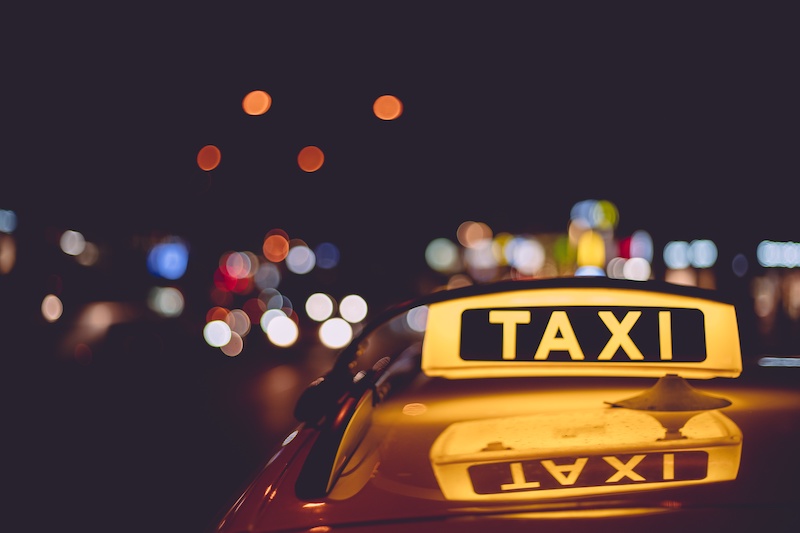 Ridesharing services and taxi companies provide convenient, on-demand transportation in Barrie. Uber is licensed to serve the Barrie area, as are several other taxi companies. These include:
Alliance Taxi Barrie
Barrie City Taxi Inc.
Barrie King Taxi
Barrie Taxi Cab Services
Barrie Taxi Ltd
Barrie - Oro Taxi
Barrie Yellow Taxi
Deluxe Taxi (Barrie) Ltd
My Taxi Barrie Ltd
Ready Taxi
Simcoe Taxi & Delivery Service
Viau Taxi Inc.
Barrie is also home to several driver-for-hire services, where private drivers use their cars to transport passengers. Four in total currently operate in the Barrie area:
Canadian Designated Drivers Barrie and Area
Driver Seat
Last Call Designated Drivers
The DD Service
Barrie has even made finding a cab in the city more accessible by establishing several nighttime parking areas for cabs near the downtown area. As with all ridesharing services and cabs, fares will vary depending on distance, travel time, demand, and other factors. Consult any ridesharing or cab service for fare estimates before booking.
Biking in Barrie
Given the abundance of fun things to do outdoors in Barrie, it's no surprise that the city offers plenty of opportunities to travel by bicycle. Biking is a vital part of Barrie's overall transportation plan, along with driving, transit, and walking. Recent years have seen a massive expansion of Barrie's bike network.
In 2020 alone, nearly 13 kilometres of trails, bike lanes, and shoulders connecting Big Bay Point Road to the Barrie waterfront and North Shore Trail. In total, nearly 50 kilometres of bike infrastructure have been built within Barrie so far. It's also easy to pair a short bike trip with a ride on Barrie Transit, with free bike racks on all buses. Those needing a bike rental or bike repair will also find a dozen options throughout the city and surrounding towns.
Other Helpful Things to Know About Driving in Barrie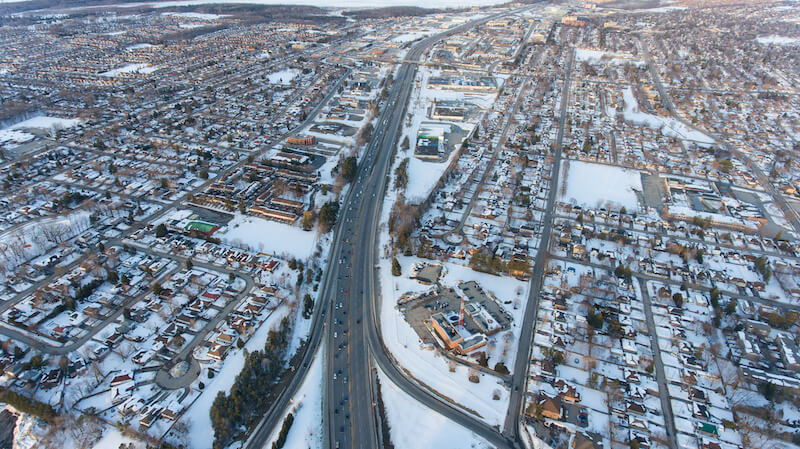 When driving in Barrie, people should ensure that they're up-to-date on the best winter driving techniques. Winters throughout Canada can be frigid and snowy. Because of this, those relocating from warmer regions will need to know how to drive on snow and ice. It is always important to check road conditions before driving and leave early if necessary during the winter months.
Cell phones should be kept fully charged, and drivers may want to consider keeping a survival kit in the car. The package could include extra blankets, booster cables, shovels, and some high-energy food. Night drivers should include flashlights, matches, and a candle. These items may all come in handy if the car is stalled or stuck in the snow away from home.
During heavy snow, drivers will also need to be aware of the snow removal schedules. Drivers may be responsible for parking off-street when plows need to clear the roads. Residents are not allowed to park on the streets overnight in downtown areas during December through March.
Drive With Ease in Barrie
Anyone with specific preferences related to commuting time or experience may do well to research the best neighbourhoods in Barrie. Proximity to work or access to major highways can both make the drive easier. However, with the fast-growing population and beautiful waterfront views, Barrie would likely make a wonderful home for most people.
If you'd like to make your home in Barrie, contact The Peggy Hill Team of RE/MAX Hallmark with Ontario Real Estate Central at (705) 739-4455 to get in touch with a local real estate agent and discover your Barrie dream home today.