Waterfront Home Accessories: How to Enjoy Your New Home
Posted by Peggy Hill on Tuesday, March 14, 2023 at 10:29 AM
By Peggy Hill / March 14, 2023
Comment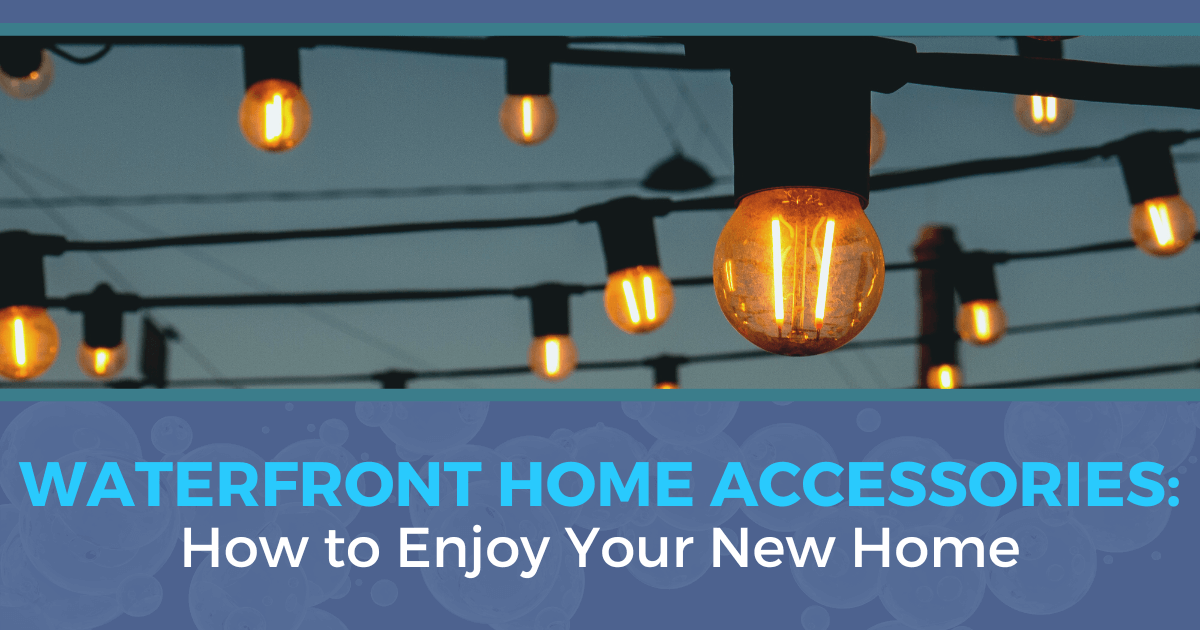 Lakefront living is ideal for many people. Imagine waking up to a beautiful sunrise peeking over the edge of the lake, just beckoning for time to be spent soaking in the sun, going fishing, or having friends over for some water fun. The peace of nature surrounding the property is hard to overlook. Urban, concrete living isn't the right option for everyone, but lakefront living may open the door to a fantastic quality of life. However, a few key considerations and purchases should be made to make the most out of this living experience. Consider a few of those essential purchases here, especially when purchasing waterfront homes.
Lounge Furniture For the Porch
Taking in the beauty of the waterfront means having a place to sit and relax. Lounge furniture makes that happen. There are plenty of styles to select from, but keep in mind that storms and humidity may make it more challenging to maintain some types.
Some people may choose to set up an outdoor entertainment area that allows guests to relax and enjoy the waterfront. Remember that this can also be a sanctuary, meaning property owners may wish to create a more intimate setting where they can enjoy the outdoors in smaller groups or even alone.
Inflatable Furniture to Float on the Lake
When allowable, getting out onto the water is one of the main reasons to buy real estate. That may mean more than just enjoying the beach area. Inflatable furniture may allow for floating along the water enjoying the outdoors.
A wide range of styles exists, from the standard tube for just one person to larger, near-watercraft-like inflatables for a group of people. Well-designed inflatable furniture is easy to use and lightweight enough to move around. Even better, it's easy to deflate and store for next time without having to plan for large amounts of space. Adding a floating cooler may make it even more enjoyable.
A Fire Pit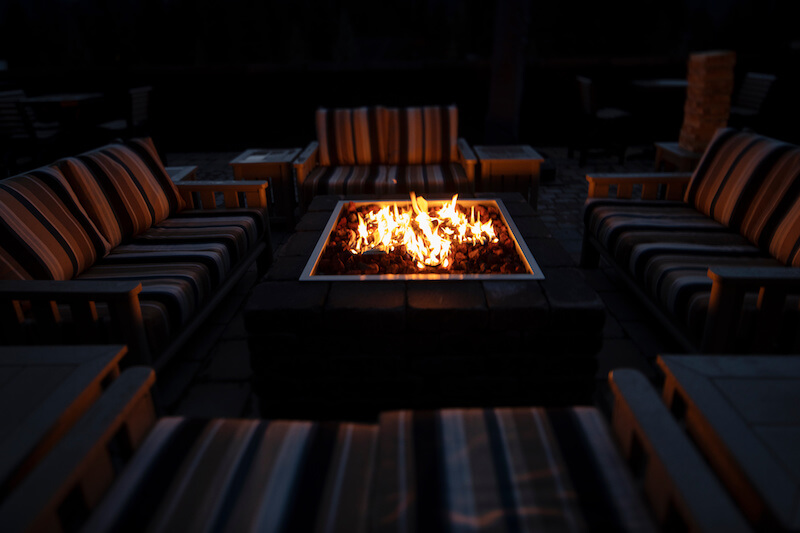 A fire pit on the shorefront may be a fantastic way of creating an outdoor space for those living on the lake. These may be as small or as elaborate as needed. Some feature stone bricks in a circle, creating a proper pit to burn a fire. Others are made of metal to provide more containment for the fire itself.
Before investing in them, be sure to learn about any community rules on firepits and their use. There may be some restrictions on using them, their size, and even if they are allowed by the water.
Outdoor Lighting
Living on the lake may mean enjoying all that it offers, not just during the day but late into the evening hours as well. It's easy to do that when there's ample outdoor lighting in place.
There are numerous ways to light these outdoor spaces, such as using a simple string of lights around a porch or solar-powered lanterns. Lighting along pathways and seating areas helps bring out the land's beauty while also adding safety to the site. Choose lights embedded into the sidewalk or those built into the dock.
Fishing Gear
Perhaps one of the reasons to purchase a lakefront home is to enjoy fishing. Buying the necessary gear can be daunting, but keeping it simple allows for property owners to get out there and start enjoying the water. Be sure to consider any fishing restrictions before getting started as well.
The essential fishing components are a rod and reel, fishing line, and tackle. It's then important to consider live bait or lures. Purchasing a net, dehooker, and a tackle box may also be in order. It's also crucial to dress the part with waders to help minimize getting too wet on the slippery shores of the lake.
An Outdoor Kitchen or Entertaining Space
Having an outdoor kitchen or entertaining space is a must-have for waterfront properties. Not only does it add value to the property, but it allows you and your guests to enjoy the beauty of your waterfront home while enjoying meals or drinks. Outdoor kitchens can range from simple grills to extravagant built-in barbecues and sinks, so you can choose the level of extravagance that fits your budget and lifestyle.
Having extra space for entertaining in your home can help you make the most of your waterfront property and create a memorable experience for yourself and your guests. Whether it's for a casual afternoon picnic or an evening cocktail party, the outdoor entertaining space will be sure to make each visit special. Additionally, many waterfront homes have great views that can be enjoyed from the comfort of an outdoor kitchen or seating area.
Find Out What Boats Are Permitted on Your Lake
Perhaps one of the most significant investments to consider is a boat. Before investing in any boat (or even in the waterfront home if boating is an important activity), seek out water usage rules. Some lakes may not allow for any boats, while others may require only smaller fishing boats. Determine if it is necessary to have a permit to build a dock if desired or if there's a marina nearby as well.
When it comes to buying a boat, consider the whole picture. What are the costs for maintaining it and storing it over winter? Most lakes freeze up during winter, meaning boats may need to dock inland. It's also important to consider what will make for the best experience. For example, a sailboat on a quiet lake may be better than a large motorboat. For those who plan to jet ski, choosing a large-enough boat to haul these water toys is also a consideration.
Consider Beach Gear—Yes, Even Inland
Many lakes have sandy beaches. That means it's often possible to walk down to the lake, sit and relax in the sand, and take in all of the natural beauty. However, it may be essential to choose some valuable beach gear.
For some, that may mean purchasing a small table, an umbrella, and a few lounge chairs to relax on the waterfront. For others, it may be helpful to buy toys to play in the sand, coolers to keep drinks cold, and perhaps a portable grill. A few sports toys – like volleyball – and some fun beach games may help make the beach behind the house the ideal getaway.
Enjoying Waterfront Living at Its Best
Every lake is a bit different, but their experiences are often delightful when the right gear and setup are in place. Consider the waterfront homes in the area carefully by considering restrictions to ensure the types of activities desired are possible in that community.