Best Water Activities in Barrie: Barrie, ON Water Recreation Guide
Posted by Peggy Hill on Monday, June 21, 2021 at 10:35 AM
By Peggy Hill / June 21, 2021
Comment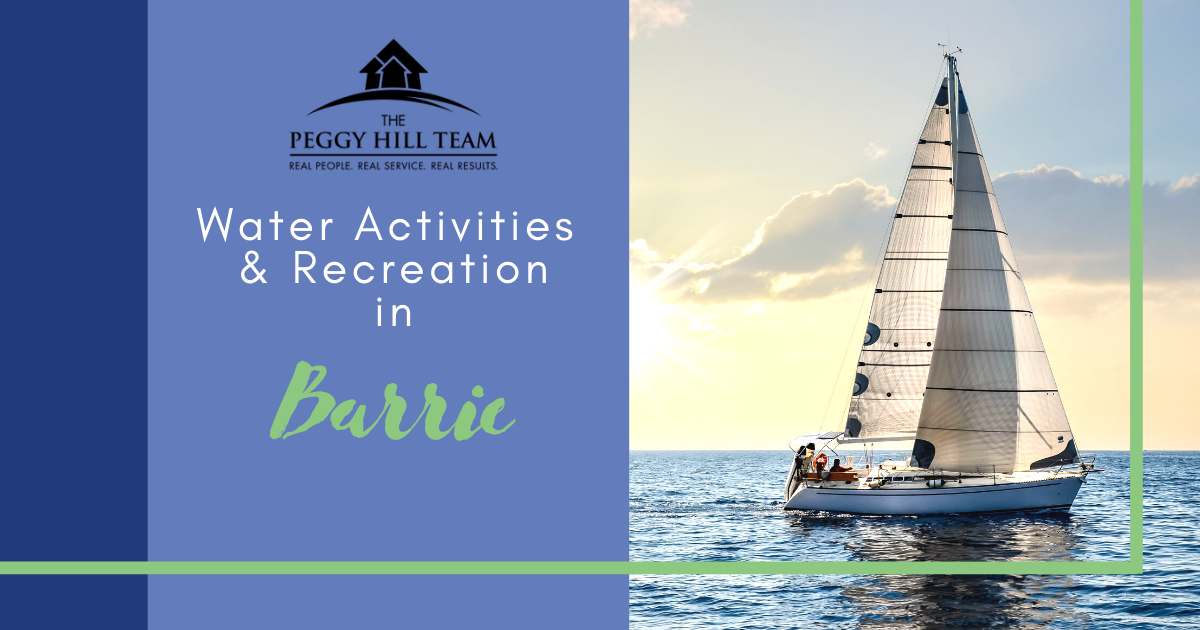 Kempenfelt Bay produces many wonderful water activities for guests and residents of Barrie to enjoy during the warm summer months. The 14.5-kilometre bay reaches depths of 32 metres in some areas. As a result, many people can be seen engaged in bayside recreation as soon as the temperatures rise. From high-adrenaline activities to relaxing on sandy beaches, guests of all ages are sure to find an activity that fits their tastes when they move to Barrie. Read on for some water recreation options in Barrie to get the ideas flowing.
Wakeboard with Flawless Wakes Wake Lab
Wakeboard with Flawless Wakes Amenities
Wakeboard
Wakeskate
Wake surf
Lessons
Flawless Wakes Wake Lab provides fun for all ages and skill levels. Whether someone has never seen a wakeboard or ridden one multiple times, the team at Flawless Wakes Wake Lab can provide guests everything they need to create a memorable experience. Guests can wakeboard, wakeskate, and even wake surf. Rates start at $275 per hour and include all of the equipment needed to engage in the activity safely. Individual and beginner lessons are available on a first-come, first-serve basis.
Rent a Sea-Doo or Boat
Simcoe Rentals Amenities
Sea-Doo or boat rentals
Sea-Doo training
Sail La Vie Boat Rental & School
Variety of boats
Simcoe Rentals offers Sea-Doos, one of the fastest ways to have fun on the lake. Sea-Doos are fast and exhilarating. The team provides complete training on safely using the equipment before guests take off for a day of fun. Additionally, Sea-Doos help guests burn calories as they tear through the water. What's better than combining fun with a workout? Simcoe Rentals also has a small number of pontoon boats available for rent for those who want to relax on the water.
Sail La Vie Boat Rental & School is a wonderful option for individuals who want to enjoy a day on the water without dealing with the hassle of maintaining a boat. Boat rentals start at $130 per hour. Those with proven experience in boating can rent the boat on its own. Otherwise, guests will need to pay an additional fee to hire a crew to navigate the boat on their behalf. Sailboats, deck boats, pontoons, and fishing boats are all available for rent.
Those who wish to operate boats in the future without a crew can attend the Sai La Vie Boat School. After completing the required classes, registered students will receive their small motorized license (PCOC). Classes are taught in English or Russian.
Learn to Kayak with the Barrie Canoe & Kayak Club
Barrie Canoe & Kayak Club Amenities
Paddling classes
Exclusive paddle nights for members
Free equipment and parking for members
Barrie Canoe & Kayak Club is the premier organization for kayaking and canoeing adventures. Those who have never used one of these water vessels can register for paddling classes and clinics offered throughout the year. Fees are nominal and provide students with the skills they need to row on the water confidently. The classes and clinics are taught by certified instructors and follow ORCKA and Paddle Canada accreditation requirements.
Those who already know how to canoe and/or kayak are also encouraged to become members. The Barrie Canoe & Kayak Club offers exclusive paddle nights with other members and organizes day, weekend, and even week-long trips. It's a wonderful way to meet new people and build strong friendships. Membership also provides access to canoes, kayaks, paddles, and personal flotation devices free of charge. As a result, members don't need to worry about the hassle of acquiring their own vessel when they want to enjoy the water. Additionally, members get free parking passes to many of the paddling areas around Barrie. These parking passes can add up when purchased individually, so it is a nice bonus for the membership. Rates start at $70 annually.
Visit One of Barrie's Beaches
Popular Barrie Beaches
Centennial Park Beach
Johnson's Beach
Minet's Point Park & Beach
Tyndale Park & Beach
Barrie's beaches are a wonderful way to spend the day. With four beaches to choose from, residents and visitors are sure to find their favourite after visiting each one. Should parking be full at one beach, guests can take a short drive and visit the next one over. The beaches are popular during the summer, so guests should arrive early to beat the heat and traffic.
Centennial Park & Beach has a seasonal lifeguard on duty between 11:30 a.m. and 5:30 p.m. Guests can enjoy a playground, beach volleyball court, recreation trail, and washrooms. The four-season trails are maintained by the city. There are also accessibility rollout mats that allow guests with mobility challenges to get closer to the bay.
Johnson's Beach features a large sandy beach perfect for laying out a blanket and sunbathing. Guests are welcome to swim and will be watched by a seasonal lifeguard from 11:30 a.m. to 5:30 p.m. The washrooms are open seasonally to guests, free of charge.
Minet's Point Park & Beach offers a shallow boat launch, perfect for kayaks, canoes, and paddleboards. With sandy beaches and a large playground, guests of all ages can enjoy their day on the bay. Lifeguards are not stationed at this beach.
Tyndale Park & Beach offers a large picnic shelter perfect for taking time during the day to enjoy a nicely packed meal. This is also a wonderful feature when an afternoon thunderstorm rolls through the area. Guests can also enjoy using the beach volleyball court. The beach is a mix of sands and stones, so visitors should arrive early if they plan on laying out a blanket, as the softest spots go fast.
Splash Around a Floating Playground
Splash On Amenities
Climbing walls
Monkey bars
Slides
Trampolines
Splash On is a floating playground suited for both children and adults alike. Up to 180 people can run on the playground at one time. Every participant must wear a personal flotation device before entering the floating playground. Prices are $25 for a full day pass or $15 for an evening-only pass. There is no fee for watching, and participants may come and go as they please all day. Passes are provided on a first-come, first-serve basis.
Guests can enjoy climbing walls, monkey bars, slides, trampolines, and other obstacles waiting to be conquered on the playground. Should guests fall, they can quickly and easily get back on the playground at several entry points. This is a wonderful activity that's fun to complete solo or in groups, large or small.
Take the Plunge in Barrie
The range of water activities in the area perfectly complements the waterfront homes in Barrie. Residents and visitors can take in the beautiful sunrises and sunsets over the bay. Those who live in luxury homes in the city are never further than a 25-minute drive to sandy beaches and a day of joyous memories. Combined with the range of restaurants and shopping options for residents and tourists, Barrie is a community that everyone should dip their toes in at least once.
If you'd like to make your home in Barrie, contact The Peggy Hill Team of RE/MAX Hallmark with Ontario Real Estate Central at (705) 739-4455 to get in touch with a local real estate agent and discover your Barrie dream home today.