Barrie Trails: 6 Best Walking & Hiking Trails Near Barrie
Posted by Peggy Hill on Monday, January 23, 2023 at 12:20 PM
By Peggy Hill / January 23, 2023
Comment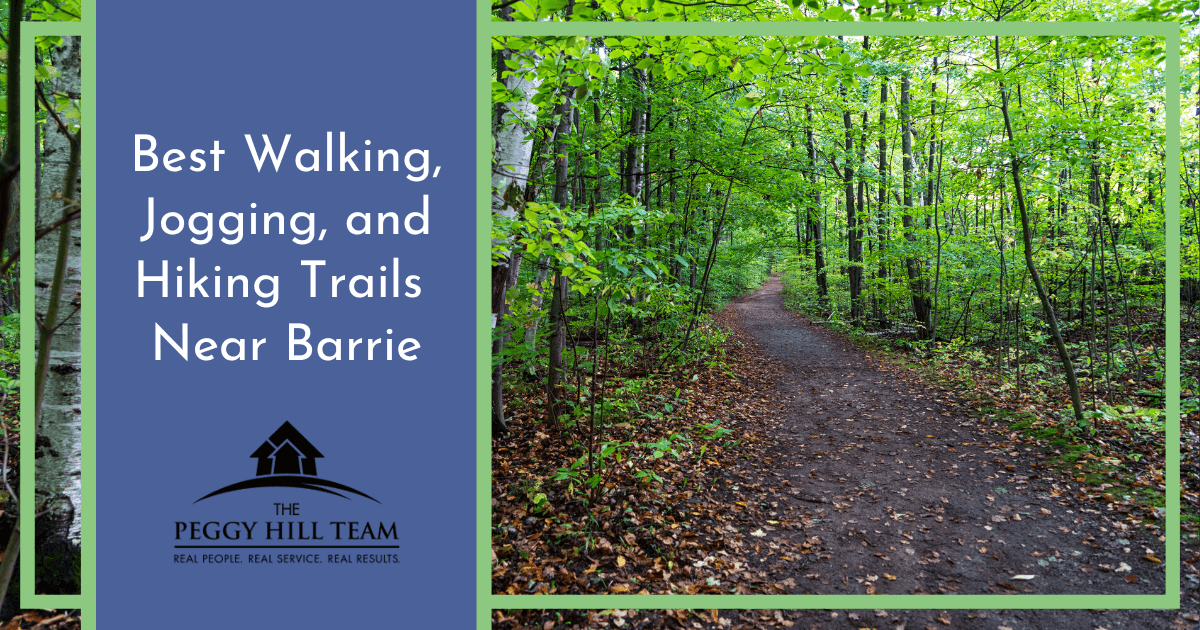 Residents of the city of Barrie have access to many enjoyable Ontario outdoor activities. Mother Nature offers abundant exploration opportunities at the city's 90 parks, snow slopes for skiing, and much more. One of the most popular activities is to enjoy the miles of Barrie trails, which are perfect for everything from hiking to biking. Thanks to these trails and other outdoor fun, there is never a dull moment in the city, where unlimited action and adventure await at every turn.
North Shore Trail & Barrie Waterfront
Offering beautiful views of Kempenfelt Bay, the North Shore neighbourhood features the multi-use North Shore trail and Barrie Waterfront for visitors to walk, run, and hike along a scenic route. Rated as easy, North Shore is an out-and-back trail running for 6.9 kilometres along a gravel path and takes about an hour and a half to complete. Extend your out-and-about time with a three-minute walk to Archie Goodall Park for more walking and relaxing in open spaces. There is also a playground for the kids at this Barrie park.
Copeland Forest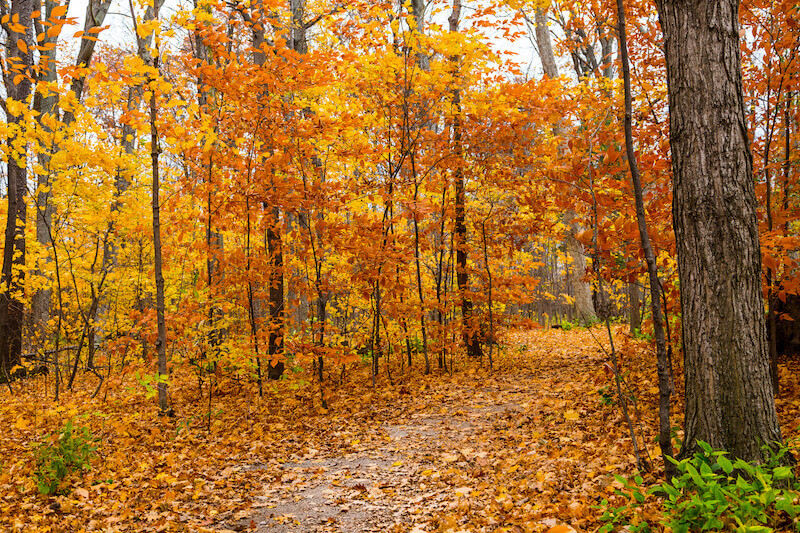 A visit to Copeland Forest is an adventure for all ages who enjoy hiking and snowshoeing in the great outdoors. Within Copeland Forest, choose from 13 trails rated from easy to moderate, covering relaxing and picturesque landscapes. One of the easy adventures is along the Swamp and Rail Trail Loop. The natural dirt pathway runs for 7.88 kilometres, with views of the pond and railway. Dogs are welcome, and some off-leash areas are available.
Seasoned hikers who want to experience a challenge will love Copeland Forest Perimeter Loop. Rated as hard, the loop runs for 24.62 kilometres, providing an extended day of hiking. Mountain bikers, hikers, and horseback riders use the trail, and dogs are welcome but must remain on a leash.
Tiffin Centre
Tiffin Centre for Conservation is a 300-acre destination open year-round for various activities. The diverse landscape features open meadows, colourful forests, serene lakes, and active wetlands for hiking and biking anytime and snowshoeing and cross-country skiing over snow-packed trails in winter.
The Hawk and Maple Valley Trail Loop within Tiffin Centre is a short 2.09-kilometre loop over a dirt path. The trail takes about 30 minutes to complete, so it is a nice way to start or end the day in a generally quiet location. Visitors can bring their dogs, but they must stay on a leash.
While traversing the trail, visitors will reach a connection to the Beaver Creek Trail, which is also an excellent opportunity to enjoy the beauty of the area in a quiet and inviting atmosphere among towering trees. Leashed dogs are welcome on the trail.
Ganaraska Trail
Ganaraska Trail offers visitors an extensive look at several areas as it winds past rolling sandhills, the Willow Creek Valley, and Minesing Swamp. The trails are natural and suitable for all skill levels.
When accessing the swamp area, expect muddy conditions and tread carefully. The 500-kilometre trail system runs from Port Hope, located on Lake Ontario, to Glen Huron, situated in the confines of the Niagara Escarpment.
The landscape along the lengthy trail varies from rolling hills and rugged wilderness to sandhills and lakefronts, marked along the way to help keep you going in the right direction. Be mindful that sections of the Ganaraska Trail cross private property that owners have allowed access to. Dogs must be on a leash in certain areas and are not permitted on group hikes.
Carthew Bay Nature Reserve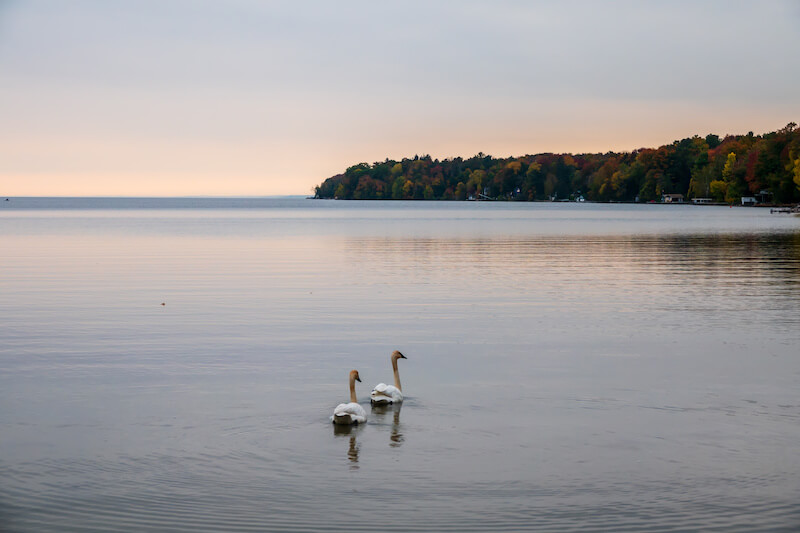 At the Carthew Bay Nature Reserve, visitors can expect a great example of the natural landscape and habitat the area is known for. The well-maintained paved hiking trail offers a moderately challenging journey through hardwood forests and rolling meadows, while the reserve provides outdoor enthusiasts the space to revel in the surrounding landscape and observe wildlife species. Visitors will see wide-open expanses of grassland bordered by thick forests along the trail. Take a moment to stop by the beaver pond to see these architects at work, and bring a camera to snap a picture of the Green and Blue herons.
Maintained by The Couchiching Conservancy, the 22-acre reserve is open to the public. Dogs are welcome but must always remain on a leash to ensure the safety of wildlife and those visiting the sanctuary.
Oro-Medonte Rail Trail
Another scenic and restful trek for those who want to get away from the hustle and bustle of everyday life is to plan to hike the Oro-Medonte Rail Trail. The 28-kilometre trail is rated easy as you follow the crushed gravel pathway past quiet wetlands, linking Barrie and the city of Orillia. Along the way, there's the abandoned rail line, an active beaver pond, active osprey nests, lakefront and bubbling creeks, lush and colourful landscape bordering the path, and Blue Herons to observe.
Make Barrie Your Home Base
There are plenty of rewards awaiting those who choose Barrie to call home, and the many trails ready to be explored are at the top of the list. These options are just an example of one of the reasons the city is a desired destination. For those who want a quality lifestyle that includes being close to and having year-round access to nature, consider Barrie, located in Simcoe County in the southern region of Ontario.
If you'd like to make your home in Barrie, contact The Peggy Hill Team of RE/MAX Hallmark with Ontario Real Estate Central at (705) 739-4455 to get in touch with a local real estate agent and discover your Barrie dream home today.