Best Toronto Suburbs: 8 Best Places to Live Near Toronto
Posted by Peggy Hill on Wednesday, March 15, 2023 at 2:26:47 PM
By Peggy Hill / March 15, 2023
Comment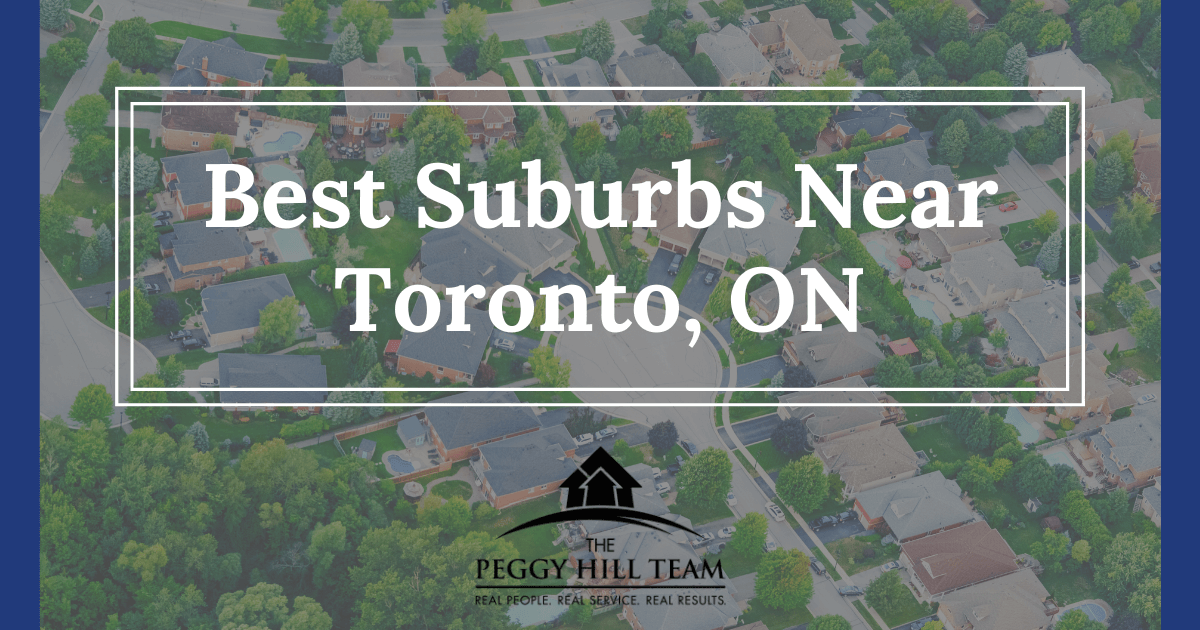 The city of Toronto is, without question, one of the best cities in Ontario, and many argue it's the best place to live in all of Canada. There's a lot to love, from diverse dining and nightlife to a booming economy and some of the country's best cultural and historical spots. But living in the heart of this bustling, dense city isn't the right choice for everyone moving to Toronto. Luckily for would-be homebuyers, Toronto also offers some incredible suburbs that combine convenience, amenities, and some of the region's best housing options. So read on as we explore these eight communities that combine the best of Toronto with delightful suburban charm.
Clarington
Clarington offers would-be buyers a sprawling mix of rural and suburban charm, all just minutes from the shores of Lake Ontario. Portions are as close as 65 kilometres from Toronto but can feel a world away for those looking to escape the hectic big city. It comprises several communities, including Bowmanville, Newcastle, Orono, and Courtice, along with the more rural Clarke areas on the municipality's eastern side. Each offers its own benefits, from the shopping and dining of Bowmanville to the arenas and parks around Courtice, like the popular Darlington Provincial Park. Meanwhile, the extensive rural areas provide plenty of privacy and large homesites.
Homebuyers looking for budget-friendly alternatives to Toronto's cost of living should explore Clarington. Homes in Clarington are as diverse as the area itself, primarily made up of single-family detached homes with condo and townhome options in the more built-up parts of the community. Typical detached properties start in the low $600s, generally reaching around $1.5 million. However, the community's ultraluxury properties can sell for twice that amount. Condos and townhomes offer more budget-friendly choices, selling from just under half a million to roughly $1.5 million.
Clarington Amenities
Numerous distinct communities
Extensive Lake Ontario waterfront
Diane Hamre Recreation Complex
Clarington Public Library
Orono Park
South Courtice Arena
SmartCentres Bowmanville shopping mall
The Visual Arts Centre of Clarington
Brampton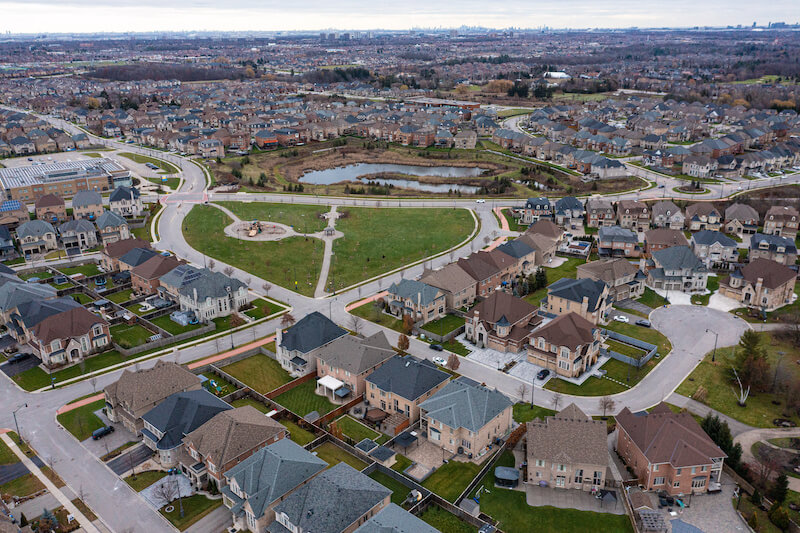 Located 25–40 miles northwest of downtown Toronto, Brampton is known as "Flower City" due to its once-thriving greenhouse industry. Today, the fast-growing town serves as a bedroom community of Toronto while boasting a diverse job market.
Despite being one of Canada's ten most populated municipalities, Brampton still offers thousands of acres of green space, including Heart Lake Conservation Park and Claireville Conservation Area. It also provides a wide selection of convenient shopping, most notably the Bramalea City Centre, and a downtown packed with charming restaurants, coffee shops, and bars, just steps from Etobicoke Creek. Residents can even catch a show or concert at The Rose Brampton, the city's premier performing arts venue.
Buyers in Brampton will mainly find single-family detached homes, ranging from modest two- to three-bedroom cottages and split-levels to sprawling new-construction luxury properties with five or more bedrooms. These start in the $600s and top out at just under $2 million. However, the majority sell for roughly $1–$1.5 million. Brampton also offers some condos and townhomes, which list from the $500s to around a million.
Brampton Amenities
GO Rail Kitchener Line station
Convenient to Toronto Pearson International Airport
Heart Lake Conservation Park
Claireville Conservation Area
Cassie Campbell Community Centre
The Rose Brampton theatre
Lionhead Golf Club and Meeting Centre
Aurora
Aurora, one of the best-known and beloved Toronto suburbs, is located roughly 45–50 kilometres north of downtown. Still, it's a quick trip on the nearby 404 or via GO Rail's Barrie Line, which has a station in the city. Aurora offers a varied mix of residential neighbourhoods, plentiful and convenient shopping, and a historic downtown corridor near the intersection of Yonge and Wellington Streets, full of restaurants, local boutiques, and public spaces.
The town is trendy among lovers of nature and the outdoors. However, all residents can enjoy the rolling hills and picturesque scenery provided by the Oak Ridges Moraine, along with access to Lake Simcoe and Lake Ontario, all within driving distance. It's also a golfer's dream, with a half-dozen courses in or around town. In addition, Aurora is home to St. Andrews College, one of the most well-known private boys' schools in the entire country.
About two-thirds of the homes for sale in Aurora are single-family detached properties, with condos and townhouses to round out the mix. Aurora condos list from the $600s, while townhomes in Aurora list from the $800s. Luxury homes in Aurora can list for $10 million or more, though most sell in the $1–$4 million range.
Aurora Amenities
GO Rail Barrie Line station
Aurora Town Park
Sheppard's Bush hiking area
Aurora Community Centre
Aurora Community Arboretum
Several shopping malls
Numerous golf courses/country clubs
St. Andrews College
King
Those looking for small-town living may find the suburb they're looking for in King City, approximately 40 kilometres north of central Toronto. Though it's the largest settlement in sprawling King Township, it's still home to fewer than 9,000 residents. This is ideal for those who want to get to know their neighbours and play an active role in the community.
Residents can enjoy popular restaurants and modern shopping at King's Ridge Marketplace and the King's traditional centre near King Road and Keele Street. This area is home to many of the town's best amenities and attractions, from the arena and community centre to the peaceful green spaces and sports fields of King City Memorial Park. Meanwhile, a Go Rail station and proximity to the 400 make getting into Toronto or around the province a breeze.
Outside of a few condo developments, King City housing is entirely made up of single-family detached homes. They range from modest, two- or three-bedroom ranches and cottages in the $1.5–$2.5 million range to spacious four- or five-bedroom properties in a unique and distinctive mix of architectural styles that can reach as much as $5–$7 million. King's limited condo options typically sell from the high six figures to around $1.5 million.
King Amenities
GO Rail Barrie Line station
King's Ridge Marketplace shopping mall
King City Memorial Park
King City Arena and Community Centre
Seneca College - King Campus
Kettle Lake Park
King City Trail
Burlington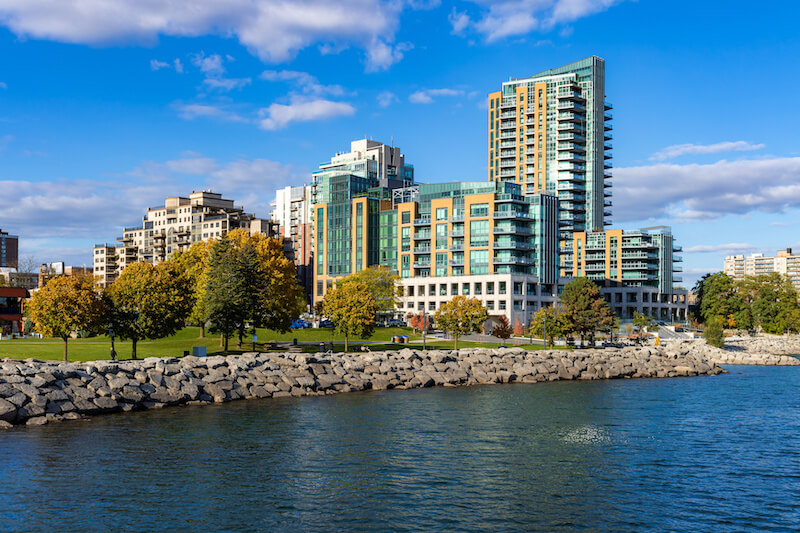 The Lake Ontario waterfront is among the biggest draws to Burlington, approximately 60 kilometres west of Toronto. Burlington residents have no shortage of parks and other spaces to enjoy this gorgeous scenery, most notably Spencer Smith Park, a green area close to downtown, and The Beachway, providing sandy, scenic spots to relax or exercise. It's also the location of the beautiful Royal Botanical Gardens.
While Burlington offers many peaceful residential areas, a thriving downtown corridor along Brant Street has restaurants, bars, art galleries, boutiques, and more. Combine all this with easy rail or driving commutes to Toronto, and it's easy to see why Burlington was recently named the best community in Canada by Maclean's Magazine.
Housing in Burlington is split between single-family detached homes and condos and townhouses. The latter offers the most affordable and diverse options, starting in the mid-$300s and available across a vast price spectrum that can reach over $2 million. Typical detached homes are available from the $700s to nearly $10 million, with the majority listing in the $1–$3 million range. Burlington provides great alternatives to Toronto's waterfront homes.
Burlington Amenities
Extensive Lake Ontario waterfront
Multiple GO Rail/VIA Rail stations
Mount Nemo Conservation Area
Royal Botanical Gardens
Burlington Centre shopping mall
The Burlington Performing Arts Centre
Numerous golf courses
Burlington Executive Airpark Airport
Newmarket
A thriving and diverse town in its own right, Newmarket is a popular choice for Toronto commuters and those looking to enjoy the Greater Toronto Area's benefits without the city's cost or hassle. Among the most beloved parts of Newmarket is the historic Main Street area, where residents can chow down at restaurants like Ground Burger Bar before shopping at Metropolis Mercantile + Café.
Homeowners are never far from green space, whether they prefer the numerous smaller parks speckled throughout town or larger preserved areas like the popular Riverwalk Commons or Fairy Lake Park, located within the Wesley Brooks Conservation Area near downtown. With extensive community centres, convenient shopping malls, and easy road and rail transit into Toronto, Newmarket offers a lot to would-be buyers.
Like many Toronto suburbs, single-family detached homes are the most common type of homes in Newmarket. However, many condos and townhomes are also found throughout town. Newmarket condos list from around half a million for one- or two-bedroom units, with single-family homes available from the high $700s. Luxury homes in Newmarket top out in the $5–$7 million range, with average properties selling from the high six figures to around $2 million.
Newmarket Amenities
GO Rail Barrie Line station
Upper Canada Mall
Ray Twinney Recreation Complex
Magna Centre
Wesley Brooks Conservation Area
Extensive neighbourhood park system
Southlake Regional Health Centre
Vaughan
No matter what would-be homeowners like to do, there's plenty of it in the thriving Toronto suburb of Vaughan, just north of the city proper. The large town includes several distinct communities like the Maple neighbourhood, Kleinburg, Woodbridge, Thornhill, and the Concord neighbourhood. The latter is notable for its massive CN railyard facility and the extensive shopping and entertainment options at Vaughan Mills mall, one of the nation's largest.
There's also plenty of fun at the popular Canada's Wonderland amusement park, while those looking for a more serene time outdoors can take advantage of Vaughan's many parks and golf courses. It's also a perfect choice for York University community members, located just across Vaughan's southern border. Meanwhile, its convenient location close to Toronto and along Highways 400 and 407 makes it among the shortest commutes of our top suburbs.
Both single-family detached homes and smaller, more affordable options like condos and townhomes are available in Vaughan in roughly equal numbers. Condos in Vaughan list from the low $500s, while Vaughan townhomes list from around $700,000. Luxury homes for sale in Vaughan range from $1 million to more than $15 million, but most properties top out around $2–$2.5 million.
Vaughan Amenities
Vaughan Mills shopping mall
Canada's Wonderland amusement park
Boyd Conservation Park
Al Palladini Community Centre
McMichael Canadian Art Collection
Black Creek Pioneer Village
Numerous golf courses
Convenient to York University
Oakville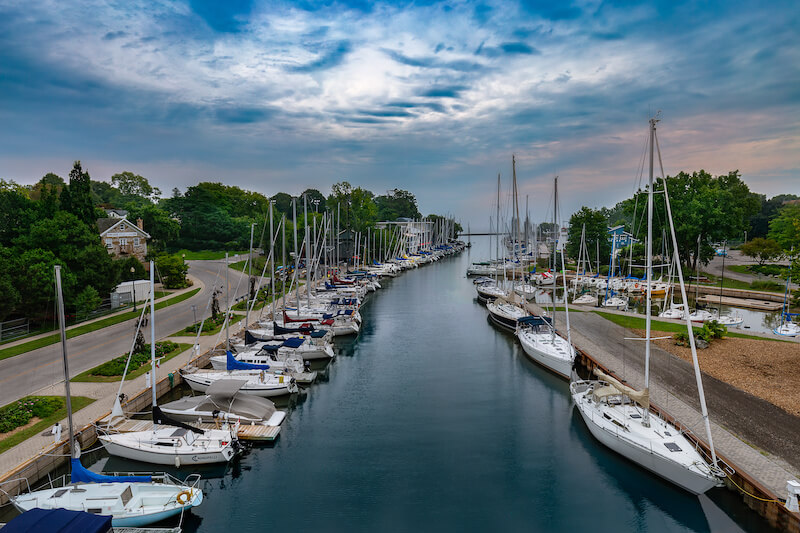 Our final top suburb, Oakville, sits on the shores of Lake Ontario, roughly 40 kilometres southwest of downtown Toronto. This large, diverse town of about 200,000 residents offers a mix of quieter residential communities and denser areas along the water, like Bronte and Kerr Village, filled with local shops and restaurants. This also includes the area's many lakefront parks like Coronation Park, Bronte Heritage Waterfront Park, and Gairloch Gardens.
The town is also home to the famous Glen Abbey Golf Club. Thanks to several shopping centres, community centres, and neighbourhood parks, everyday conveniences are also readily available throughout Oakville. Meanwhile, Oakville has direct access to Highways 403 and 407 and a Go Rail station.
Available homes in Oakville are mainly single-family detached properties, though some condos and townhouses are also available. Some properties, particularly along the lakefront, are truly spectacular, earning their $5–$20 million price tag and providing great alternatives to the lakefront homes in Toronto. However, most are significantly more affordable, selling from the high six figures to around $3 million. Oakville's condos and townhomes can even be found from as low as the high $400s.
Oakville Amenities
Extensive Lake Ontario waterfront with numerous parks
GO Rail Lakeshore West Line station
Queen Elizabeth Park Community and Cultural Centre
Lion's Valley Park
Bronte Creek Provincial Park
Oakville Place shopping mall
Glen Abbey Golf Club
Sheridan College - Trafalgar Road Campus
Sweet Suburban Living is Waiting Near Toronto, ON
Those who want to enjoy the best of the Greater Toronto Area without the hectic city life found in Toronto's best neighbourhoods have so many great options within a short drive or train ride. Whether they're seeking lakefront views or top amenities, a sprawling single-family home or a compact condo, or have a high budget or a low one, there's something for everyone in these eight top Toronto suburbs.
If you're interested in moving to Toronto, contact The Peggy Hill Team of RE/MAX Hallmark with Ontario Real Estate Central at (705) 739-4455. Our local real estate agents can help you find the perfect Toronto home.