The Best Parks in Barrie, ON
Posted by Peggy Hill on Wednesday, July 14, 2021 at 2:00 PM
By Peggy Hill / July 14, 2021
Comment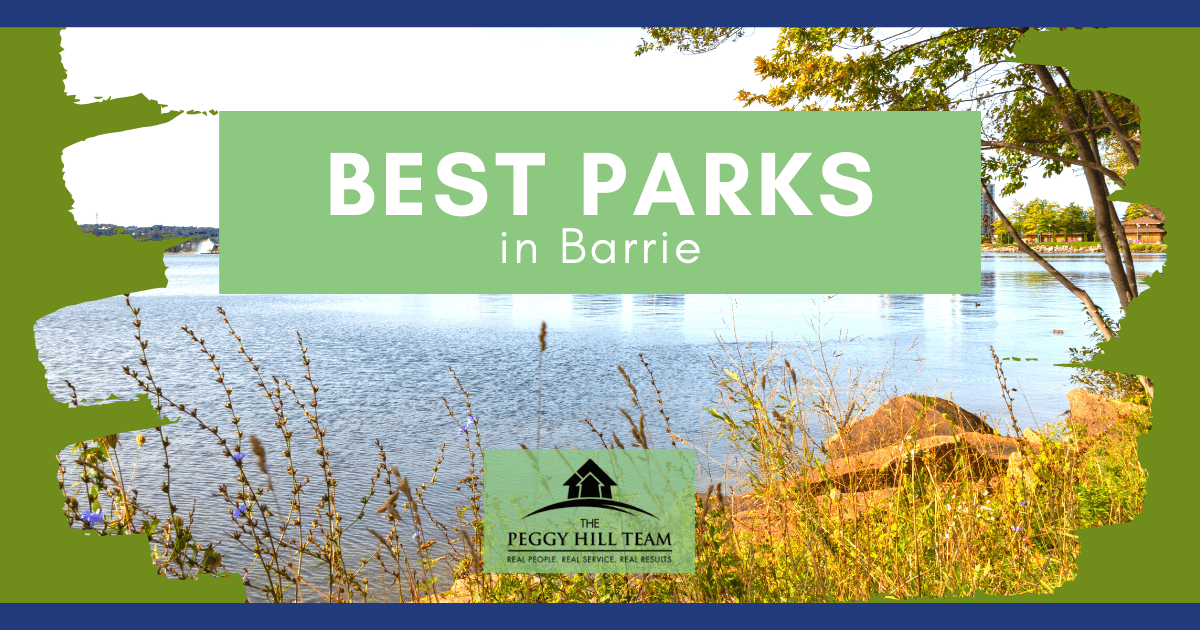 Situated at the centre of southwestern Ontario along Kempenfelt Bay, the city of Barrie is popular with both locals and travellers in search of exceptional parks and water attractions. Homebuyers here can find stylish Barrie condos or stunning luxury homes in Barrie that are often within walking distance of the local parks and outdoor recreation areas.
Barrie is a growing region in the Golden Horseshoe area. With about 150,000 people, the most popular parks in Barrie cater to everyone, from avid hikers to dogs. Read on to start exploring the best parks in Barrie, Ontario.
Sunnidale Park Arboretum
Sunnidale Park Arboretum Amenities
2.25-kilometre trail
Picnic areas
Event spaces
Winter sports
A great way to get started enjoying nature is at the Sunnidale Park Arboretum in Barrie. This park is large enough to offer hiking trails, picnic areas, event spaces, and quiet solitude. There is a 2.25-kilometre looped trail that sees many visitors every day of the year. Many runners come here for training, and hikers often bring their leashed dogs.
During winter, snowshoeing is popular here, as well as cross country skiing and tobogganing. In spring and summer, the park becomes a living catalogue of flowers, trees, and native shrubs. Many come here to enjoy the gardens or reflect and relax.
Sunnidale Park Arboretum Additional Information
Phone: (800) 668-9100
Hours: Open 24 hours
Centennial Park
Centennial Park Amenities
Slides and swings
Bike and pedestrian paths
Gardens
Picnic tables
Concession stand
Canoeing and kayaking
Centennial Park is a waterfront delight with something to offer everyone. In addition to equipment like slides and swings, there are numerous bike and pedestrian paths, gardens, picnic tables, and a concession stand. All within the park, people can enjoy a host of the best outdoor activities in Barrie.
Boaters can launch a canoe or kayak on Lake Simcoe from the sandy shores of Centennial Beach. Soak up the sun on the shoreline and rest in the shade near the gardens or one of the picnic spaces. Of course, the trail is filled with nature and flowers, and many take a book and relax for hours amid them.
The Rotary Club Waterfront Fountain is a Barrie landmark. In summer, Mobi Mats make wheelchair access simple, and there are accessible washrooms available. Centennial Park is located near downtown and has three parking lots free of charge. Admission to the park and beach is free, and lifeguards are on duty during set hours.
Centennial Park Additional Information
Phone: +1 705-739-4255
Hours: Daily 7 a.m. – 11 p.m. / Lifeguards on Duty Daily 8 a.m. – 5 p.m.
Tyndale Park
Tyndale Park Amenities
Swimming in Lake Simcoe
Paddleboarding
Jungle gym
Picnic tables
Areas for games and sports
Situated on the southern end of Kempenfelt Bay, Tyndale Park is another lovely park on Lake Simcoe. There are plenty of open spaces offering remarkable views of the lake and room to play games and sports.
Swimming on the lake and paddleboarding are very popular in summer, and the jungle gym and picnic tables are convenient perks. Bring along some food to grill and spend the day on the beach or playing volleyball with a group. This hidden gem has limited parking, and a pass is required to avoid a fine.
Tyndale Park Additional Information
Hours: Daily 7 a.m. – 11 p.m.
Phone: +1 705-739-4207
Allandale Station Park
Allandale Station Park Amenities
16 acres
Next to a train station
Shaded trails
Picnic pavilions
The Allandale Station Park is a 16-acre waterfront park on Kempenfelt Bay next to the homes in the Allandale subdivision. The park is adjacent to a GO Train Station, making for easy transport. What once was an early hub for the Grand Trunk Railway in the early 1900s is now a historical site protected under the Federal Heritage Railway Stations Act.
Rather than riding the rails, visitors come to Allandale Station Park to enjoy the shaded walking trails with interpretive panels and share meals at the picnic pavilions. Bike paths surround the open space where the sundial is located. The Southshore Community Centre here often hosts special events in the park throughout the year.
Allandale Station Park Additional Information
Phone: 705-739-4255
Hours: Daily 7 a.m. – 11 p.m.
Minet's Point Park
Minet's Point Park Amenities
Kayaking
Windsurfing
Paddleboarding
Playground
Picnic spaces
Known by locals as one of the best places to see a brilliant sunset, Minet's Point Park is a haven for kayakers, windsurfers, and paddleboarders. Located right on the best shoreline of Kempenfelt Bay on Lake Simcoe, the park is just a short stroll from the southern point of the Waterfront Trail.
This park tends to be much less crowded than parks closer to downtown, and it's relatively void of motorized boating. There's a bit of shade near the small playground and picnic spaces. While there are washrooms, there's no lifeguard on duty here.
Minet's Point Park Additional Information
Phone: Daily 7 a.m. – 11 p.m.
Hours: +1 705-726-4242
Bear Creek Eco Park
Bear Creek Eco Park Amenities
1.2 kilometres round trip
Lake
Wooden bridges
Camping (pass required)
Bear Creek Eco-Park is a 1.2-kilometre loop with light traffic. The small lake is great for all levels of swimmers, and youngsters love traversing the wooden bridges that cross the pond. One doesn't have to look far to see turtles, frogs, geese, and ducks.
There are several trails, and camping is allowed with a pass from the visitors' centre. The maps from the office are highly detailed and offer information about the local flora and fauna.
Bear Creek Eco Park Additional Information
Hours: Open 24 hours
Admission to the park is free; camping rates available at the gate
Lawrence Park
Lawrence Park Amenities
Boat rentals
Fishing
Live bait and tackle
Canoe rentals
Cold drinks and snacks at the store
Family-owned and operated, Lawrence Park has been a beloved Barrie destination for more than 50 years. The park is a go-to choice for people looking to rent a boat and go fishing. Visitors should note that Lawrence Park no longer permits outside boats or camping.
Situated on Little Lake Inlet in the Georgian Bay, the waters are fed by Lake Simcoe. Many species of fish can be landed at Lawrence Park. Common catches include largemouth bass, smallmouth bass, pike, crappie, pickerel, and perch. Licenses are required to fish, but they aren't available on-site.
Pontoon boat rentals feature tables and chairs with optional roofing. Aluminum boat rentals include a tank of fuel and life jackets. Canoes are also available, with two lifejackets included. Motorized boaters must have a boat license. Daily passes are offered in the park's store, where visitors can also buy live bait, tackle, cold drinks, and snacks.
Lawrence Park Additional Information
Phone: +1 705-726-5276
Hours: Thursday – Monday 7 a.m. – 7 p.m.
Barrie Parks Have Something for Everyone
Whether a wooded hike along groomed paths or outdoor cycling across rugged trails is desired, it can be found in Barrie. Those who love the sandy beaches and convenient amenities will also discover numerous parks along the bay's coastline that make it easy to experience the best water activities in Barrie. From historical rail-trail parks to newer installations, don't forget to spend some time at the best parks in Barrie, Ontario.
If you'd like to make your home in Barrie, contact The Peggy Hill Team of RE/MAX Hallmark with Ontario Real Estate Central at (705) 739-4455 to get in touch with a local real estate agent and discover your Barrie dream home today.