Best Outdoor Activities in Barrie: Barrie, ON Outdoor Activities & Recreation Guide
Posted by Peggy Hill on Thursday, June 3, 2021 at 9:29 AM
By Peggy Hill / June 3, 2021
Comment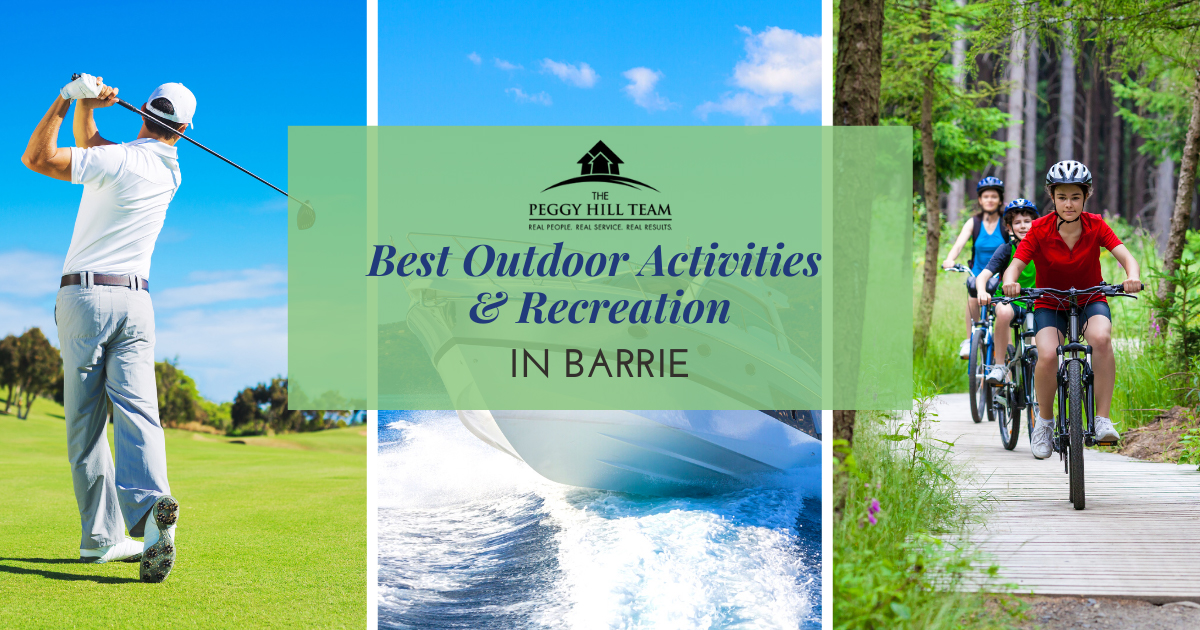 While Barrie is one of Canada's fastest-growing cities, there are plenty of pursuits in the outdoors. From nature hikes and water activities to sports areas and phenomenal parks, this dynamic community offers a remarkable balance of things to do in the great outdoors. Barrie is a great place to visit and an even better place to call home, from the beautiful beaches and trails to the nearby skiing hills. Here are some places to get out and soak in the fresh air around Barrie.
Aquatic Activities in Barrie
Barrie Water Amenities
Lake Simcoe
Kempenfelt Bay
City of Barrie Marina
Splash On Water Park
Centennial Beach
Barrie is the ideal destination for recreational fishing and boating, with its pristine Lake Simcoe and Kempenfelt Bay. There are miles of waterfront beaches and waterfront homes in Barrie, offering an escape for paddleboarders, wake surfers, kayakers, and swimmers. Rent a boat or launch a personal craft for some of the best fishing in the region.
There are plenty of boating marinas in Barrie along the various shorelines, with one of the most popular public options being the City of Barrie Marina. One can launch from here and traverse to various city locations in downtown and the surrounding areas.
An on-land place to get wet and wild during warmer months is at Splash On Water Park, conveniently located at the City of Barrie Marina complex at 55 Lakeshore Drive. For just $25 per person, visitors can splash the day away on this floating trampoline and obstacle course. Head over to Centennial Beach and launch out to the pad for slides, monkey bars, climbing walls, and more at this floating playground.
City of Barrie Marina Additional Information
Phone: +1 705-739-4218
Boat Launch Fee: $17.70 +HST
Barrie's Best Hiking & Biking Trails
Barrie Trail Amenities
Ardagh Bluffs Recreational Trail System
Nine Mile Portage Heritage Trail
There are hundreds of kilometres of trails of varied surfaces and lengths that cater to hikers and bicyclists seeking to connect with nature without the noise and distraction of motorized traffic. Within the city limits proper, there are two top places to hike, walk, and bike in Barrie.
The Ardagh Bluffs Recreational Trail System is 524 acres of wilderness area that feature 17 km of Environmentally Protected (EP) land filled with numerous species of flora and fauna. Located between Mapleview Drive and Ardagh Road, this trail is closed to motor vehicles and is dedicated to pedestrians, hikers, and joggers.
Nine Mile Portage Heritage Trail is located along the downtown waterfront that runs between Meridian Place all the way to Fort Willow in Springwater Township. This multiple-use trail is just under 15 kilometres long and includes terrain such as road allowances, sidewalks, and earthen paths through lovely natural areas. This historical trail was first mapped in 1688 and was dubbed Nine Mile Portage during the War of 1812 by the British Military.
Picturesque Parks in Barrie, Ontario
With 300 hectares of park space in the community, life in Barrie is literally a walk in the park. Check out these favourite respites locals rave about.
Centennial Park
There are 12 acres of sports fields, volleyball courts and picnic spots at Centennial Park. Hit the playground area with the kids, take a hike on the trails or the boardwalk, or dive into the sandy beachside waters for a fun-filled day along the waterfront. Wintertime sees the twin basketball court transition into an outdoor ice rink.
Centennial Park Additional Information
Hours: Daily 7 a.m.– dusk
Phone: +1 705-739-4255
Tyndale Park
Another amazing Barrie park is Tyndale Park, which features almost 15 acres of lakeside beaches, trails, picnic areas, and playground equipment. Enjoy the waterfront scenery, play beach volleyball, or host an event in the park's large gazebo.
Tyndale Park Additional Information
Hours: 7 a.m – dusk
Phone: +1 705-739-4207
East Bayfield Community Centre & Park
Spend the day upon 24 acres of playgrounds, groomed trails, picnic areas, and more at East Bayfield Community Park. There is a spacious recreation center onsite in addition to the Barrie Sports Dome, where one can catch a local team game.
East Bayfield Community Centre & Park Additional Information
Tee Off at Barrie's Best Golf Courses
Want to get in a few rounds on a lovely day? Check out these top golf courses in Barrie, Ontario. If it's a lifestyle, keep an eye on Barrie's golf course homes near your course of choice.
Cranberry Golf Course
Test those golfing skills and hone in on weaker ones at the top-rated Cranberry Golf Course in Collingwood. Play on 18 holes of pristine fairways and greens for over 6,000 metres of par-71 action from the back tees. Strategic bunkers and water hazards are challenging, but soaking in the Blue Mountain and Georgian Bay views is a breeze.
Cranberry Golf Course Additional Information
Phone: 705-444-2699
Green Fees: $59–$69 per round
Mill Run Golf Club
Tee up for an astonishing 45-hole full golfing experience at Mill Run Golf Club, the region's most extensive option open to the public but laden with private club amenities. The Highland Course has 3,200 metres of 18 holes of play, while the Championship Course offers 27 holes and over 6,200 metres of fairways from the back tees. A full restaurant and bar await after a game, private lessons, or practise sessions on the driving range or chipping greens.
Mill Run Golf Club Additional Information
Shawneeki Golf Club
Shawneeki Golf Club is a mature 18-hole course that features a brand-new driving range. Shawneeki is a challenging course but is a great value for those who prefer public clubs. With just over 6,200 metres from the longest tees, players of all skill levels will enjoy this scenic course minutes away from Barrie.
Shawneeki Golf Club Additional Information
Phone: 905-478-4211
Tee Times: 7:16 a.m.–5 p.m.
Green Fees: $39–$62 CAD
Other Outdoor Fun in Barrie
Of course, there are more options for outdoor activities in Barrie. A visit to a farm or a wildlife sanctuary may be just the fresh air someone needs.
Chappell Farms
Another outdoor adventure to consider includes a visit to Chappell Farms, which holds a festival each spring and fall to celebrate the upcoming seasons. During summer, the farm opens a fresh produce and fruit stand where locals come to eat food, see farm animals, take wagon rides, and more.
Chappell Farms Additional Information
Bear Creek Exotic Wildlife Sanctuary
Bear Creek Exotic Wildlife Sanctuary is a haven for rescue animals. The sanctuary houses 100+ permanent residents and rehabilitates injured or orphaned wildlife with the authorization of the Ministry of Natural Resources and Forestry. Several threatened or endangered species have come to the sanctuary from pet surrenders, confiscations, zoo surplus, and other sanctuaries. Residents include big cats, small cats, wolves, bears, lemurs, raptors, and more unusual sights like Patagonian cavies.
Bear Creek Exotic Wildlife Sanctuary Additional Information
Discover Barrie Today
Whether you call Barrie home or are planning a visit here to check out why this is a top place in Canada to live, you won't want to miss out on the great outdoor wonders that bring people here in droves. Find a special place in nature that soothes the mind and soul while offering loads of things to do for groups large and small or quiet solo getaways.
If you'd like to make your home in Barrie, contact The Peggy Hill Team of RE/MAX Hallmark with Ontario Real Estate Central at (705) 739-4455 to get in touch with a local real estate agent and discover your Barrie dream home today.