8 Best Toronto Neighbourhoods: Where to Live in Toronto
Posted by Peggy Hill on Friday, February 3, 2023 at 11:28:08 AM
By Peggy Hill / February 3, 2023
Comment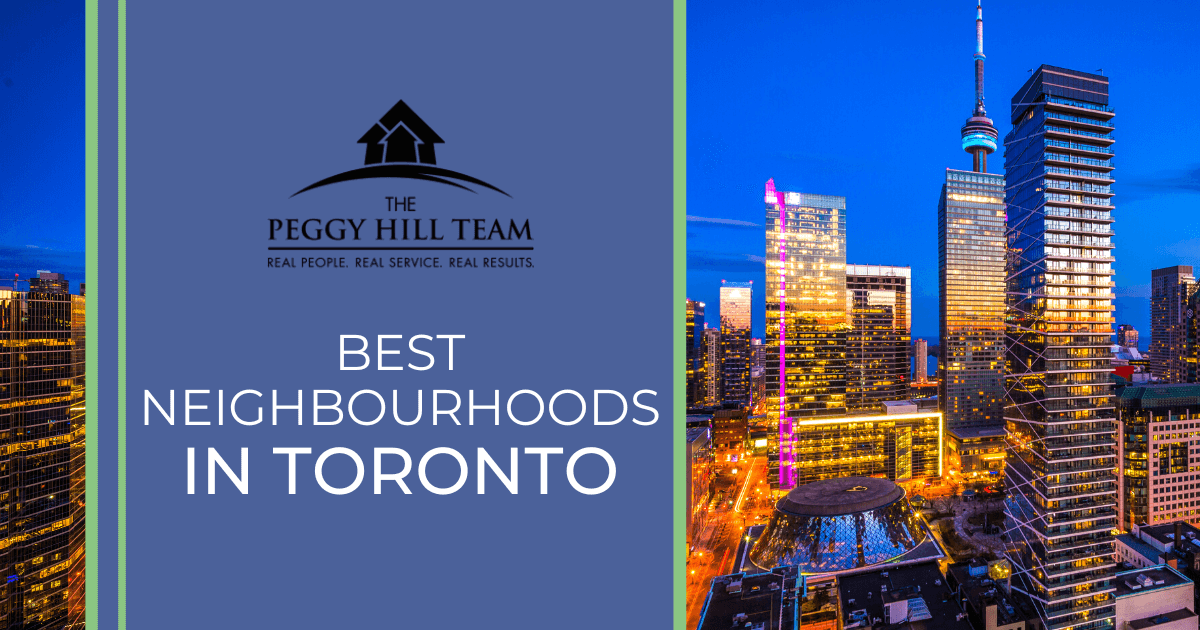 It's no secret that Toronto is one of Canada's top places to live. But whether would-be buyers are new to the area or current residents looking to relocate or put down roots, finding the best neighbourhoods in Toronto among the sprawling city's many communities can be overwhelming. Luckily, there are excellent places to live for nearly every lifestyle and budget. Boasting amazing locations, fantastic amenities, and the most desirable real estate in Toronto, these eight neighbourhoods are the best of the best.
Kensington Market
This compact, funky neighbourhood packs quite a bit of fun and local services into the few blocks bounded by Spadina Avenue, College Street, Bathurst Street, and Dundas Street. Kensington Market has an eclectic reputation supported by its street art, local cafes, and quirky boutiques. Residents can also chow down on delicious food from spots like Seven Lives Tacos y Mariscos and Ramen Isshin, just a small selection of the dozens of international cuisines available within these few blocks.
The community is just a few minutes on foot from the University of Toronto and is also convenient to the core of Old Toronto. Despite the dense city surroundings, Kensington Market also preserves a bit of green space with the famous Bellevue Square Park, including exercise equipment, a playground, and a splash pad.
Real estate in Kensington Market comprises a mix of Victorian-era detached and semi-attached homes. Located in the heart of the city, it's also one of the best places to find condos for sale in Toronto. Average listing prices hover around the $1 million mark. However, some top-end properties can reach $1.5 million or more.
Kensington Market Amenities
Highly walkable neighbourhood
Extensive bus/tram mass transit access
Bellevue Square Park
Toronto Western Hospital
Convenient to the University of Toronto
Kensington Community School
Runnymede
Runnymede is a popular, primarily residential community bounded by Bloor Street, Runnymede Road, Jane Street, and Dundas Street. Homeowners in Runnymede can enjoy the best of all worlds, with thriving commercial corridors on the neighbourhood's north and south ends and tree-lined residential streets in between.
While most of Runnymede has been developed, it's convenient to some of Toronto's best parks, like High Park and Kings Mill Park, providing limitless possibilities for outdoor exercise, enjoying their many amenities, or enjoying a relaxing afternoon surrounded by greenery. Another of the neighbourhood's top attractions is the Bloor West Village shopping district, which includes hundreds of shops, restaurants, and other businesses along a roughly kilometre-long stretch of Bloor Street.
Homes for sale in Runnymede come in a wide range of styles, from cottages and bungalows to Tudors or even duplexes and triplexes. It reflects the long period the neighbourhood was developed, stretching from pre-1900 to after World War II. Most sell in the $1-1.5 million range, though properties topping $2 million aren't uncommon. Looking for townhomes in Toronto? Some newer construction townhouses are also available in the high six figures.
Runnymede Amenities
Access to TTC's Line 2 (Bloor-Danforth) subway line
Bloor West Village shopping district
Beresford Park
Convenient to High Park, Kings Mill Park
Runnymede Healthcare Centre
Toronto Public Library - Runnymede Branch
Riverdale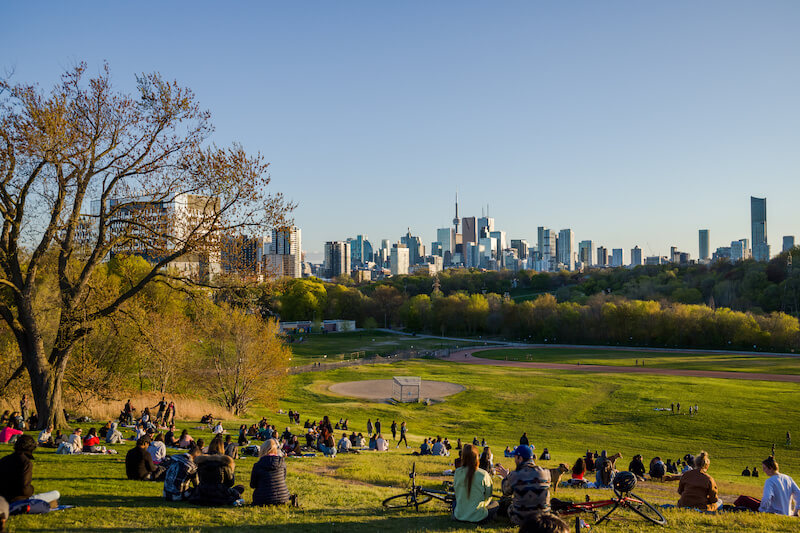 Riverdale is known as one of Toronto's most eclectic, hip neighbourhoods, making it one of the most desirable for would-be buyers. It's set east of the Don Valley Parkway and south of Mortimer Avenue, with Danforth Avenue forming one of the community's main thoroughfares. This area has diverse restaurants, cafes, bars, shops, and other fun spots like The Danforth Music Hall. Local music lovers can also catch some shows at the famous Opera House, dating back over a century. Other portions of Riverdale are just blocks from Lake Ontario, while green spaces like Riverdale Park and Withrow Park offer residents easy access to natural areas close to home.
Most homes for sale in Riverdale are semi-detached or detached single-family houses, though an increasing number of condos are also available. This latter group (which includes new construction and lofts) forms the most affordable options, selling from just over a half-million to around $1.25 million. Larger or detached homes, often in Victorian style, start around $1.5 million but can sometimes reach twice that price.
Riverdale Amenities
Access to TTC's Line 2 (Bloor-Danforth) subway line
Riverdale Park East
Withrow Park
Danforth Music Hall
Jimmie Simpson Recreation Centre
Rosedale-Moore Park
One of the oldest Toronto communities, Rosedale-Moore Park, has grown to become one of the top neighbourhoods in Toronto and all of Canada! It began as a city suburb, though it now stands as one of the most convenient neighbourhoods to downtown. It is north of Bloor Street between Bayview Avenue and Yonge Street. This puts the community just west of the Don River conservation area. Several ravines run through the area, paired with winding tree-lined streets, providing a quiet character with little through traffic. Meanwhile, extensive shopping, dining, and nightlife are available along Yonge and Bloor Streets, making it both fun and convenient for residents to run errands, grab a meal, or do some shopping.
The vast majority of homes for sale in Rosedale-Moore Park is made up of single-family detached houses. These are often spectacular, spacious luxury properties with high-end features that sell from the low single-digit millions and up, sometimes exceeding $5 million. Those looking for condos will also find plentiful options along the larger roads that form the community's borders. These start at around $600,000 but are available well into luxury units' $5-8 million range.
Rosedale-Moore Park Amenities
Access to TTC's Line 1 (Yonge-University) and Line 2 (Bloor-Danforth) subway lines
David A. Balfour Park
Evergreen Brickworks park
Cranleigh Gardens Dog Park
Toronto Public Library - Toronto Reference Library
Trinity-Bellwoods
Trinity-Bellwoods offers another hip, centrally located neighbourhood for would-be buyers to consider. The bustling, historic Trinity-Bellwoods Park forms the central hub of the community, offering walking paths, sports facilities, a playground, a skating rink, and much more. Nearby, residents can feast at popular local restaurants like Oyster Boy, Union, and many more or shop at the many varied shops on Ossington Avenue. The community is also home to several famous music and live theatre venues, art galleries, and other cultural spots.
In addition, residents are just a short trip from downtown, West Queen West, and many other fun and essential Toronto neighbourhoods, all easily accessible via the numerous tram stops along Queen, College, and Dundas Streets. Likewise, the community overlaps with Toronto's Little Italy, full of delicious Italian cuisine from casual to high-end.
Townhouses and semi-attached properties form the bulk of Trinity-Bellwoods real estate, with condos and fully detached homes rounding out the market. Home to plenty of Toronto's luxury real estate, properties in Trinity-Bellwoods start around $1 million for more modestly sized or less recently built homes but can reach $5 million for some, especially the area's historic houses. Luxury condos can also stretch into the $3-4 million range.
Trinity-Bellwoods Amenities
Trinity-Bellwoods Park
Extensive tram mass transit access
Diverse shopping/dining scene
West End YMCA
The Beaches
Those looking for the beauty and peace of a lakeside resort town combined with the amenities of the city will find the community of their dreams in The Beaches (or "The Beach," to some longtime residents.) It consists of the area south of Kingston Road and Eastern Avenue, west of Victoria Park Avenue. The most prominent feature is the one that gives the area its name: nearly three kilometres of uninterrupted sandy shoreline, preserved through various city parks. Neighbourhood residents are just a few minutes from this summertime paradise while keeping easy access to downtown.
Just north of this, Queen Street provides the community's primary shopping and dining corridor, ready for folks to grab dinner at Breakwall BBQ and Smokehouse, catch a film at the retro Fox Theatre, or browse the vast selection of independent stores.
Condos, co-ops, and other multi-family buildings make up a significant portion of homes for sale in The Beaches area. However, detached house and townhouse buyers will also find plenty of options. Multi-family units typically start in the $800,000s but can sell for $2 million or more occasionally. Single-family homes generally sell in the $1-2 million range. New construction or Lakeview properties will naturally command a premium over their inland counterparts in the neighbourhood. The Beaches should be the first place you look if you're hunting for waterfront homes for sale in Toronto.
The Beaches Amenities
3 km of beachfront and waterfront public space on Lake Ontario
Extensive bus/tram mass transit access
Glen Stewart Park
Woodbine Park
Fox Theatre
Beaches Recreation Centre
Mount Pleasant East
Mount Pleasant East is a popular midtown neighbourhood that takes its name from the historic Mount Pleasant Cemetery, which forms its southern boundary (along with Mount Pleasant Road, Bayview Avenue, and Blythewood Road.) The cemetery draws history lovers and active Torontans, who are equally amazed by the site's unique monuments, gorgeous landscaping, and kilometres of walking paths.
The community overall is highly walkable, including access to the Beltline Trail, which provides easy access to the numerous parks along the Don River. Residents can also take care of many of their daily errands by foot, thanks to the nearby Yonge Street commercial corridor and numerous businesses on Mount Pleasant Road. Even a night out is easy, with popular restaurants like Kamasutra Fine Indian Restaurant and Positano, followed by a locally-produced drink at Granite Brewery.
Real estate in Mount Plesant East includes larger, more newly built condo buildings along significant roads and more traditional detached single-family properties on back streets. Condos start in the high $500,000s but are available throughout the high six figures, generally topping slightly north of $1.5 million. Detached properties sell in the $2-4 million range, as do the largest and most luxurious condo units.
Mount Pleasant East Amenities
Access to TTC's Line 1 (Yonge-University) subway line
Mount Pleasant Cemetery
Sherwood Park
Sunnybrook Health Sciences Centre
Bedford Park
Bedford Park sits just under 10 kilometres north of downtown, where the densest parts of the city begin to give way to Toronto's best suburbs. Its boundaries include Avenue Road, Ronan Avenue, Lawrence Avenue, and Brooke Avenue. This company community is primarily residential outside the main strips of Yonge Street and Avenue Road. However, Yonge Street, in particular, offers a variety of restaurant options, with local favourites like The Burger's Priest and Maiz among the most popular. In addition, both Wanless Park and York Mills Valley Park are adjacent to Bedford Park, perfect for a quick escape into nature close to home.
Homes for sale in Bedford Park date back as far as the 1890s, with many others built before 1940. Most have undergone extensive preservation or renovation, producing some of Toronto's most unique properties. Others are new construction homes, replacing older ones torn down as the neighbourhood changes. Houses start at just under $1.5 million and are available for up to $4 million. Anyone looking for Toronto homes with acreage should set their sights on the Bedford Park community. The area's more limited condos start in the high six figures and generally reach about a million dollars.
Bedford Park Amenities
Access to TTC's Line 1 (Yonge-University) subway line
Convenient to Ontario 401 Express/Macdonald-Cartier Freeway
Wanless Park
Bedford Park Community Centre
Alexander Muir Memorial Gardens
Rosedale Golf Club
What's Your Favourite Toronto Neighbourhood?
Toronto has so much to offer those looking to live in the big city, including a booming job market, delicious restaurants, a thriving arts and cultural scene, and breathtaking natural environments like Lake Ontario. Residents of each of these eight desirable neighbourhoods are poised to take advantage of all the best things the city has to offer, in addition to the unique benefits in their communities. No matter their budget or needs, it's hard to go wrong with any of these top choices.
If you're interested in moving to Toronto, contact The Peggy Hill Team of RE/MAX Hallmark with Ontario Real Estate Central at (705) 739-4455. Our local real estate agents can help you find the perfect Toronto home.