Best Neighbourhoods in Barrie: Barrie, ON Community Living Guide
Posted by Peggy Hill on Wednesday, May 26, 2021 at 4:25 PM
By Peggy Hill / May 26, 2021
Comment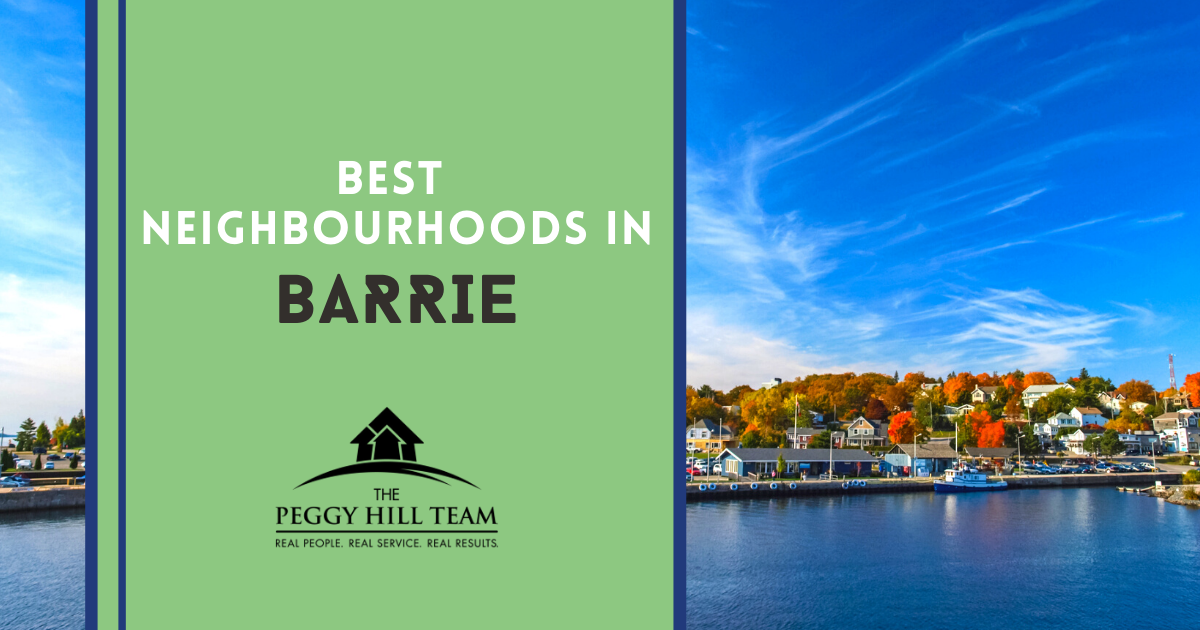 Barrie is a community and growing regional hub in Ontario, Canada, situated on the western bank of Lake Simcoe's Kempenfelt Bay. Located within Simcoe County, Barrie is charming, approachable, popular, and lively. It's a spot where adventure and luxury unite, creating a great place to live.
Here are some top picks for the best neighbourhoods to live in Barrie, Ontario, and what you can expect to find in each.
Holly
Holly is the furthest southwest neighbourhood in Barrie, and it borders Essa Township's stunning farmland. Tangle Creek Golf Club, located nearby, is a popular option for spending a day on the golf course or using the banquet hall for an event. Residents often spend their afternoons relaxing at the Ardagh Bluffs close by or staying busy at the Holly Community Centre.
With several parks and the new rec center, the Holly neighbourhood is a great choice for those looking to make their home in Barrie. This area has a wide variety of living options, from single-family homes to apartments for rent. The Holly Recreation Centre is located in the heart of Holly and is Barrie's newest cultural centre, hosting various social activities and festivals throughout the year. It also offers options for summer camps, children's swimming lessons, or after-school activities.
Ardagh
Ardagh is a neighbourhood in Barrie's west end with plenty of biking and walking trails in the centre of the area. The neighbourhood is growing, with many innovations and schools, making it a great place to live. Trails into the woods of Ardagh Bluffs can be entered via Ardagh Road near Wildflower Court and directly off Mapleton Avenue south of St. Joan of Arc Secondary School or via the Penvill Trail south end.
Ardagh is surrounded by beautiful paths and plenty of trees, bushes, and natural attractions. This recently built community is well-planned, with public parks strewn across the area between the housing options. There's always something new to explore.
Innishore
Innishore is a vast region in southeastern Barrie, with a stretch of the south shore of Kempenfelt Bay east of Wilkin's Beach serving as its northern boundary. It's one of Barrie's most highly prized neighbourhoods. This is expected with the area's abundant parks and playgrounds, nearby schools, and a lovely trail system for outdoor enthusiasts. As a neighbourhood in the south end of Barrie, the average home price here tends to be higher.
Many residents enjoy Innishore's stores, leisurely lifestyle, walking routes, and waterfront access. Residents also enjoy the selection of waterfront homes in the area, which provide stunning views right from their living room.
East End
There are several in-demand neighbourhoods with large lots, extra-large shade trees, and brick bungalows on the city's northeast end. The Georgian College and Royal Victoria Region Health Centre are both situated in this area, so there are plenty of facilities and job opportunities. East End is a busy neighbourhood, with many residents working at the college or the health centre.
The Kempenfelt Park and Vancouver Lookout are two hidden treasures in this neighbourhood worth seeing. In the heart of the neighbourhood, Strabane Park has amenities like basketball courts, tennis courts, and plenty of playground equipment. Residents of all ages enjoy the leisure, schooling, and health programs that this splendid Ontario area has to offer.
Allandale
Allandale, once a bustling railway community in Innisfil Township, was incorporated by Barrie in 1896, but the area is still known for its historic businesses and residences. The area's historical significance and convenience to shopping and nightlife make it a popular place to call home.
Residents enjoy walking through the neighbourhood to admire the exquisite architecture and hear the tales of people who used to live there. Tourists can enjoy the renowned Heritage Walking Tour that takes them through the neighbourhood's most historic landmarks.
Mapleview
The Mapleview neighbourhood is growing exponentially, and new housing projects are being developed every day. The Park Place Plaza and adjacent retail outlets have become a prominent shopping destination for the area, with several new businesses continuing to open. Mapleview is also home to many of Barrie's outdoor recreation shops, such as Sojourn, Cabela's, and Canadian Tire.
At Mapleview Drive and Huronia Road, the popular Cedar Links Golf Course has a nine-hole, par-three course enjoyed by residents of many Barrie neighbourhoods. Putt-putt, night golf, and a double-deck covered and heated driving range are available during winter.
The neighbourhood includes the popular Mapleview Drive shopping area and is nestled in Barrie's renowned southern center. The proximity to many restaurants, retail outlets, and other facilities greatly benefit this neighbourhood's residents. Many people choose to live in Mapleview for its amenities alone.
Painswick
Painswick has expanded to include vibrant retail and suburban neighbourhoods at Yonge Street and Big Bay Point Road. At the intersection of Yonge Street and Madelaine Drive, a stunning new 34-foot sculpture called the Spirit Clock moves and lights up every hour.
This area also houses the Barrie Public Library's second branch, where residents come to work, read, and play quietly. Painswick Park, which has a playground, tennis courts, and a large baseball diamond, is also in the neighbourhood.
The Barrie South GO Train Station, located at Mapleview Drive and Yonge Street, makes getting anywhere in Barrie a breeze. The Painswick neighbourhood is a desirable area with older generational homes and younger, more contemporary subdivisions.
From countless community attractions to the Kempenfelt Bay shoreline to peaceful community parks scattered across the area, Painswick has plenty for everybody.
Find Your Ideal Home in Barrie
With Barrie being one of Ontario's fastest-growing regions, there are plenty of places to live, dozens of jobs to choose from, and hundreds of things to do. Residents enjoy the wide variety of amenities Barrie offers, from historic downtown buildings to arts and culture to modern adventures.
Many residents of other Canadian provinces are relocating to Barrie for its convenient location and expanding opportunities. Living in an area you love, whether in a cozy condo or sprawling luxury home, is important. Your home and the place you live should be your sanctuary, and Barrie is just that to its many residents.
If you'd like to make your home in Barrie, contact The Peggy Hill Team of RE/MAX Hallmark with Ontario Real Estate Central at (705) 739-4455 to get in touch with a local real estate agent and discover your Barrie dream home today.