Barrie Vacation & Staycation Guide
Posted by Peggy Hill on Thursday, August 5, 2021 at 8:51 AM
By Peggy Hill / August 5, 2021
Comment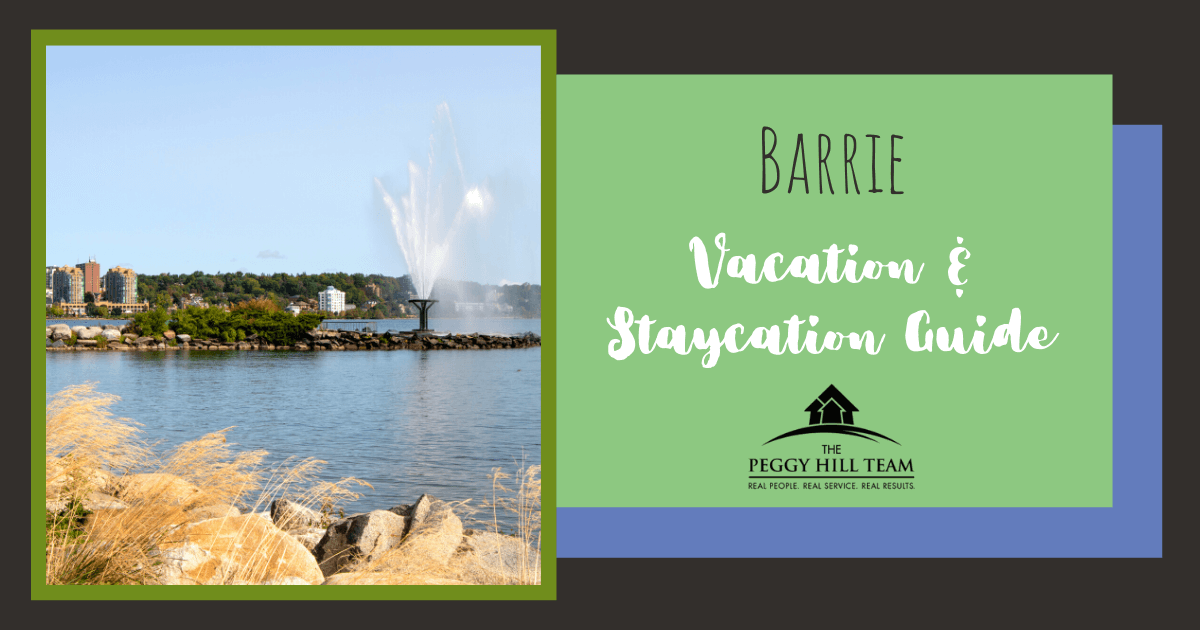 When it's time for a vacation, look to the Barrie, Ontario, community, for a fun-filled getaway. Whether looking to luxuriate at a posh hotel or embark on outdoor adventures, Barrie fits the bill. Nestled on the banks of Lake Simcoe, Barrie is one of Canada's fastest-growing cities. Every year, tourists flock here for lakeside vacations. There are so many fun things to do in Barrie that even life-long residents enjoy staycations in the city. Plan a perfect Barrie getaway using the vacation guide below.
Lodging in Barrie, Ontario
Travellers can rest easy in Barrie, knowing they can choose from a broad selection of hotels and inns. Here are some of the best places guests can stay in while they explore what Barrie has to offer:
Hampton Inn & Suites
Hampton Inn & Suites Amenities
Free Wi-Fi
Free breakfast
Free parking
Indoor pool
Fitness center
Meeting rooms
Conveniently located near Centennial Beach and Snow Valley Ski Resort, good times abound around the Hampton Inn & Suites in Barrie. Each of the 104 spacious suites is detailed with dark, rustic furniture, cozy beds, a lap desk, a coffee maker, and a 32-inch flat-screen TV. Free Wi-Fi also comes standard with every room.
Guests can choose from standard guestrooms with 2-queen-sized beds or opt for the luxurious, more spacious, king studio suites.
Hampton Inn & Suites by Hilton Barrie is conveniently located 1.8 miles from Barrie's city centre. That means guests are only 10 minutes from some of the city's top attractions, such as Centennial Park and the famed Sunnidale Park Arboretum. There's also plenty of great places to eat, shop, and explore nearby.
Three Wishes B & B
Three Wishes B & B Amenities
Fireplace
En-suite bathroom
Coffee maker
Mini-fridge
Complimentary breakfast and evening snack
Outdoor hot tub and patios
Hammock
For those visiting Barrie as a group or who prefer accommodation in an intimate luxury home setting, Three Wishes B&B is an excellent fit. It's a homey space with contemporary furniture and rustic accents. Rooms feature a warm fireplace, an en-suite bathroom, a coffee maker, and a mini-fridge.
Guests receive a complimentary breakfast and evening snack every day, and those visiting for two or more days even get a gourmet welcome basket. There are many amenities to keep guests entertained, such as an outdoor hot tub, a hammock, two outdoor patios, and an on-site boutique.
The best part? Three Wishes B&B is in the heart of downtown Barrie, which is mere minutes away from Barrie's waterfront and top shopping and dining spots.
Three Wishes is 15 minutes away from Tangle Creek Golf Course and a 20-minute drive to Snow Valley Ski Resort. Other popular attractions just a stone-throw away from this B&B include the Georgian Theatre, Cookstown Outlet Mall, and Wasaga Beach.
Clydesdale House
Clydesdale House Amenities
Air conditioning
Free Wi-Fi
Satellite TV
Dog-friendly
The Clydesdale House is a bed and breakfast with three air-conditioned rooms complete with free Wi-Fi and satellite TV. It's a well-kept Victorian-era home dating back to the 1800s and is characterized by unique antique pieces and wood furniture. Similar to the previous two lodging recommendations, it's also conveniently located and allows easy access to all the fun in Barrie.
For instance, it's just a 10-minute walk to Allandale Station Park and the Tiffin Boat Launch. When not exploring Barrie, Ontario, guests can cycle on the bike paths around the facility. Room options include:
A single room with a shared bath
Double occupancy with shared bath
Double room with private bath
The owner, an interior designer, is always nearby in case guests need help. Breakfast is optional at Clydesdale House. As one of the many dog-friendly places in Barrie, four-legged friends are welcome, too.
Food and Dining in Barrie, Ontario
No vacation is complete without good meals on the daily. For lip-smacking dishes and exemplary customer service, try any of these restaurants in Barrie, Ontario:
II Buco
Popular Dishes at II Buco
Beef carpaccio: A salad made up of shaved blue rare beef tenderloins with mixed greens and cheese
Pollo Florentina: An entrée with tender chicken breast stuffed with goat cheese and spinach in Dijon Cream sauce
Calamari & Shrimp Putanesca: Grilled calamari and shrimp in spicy tomato sauce appetizer
Red snapper: Pan-fried red snapper fillet served with spinach and cherry tomatoes in white wine
Recognized as one of the most romantic eateries in Canada, II Buco Ristorante is the best spot for Italian dishes. The restaurant has been in operation for 12 years and is famed for authentic Italian dishes made by top gourmet chefs using the freshest ingredients.
Their menu features an array of delectable dishes, ranging from salads to gluten-free pasta. Besides the fantastic menu, II Buco is easily accessible too. Situated in downtown Barrie on Dunlop Street East, the restaurant allows guests to navigate and explore Barrie's top destinations seamlessly. In addition to the high-end cuisine, guests also enjoy stunning waterfront views.
The Farmhouse
Popular Dishes at The Farmhouse
A full Farmhouse breakfast with two eggs, sausage, bacon, home fries, and toast
Dill pickle brined fried chicken
The Farmhouse Benedict with butternut squash, Swiss chard, and caramelized onion
Bacon & egger: An over-hard egg, bacon, white cheddar, and hollandaise on an English muffin alongside homefries
While dining in The Farmhouse's indoor setting is satisfying, dining from their massive outdoor patio overlooking Kempenfelt Bay is a whole new experience. Situated between Allandale Station Park and Centennial Park, The Farmhouse Restaurant is a casual restaurant famous for its farm-fresh comfort dishes.
The Farmhouse also offers a rich selection of cocktails, draft beers, and wine. They also have happy hours between 3 p.m. and 5 p.m. daily, making it the perfect spot to end a day of Barrie exploration. They are open Monday through Thursday from 11:30 a.m. to 10 p.m., but weekend hours vary. The Farmhouse is pet-friendly too.
Dunlop Street Diner
Popular Dishes at Dunlop Street Diner
Holy cow benny: A dish made of shaved Angus roast beef simmered in gravy with poached eggs, pickled horseradish, hollandaise, and arugula
Bangers and hash benny: Maple sausage, mushrooms, cheddar cheese, and caramelized onions served on hash brown patties, poached eggs, and hollandaise
Cheeseburger hash: Caramelized onion, orange cheddar, and ground chuck topped with poached eggs, garlic sauce, and pickles
California omelet: Aged cheddar with cherry tomatoes and avocado salsa
Dunlop Street Diner is an iconic diner with a modern vintage feel. It was renovated in 2016 and showcases Dunlop Street's rich history through pictures and art hung throughout the restaurant. The menu is extensive and features an exciting lineup of Benedicts.
Besides Benedicts, the menu also includes skillets and omelets, along with plenty of gluten-free and vegetarian options. Note, Dunlop Street is a popular eatery, and it can get quite crowded.
Attractions in Barrie, Ontario
With plenty of places for live performance and entertainment, there's never a dull moment in Barrie. For a memorable visit, stop by the following attractions in Barrie:
MacLaren Art Centre
The MacLaren Art Centre is a haven for history buffs. The gallery was named after Maurice MacLaren, who offered his Victorian home on 147 Toronto Street before it was moved to its current location on Mulcaster Street.
The art centre is in a renovated 1917 Carnegie library with a contemporary architectural addition constructed by Siamak Hariri. The Carnegie also happens to be an award-winning building and a renowned architectural landmark. The MacLaren Art Center is owned and run by the City of Barrie and comprises galleries, a learning center, a sculpture courtyard, a gift shop, and a café.
The MacLaren Art Center features over 27,000 works of art showcased during exhibitions, special events, and educational activities all year round. It's an integral part of Barrie's vibrant, creative community culture and a popular destination for tourists from across Ontario.
Theatre by the Bay
Theatre by the Bay is a premier arts company on 55 Dunlop Street East, Unit 1. The organization focuses on improving the reception of theatre arts by empowering local artists, providing high-quality programming, and telling unique stories from many perspectives.
The company hires local performers, technical staff, and designers to boost job opportunities and encourage support from local businesses and individuals. They also organize shows and special events that appeal to a broad array of people. Theatre by the Bay presents the opportunity for visitors to learn about Barrie's rich culture and interact with the locals.
Brain Dragon Boat Festival
The Brain Dragon Boat Festival is an annual summer event geared towards strengthening unity in the community and raising money for local charities. It's often held in Barrie's Heritage Park and involves fun, family-friendly races characterized by fun costumes and many people. Each boat usually has 20 paddlers, with a drummer at the front and a steersperson at the back.
Races take about two minutes and include four teams at a time. Winners are often at an award ceremony and receive awards. The event usually features live entertainment, tons of kids' activities, and even a beer garden.
It offers both locals and visitors a chance to display their organizational and team-working skills and resources. The annual event is organized by the Barrie Public Library and has helped raise over $2 million for various local charities. It often happens from mid-May to August.
Adventures in Barrie, Ontario
Adventure is everywhere around Barrie! Hiking, scuba diving, and skiing promise outdoor fun in any season. Here are some popular spots:
Centennial Park
Centennial Park is one of the best parks in Barrie. Perched between Barrie's downtown and Allandale Go Station, Centennial Park boasts well-manicured and perfectly paved footpaths and walkaways, including a 40-kilometre-long trail that connects Barrie to Orillia. Thanks to this, the park is pretty popular with cyclists.
The stand-out feature of this park is its six-kilometre stretch of pristine sandy beaches. In addition to the footpaths and the beautiful waterfront, Centennial Park also has a boat launch, picnic tables, restaurants, and plenty of playgrounds and picnic space as it sits on about 12 acres.
It also has community-use barbeques, a beach volleyball court, and washrooms. A seasonal lifeguard comes in every day between 11:30 a.m. and 5:30 p.m. The park is often open from 7 a.m. through to 9 p.m. Fun things to do in Centennial Park include:
Sunbathing at the beach
Picnics
Mini-golf
Walking and cycling
Volleyball
Hold BBQs
Scuba Diving
The wreck of the J.C. Morrison ship in Kempenfelt Bay is one of the must-see water recreational activities in Barrie. The J.C. Morrison was built in 1854 and launched in 1855 by the Ontario, Simcoe, and Huron Company. The ship caught fire in 1857 and was set afloat in the bay to prevent it from burning the dock.
The wreckage sank after burning to the waterline and has since turned into one of Southern Ontario's most popular scuba diving spots thanks to the shallow depth and seamless accessibility.
It often takes a 10-minute swim from the shore to the wreck. The wreck attracts many fish, making the spot prone to boat traffic since it's popular with fishers, especially during summer. Scuba diving is quite popular, especially among people who live in Barrie waterfront homes.
Treetop Trekking
When researching the best outdoor activities in Barrie, nothing beats the thrill of treetop trekking at Barrie's Horseshoe Resort. The resort is only an hour away from the Toronto community and minutes outside Barrie. It features a series of game-like wooden bridges, zip lines, Tarzan ropes, swings, and climbing nets suspended as high as 70 feet to give tree trekkers a breathtaking view of the green canopy and the skyline. Although tree trekking alone is exhilarating, there are plenty of other adrenaline-inducing activities one can try, such as:
Ziplining
Night trekking
Aerial game treks
Red-tailed hawk observation
Team building initiatives
GPS rallies
The best part about tree trekking is that it's an inclusive activity, and kids as young as five are allowed to participate. All trekkers are often accompanied by skilled and friendly guides to ensure the safety of everyone. Also, there are plenty of companies that offer affordable discovery courses.
When to Visit Barrie, Ontario
Since the town offers fun activities from winter to summer, there's never a bad time to visit Barrie. For visitors who prefer the dry, warm weather and activities like tree trekking and scuba diving, March through August are the best months to visit since the weather is typically warmer. Here are fun things to do during the sunny weather in Barrie, Ontario:
Attend festivals such as Kempenfest, Promenade Days, and the Barrie Waterfront Festival
Visit theatres
Hike and bike around Barrie's parks and natural trails
December is the time to pack bags and rent a home near the mountains for those interested in winter-based fun activities such as skiing. Because precipitation is usually high at this point, snow is generally at its deepest. The winter months are also a little less crowded. Besides skiing, one may also try the following activities during winter:
Snowboarding
Tubing
Ice fishing
Skating
Snowmobiling
The Festival of Ice
However, Barrie's peak tourism season is usually in July, August, and June, meaning flight and hotel costs are generally high at this point. Buying tickets and making reservations in advance or visiting before or after the peak season is the easiest way to cut costs.
Relaxation and Fun Await in Barrie
Barrie has the charm of a small town and is among Ontario's most sought-out destinations. Visitors enjoy sunbathing on its pristine, sandy beaches or taking treetop treks during summer, and building snowmen, ice fishing, and skiing in winter.
On top of that, it's one of Canada's fastest-growing cities, meaning it also has plenty of growth opportunities. Its convenient location offers a much-needed break from the bustling city life in Toronto while still offering seamless access to the urban centre. Plan a vacation or staycation in Barrie today to see why people continue to come to this lakeside city in droves.
If you'd like to make your home in Barrie, contact The Peggy Hill Team of RE/MAX Hallmark with Ontario Real Estate Central at (705) 739-4455 to get in touch with a local real estate agent and discover your Barrie dream home today.