Things to Do in Barrie: Barrie, ON Places to Go and Things to Do
Posted by Peggy Hill on Thursday, May 20, 2021 at 9:30 AM
By Peggy Hill / May 20, 2021
Comment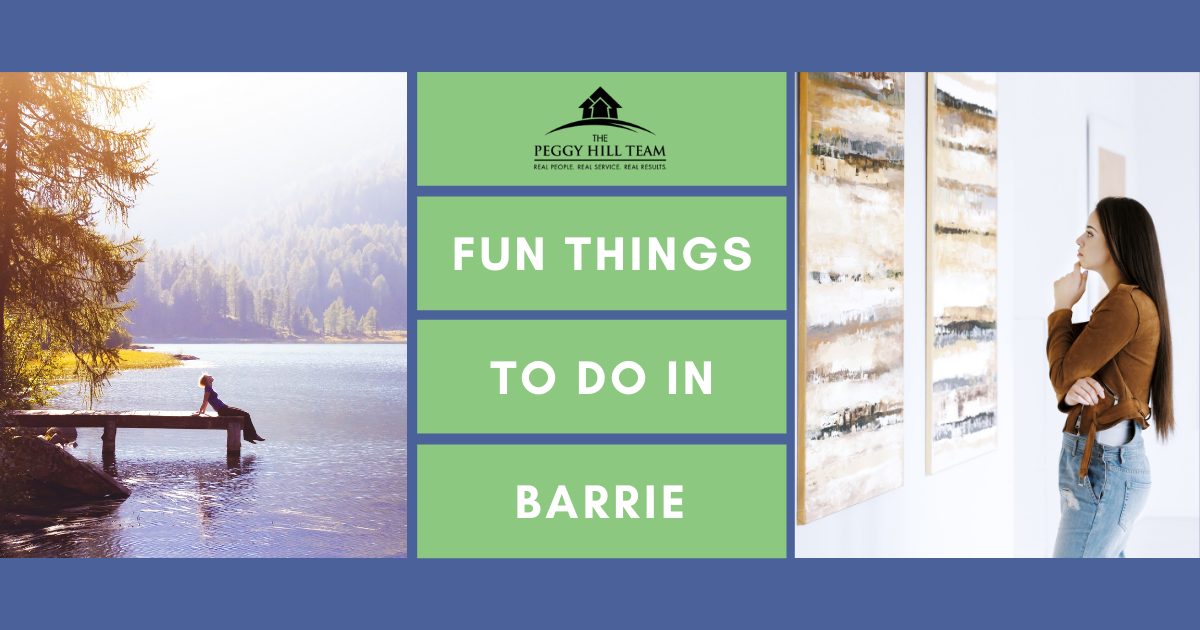 Right on the shore of the Kempenfelt Bay, Barrie is a major urban centre while also a bedroom suburb of Toronto. Between its waterfront homes and shorelines, historic downtown, and rich repertoire of festivals, Barrie is packed with things to do for residents and visitors alike. Here's a list of top picks for popular things to do in Barrie.
Barrie Outdoor Adventures
Barrie sits in the heart of the Great Lakes, between Lake Ontario and Lake Huron but off from Lake Eerie. As a result, it faces breezes coming off the lakes that affect its weather and even promote thunderstorm activity in the summer months. The presence of so many bodies of water is one reason why people who love outdoor adventures are drawn to the area.
Parks
Popular Barrie Parks
Allandale Station Park
Sunnidale Park
Centennial Park
There are three main parks in Barrie: Allandale Station Park, Sunnidale Park, and Centennial Park. Each park has its own unique ambience and amenities and attracts visitors seeking distinct experiences.
Allandale Station Park is next to a train station but also faces Kempenfelt Bay. This park has walking trails, a picnic pavilion, and even a community center. One key feature of this park is a panel commemorating the Group of Seven, renowned Canadian landscape painters, who passed through this area.
Sunnidale Park proudly claims its origins under Lake Algonquin, when glaciers actively carved out the immediate landscape. This park is extremely well-curated, with interpretive signs placed throughout, and well-connected, tied to the Great Trail across Canada. There is an arboretum and a garden club for lovers of flora, and even a community garden. A firefighter-themed playground and an off-leash dog recreation area are also here.
Centennial Park is geared more for an extended outdoor adventure, taking advantage of its beach, which is staffed by lifeguards throughout the summer and offers a boat launch. The park also has bicycle trails, playgrounds, and recreational equipment.
Water Recreation
Barrie Water Recreation Locations
Beach at Centennial Park
Splash On
Heritage Park Water Feature
Lapman Lane Splash Pad
Atherley Narrows
Kempenfelt Bay
Cook's Bay
Wasaga Beach
The beach at Centennial Park is not the only opportunity for water recreation in Barrie.
Splash On is a 180-person floating playground. Open from June through Labour Day with a cost of about $25 per day, an adult must accompany children. Everyone must wear a life vest while visiting Splash On.
For those wanting to cool off, splash pads can be a fun option. Generally open during the summer months, Barrie offers both the Heritage Park Water Feature and the Lampman Lane Splash Pad.
Barrie also has a few great spots to go fishing. Atherley Narrows is a hot spot for perch. Bays like Kempenfelt Bay have perch, trout, and whitefish, while Cook's Bay contains jumbo pike, trophy perch, and a few types of bass. With the longest freshwater shoreline globally, Wasaga Beach is yet another prime fishing spot offering a wide variety of fish species. Many people even opt to fish off the Highway 90 Bridge, where salmon have been known to swim.
Hiking & Biking Trails
Barrie Hiking & Biking Trails
Kempenfelt Bay Waterfront Trail
Ardagh Ring Trail
West Creek Trail
Barrie's flagship trail is the Kempenfelt Bay Waterfront Trail, which runs 5.2 miles and is suitable for people of all hiking skill levels, strollers, and wheelchairs. Dogs are allowed on this trail as long as they are kept on a leash.
Running four miles total, the Ardagh Ring Trail is another popular option near one of Barrie's most popular neighbourhoods. It's a more challenging trail but suitable for walking, running, and leashed dogs. People love the wildflower views this trail features.
Yet another hot trail option is the West Creek Trail, which is 3.2 miles but touches a river along the way. Walking, running, mountain biking, and horseback riding are all possible on this trail, with leashed dogs in tow if so desired.
This is only a sampling of some highlights from the outdoor recreation opportunities attracting tourists and filling Barrie condos and new construction homes in the area. The biggest takeaway should be that Barrie offers ample chances to interact with waterways, whether directly through swimming and fishing or from a bit of a distance through scenic views.
Barrie Shopping
Barrie Shopping Destinations
Georgian Mall
Bayfield Mall
Park Place
Downtown district
What city would be complete without meeting the needs of another popular pastime: shopping? The Georgian Mall and Bayfield Mall are Barrie's premier indoor shopping experiences. The Georgian Mall is focused on larger chains, and the Bayfield Mall is more local and intimate. For something a little different, shoppers may turn to Park Place and its open-air shopping and dining experiences.
The downtown district of Barrie offers more shopping, perhaps in a setting that aligns better with what's expected from such a city. Anyone can lose themselves between the little shops that dot the streets, each with their own specialty.
Barrie Restaurants
Popular Barrie Restaurants
Il Buco
The Farmhouse Restaurant
The Crazy Fox Bistro
Unsurprisingly, a city like Barrie has a rich dining scene full of options spanning every cuisine. But at the core of its food scene comes a few local favourites that regulars continue turning to and wowing visitors daily.
Il Buco is one such restaurant, offering traditional Italian fare for over 12 years. OpenTable rated Il Buco one of the top 10 most romantic restaurants in all of Canada. Il Buco's food, ambience, and service are definitely doing something right to court such high praise.
The Farmhouse Restaurant can be found on the water and is the site of everything from date nights to wedding receptions. Breakfast, dinner, wine, beer, cocktails—you name it, and The Farmhouse serves it, rustic-chic and peppy. The Farmhouse works closely with local Feltis Farms and even features their maple syrup prominently on the menu.
The Crazy Fox Bistro is another great Barrie institution, both casual and contemporary and always with a fine wine in tow. Their head chef, Michael Forget, has been leading the kitchen there for over two decades. Fish and shellfish, beef and chicken, the menu covers all directions using fresh ingredients, offering "quality without compromise."
Arts & Culture in Barrie
Knowing the famed Algonquin School passed through Barrie to paint their famous Canadian landscapes, it comes as no surprise that the local art scene continues to thrive today.
Museums
Barrie Museums
Simcoe County Museum
Curio Exploration Hub
Grey & Simcoe Foresters Regimental Museum
The Simcoe County Museum explores the region's history in-depth, offering both in-person and virtual experiences of its exhibits for history lovers and general enthusiasts. From the indigenous peoples who lived in the area through the region being settled by Europeans, many stories are to be told. One exhibit in this museum even walks visitors down recreations of the main street of Barrie and showcases its history from the turn of the 20th century through today.
Barrie is also home to the Curio Exploration Hub, a children's museum with a firm dedication to S.T.E.A.M.—science, technology, engineering, art, and mathematics. This museum centres around a curated collection of "hubs," individual stations oriented toward a particular topic or theme. Each hub has different activities and resources to keep kids occupied for several hours of exploration and development.
Art Galleries
Barrie Art Galleries
MacLaren Art Centre
Inspired by ART
Barrie Art Club
Barrie offers a full range of experiences for art lovers of every kind. The MacLaren Art Centre is a more traditional art museum, with exhibits, artist talks, masterclasses and workshops, and various other events that it hosts to get the public interested in visual arts. Recently, the museum extended its virtual exhibit offerings, which also allows it to expand its reach.
Inspired by ART is a local gallery, framing shop, and gift shop that celebrates local artists and speaks to Barrie's local arts scene. Perhaps most notably, Inspired by ART hosts an annual art show and an annual Christmas Open House to bring the community together.
Since 1949, Barrie has also been home to the Barrie Art Club, which prides itself on serving both professional and amateur artists as well as anyone who feels they are an "artist at heart." Over 200 artists of every medium count themselves as members and use the gallery and studio space to continue making their art.
Dance & Theatre
Barrie Dance & Theatre
Huronia Symphony
Georgian Theatre
Five Points Theatre
Barrie also has a thriving music and theatre scene. The Huronia Symphony is a community orchestra that regularly comes together to play live classical music. Fifty-five volunteer musicians and five professional music leaders keep this orchestra alive, playing concerts and even running a youth program to keep the love of classical music alive.
The Georgian Theatre is the local performing space run by City of Barrie Theatres. Theatre groups regularly perform here, although the venue is also home to various performances passing through town, including comedy tours, music shows, and anything else that can be carried out on stage.
While these are the more mainstream facilities that run the biggest-scale events in Barrie, various smaller galleries and events dot the town and keep the arts alive in more intimate settings. It isn't hard to spot these events and join their audiences, particularly when walking around downtown. The local scene is welcoming and keen on positive community-building for any creatives, making Barrie a bit of an artist haven.
Barrie Nightlife
Barrie Nightlife Destinations
The Ranch 2.0
Queens Hometown Pub & Club
The Speakcheasy
Barrie may not be known for its glitzy nightclubs, but it does have a robust pub scene focused on satisfying food and warm company. Perhaps the most famous is The Ranch 2.0, which touts itself as Canada's largest country bar. The Ranch hosts large parties full of dancing and drinking, although it's a standard bar with a full menu even on its off nights.
For a slightly more upscale experience, Queens Hometown Pub & Club is a local pub and nightclub offering private bottle service. Reservations are generally needed. Queens runs several community events, including Take-Out Nights and Trivia Nights.
The Speakcheasy is another fun option in downtown Barrie. Located above a cheesemonger, The Speakcheasy is a wine, beer, and spirits bottle shop that aims to have the feel of a 1920s speakeasy. The shop regularly hosts private and public events.
Experience Bustling, Thriving Barrie Firsthand
Life in Barrie is rich with scenic bay views, bustling city life, and plenty of occasions to connect with fellow residents. The power of community and a deep sense of pride over the region's natural beauty and rich history adds to the local pulse. Visit Barrie to experience all it offers.
If you'd like to make your home in Barrie, contact The Peggy Hill Team of RE/MAX Hallmark with Ontario Real Estate Central at (705) 739-4455 to get in touch with a local real estate agent and discover your Barrie dream home today.