4 Most Luxurious Condos in Barrie: Waterfront Access, Amazing Amenities & More! [2023]
Posted by Peggy Hill on Wednesday, December 14, 2022 at 11:06 AM
By Peggy Hill / December 14, 2022
Comment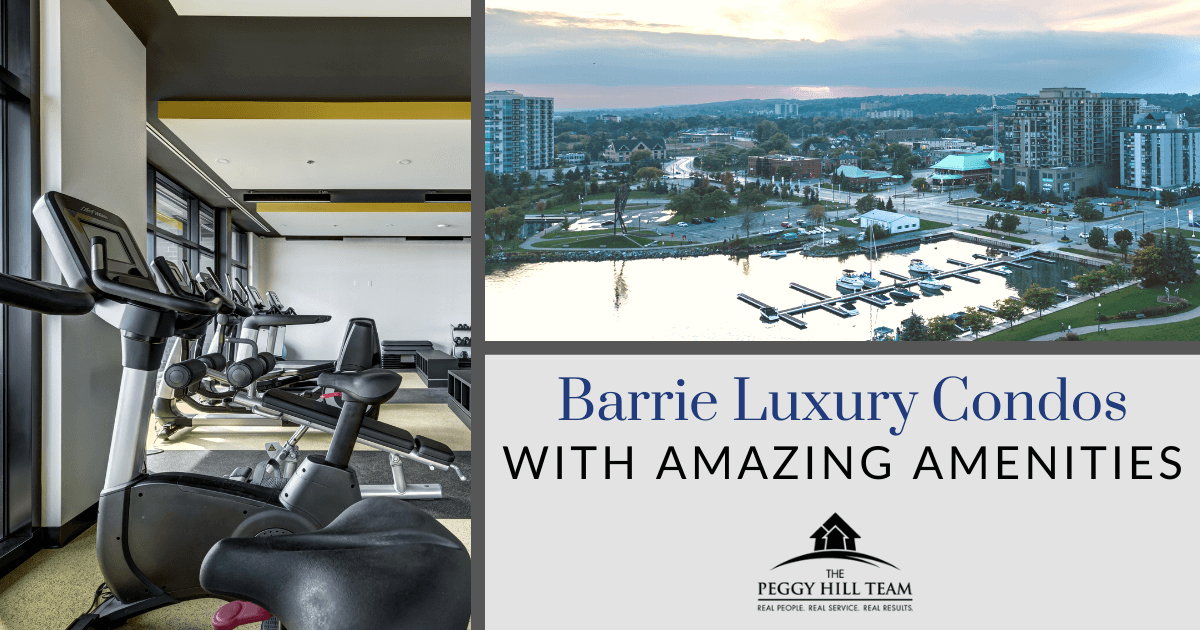 Kempenfelt Bay is truly one of the most beautiful areas in the entire Golden Horseshoe region of Ontario. What better way to see the sights than well above street level from a Barrie condo? The magnificent views of Lake Simcoe, the bay, and the surrounding city are unparalleled from unobstructed views.
And the views are just the beginning! The following luxury condo communities in Barrie provide fantastic amenities for their residents.
Grand Harbour
Grand Harbour Condominiums are one of the most recognizable towers in the Barrie skyline. With Water View as its sister tower and across the street from the Barrie Marina, Grand Harbour has 131 distinctive units based on more than a dozen separate floor plans. The views of the bay from the eastern-facing condos are entirely unobstructed.
Those interested in purchasing Grand Harbour condos for sale should know the community shares some of its amenities with Water View residents, including an indoor heated pool and sauna. Residents can also access a state-of-the-art gym with new equipment, and a small lending library has a nice selection of books for readers to enjoy.
Grand Harbour's resident-only amenities include a party room that can be reserved for private events. It has a full kitchen, an advanced A/V system, and tables and chairs. Additionally, a games room with a billiards table allows a space for residents to unwind. The tower even reserves a couple of guest rooms that residents can book only on a first-come, first-serve basis.
South District Condos
South District Condos are in a relatively new building in the southern part of Barrie. This midsize condo community has close access to all the Barrie shopping and dining a person could need, as well as many nearby parks and schools. Barrie Transit and the GO Train are just steps away from the building's front door, offering easy access to the entire region.
There are several one-, two-, and three-bedroom South District Condos for sale, and some of the one- and two-bedroom suites include a den. Because the building is still reasonably new, there are even penthouse suites available on the top floor ranging from 720 to 1,665 square feet.
Amenities at the South District Condos include an incredible fitness centre with equipment for cardio workouts, yoga, Pilates, and weight/resistance training. Residents can reserve an indoor party room for catered evenings or family reunion-style events.
A rooftop patio is available during the warmer months for those who want to enjoy an outdoor party. South District Condos also has a workspace available for residents who work from home.
Debut Waterfront Residences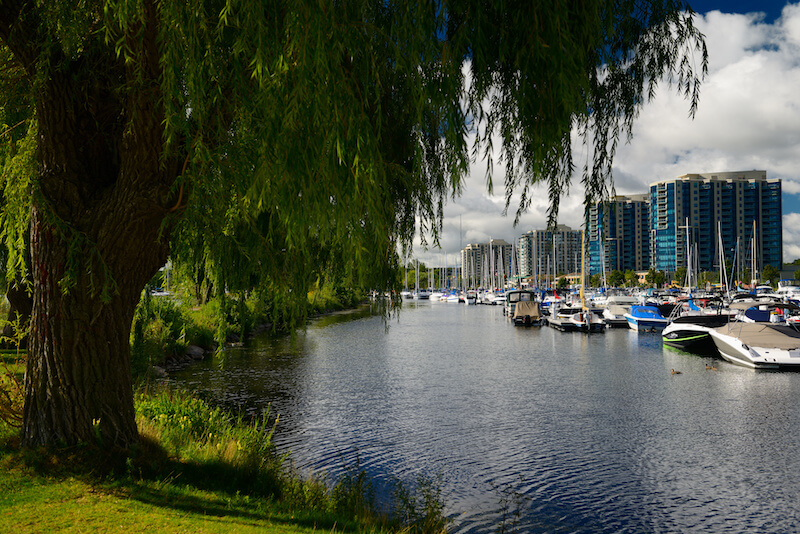 Debut Waterfront Residences is a pair of 34-story condo buildings on the Kempenfelt Bay waterfront. Thanks to the buildings' unique design, 76% of the residences feature stunning waterfront views. The towers are just three minutes from Highway 400, offering direct access to Toronto.
The Residences are close to all the best things Barrie offers. It takes just a minute to walk to the lakeshore, where there are 6.7 kilometres of waterfront trails to enjoy. The lake itself provides excellent opportunities for canoeing, kayaking, and stand-up paddle boarding. More than 100 restaurants are within walking distance of the towers, and all the shopping a person could need is close by.
Debut's amenities are truly luxurious—even the Grand Lobby inside the front doors is a fantastic thing to see! There's a multi-level meeting space, a concierge, parcel storage, and a lounge. Swimmers will be dazzled by the rooftop infinity plunge pool, which has direct views of Lake Simcoe.
Additional amenities include indoor and outdoor fitness spaces, barbecues and fire pits, a business centre, and indoor and outdoor meeting spaces.
Elements Condominiums
Elements Condominiums is on the south side of Barrie and opened in 2022. The condos are in three mid-rise buildings with one-, two-, and two-bedroom + den suites, priced between $575,000 and more than $740,000. Every unit has its own private, four-season solarium balcony. There are 346 units in the three buildings, ranging from 700 to 1,300 square feet.
The Barrie South GO station is just a short walk north of the towers. Restaurants, grocery stores, liquor stores, banks, a medical clinic, multiple pharmacies, and numerous Barrie public schools are within a short distance.
There are many private amenities at Elements. Waterfalls inside the buildings provide a stress-relieving way to relax, while an outdoor track, seating, and fitness area invite residents out for fresh air during the warmer months. There's also an indoor fitness space, and residents can reserve social rooms. Elements also has EV car charging stations, an outdoor children's playground, and bike racks.
Enjoy Condo Living in Ontario's Fastest-Growing City
Barrie is expected to add more than 100,000 jobs in the coming years. It's the fastest-growing city in Ontario's Golden Horseshoe region and one of Canada's fastest-growing areas. There's never been a better time to check out Barrie homes for sale, especially with so many brand new developments opening in recent years.